Dirty work? Not so in hotel sector, where paper qualifications come second
SINGAPORE — In 2011, during an internship at a hotel, Ms Thoi Yu Ying told some of her part-time colleagues in their 50s that she wanted to build a career in housekeeping, after completing her degree in hotel administration.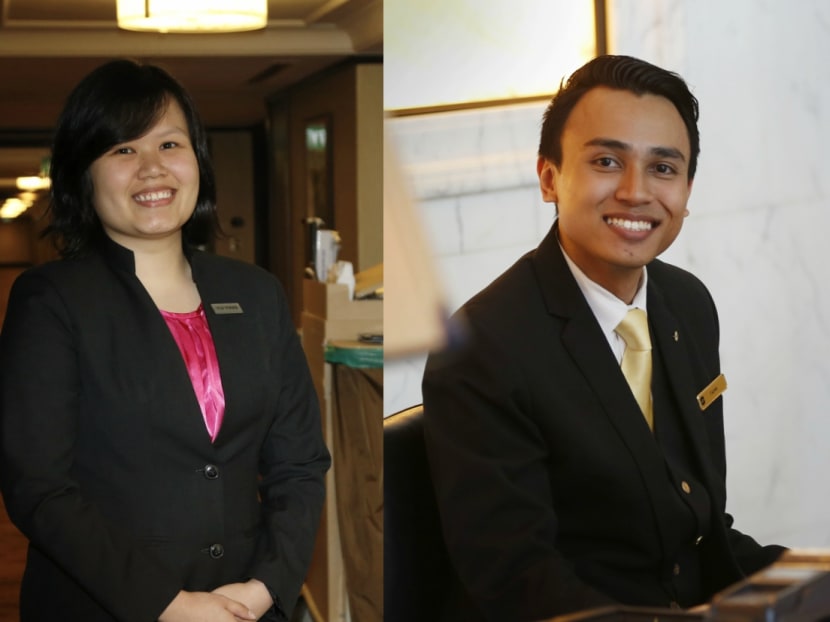 Amid the slowing economy and uncertain job market, many Singaporeans have said they are unsure of where to start looking for opportunities in several growth industries. To that end, TODAY has launched an eight-part weekly series that looks at the openings available, the prospects and how workers can equip themselves with the skills for these positions. In the previous instalments, we looked at the logistics and food manufacturing industries.
This week, in the third part of the series, we focus on the hotel sector which is dogged by misperceptions. Far from 'dirty work', the thriving industry offers a wide range of interesting roles, including for PMETs (professionals, managers, executives and technicians). Unlike other sectors, what count are not a person's paper qualifications but the attitude and willingness to learn, industry players say.    
SINGAPORE — In 2011, during an internship at a hotel, Ms Thoi Yu Ying told some of her part-time colleagues in their 50s that she wanted to build a career in housekeeping, after completing her degree in hotel administration.
Their immediate reaction? "You want to clean toilets after you studied so much?" Ms Thoi recalled.
Five years on, Ms Thoi, now 28, is working as an assistant housekeeper at the Royal Plaza on Scotts, having graduated from one of the world's top institutions in the hospitality field, Switzerland's Les Roches International School of Hotel Management.
Launching herself on a path not many Singaporeans would tread, Ms Thoi has found herself batting away deeply-held misconceptions about her vocation. People generally baulk at housekeeping as a "dirty job", she said.
But housekeeping goes beyond just cleaning: As part of her job, Ms Thoi tabulates the number of rooms to be spruced up the day before. In the mornings, she assigns and briefs room attendants on, among other things, guest feedback and special requests.
After the rooms are tidied, she inspects them on cleanliness and presentation. She also offers suggestions on how accoutrements in the rooms can be improved, such as introducing snacks to the minibar that are more popular with guests.
Ms Thoi, who joined the Scotts Road hotel in May last year, said she treats every room like her own. "You want to make it comfortable when the guest arrives, just like how much you want to make your own room," she said.
Buoyed by new hotels sprouting up and homegrown brands spreading their wings overseas, Singapore's hotel industry is growing at a rapid pace, with jobs created in both traditional and emerging roles.
However, the industry is dogged by misperceptions. Among other things, there is the mistaken idea that hotel employees, being at the beck and call of guests, have to put up with much frustration daily.
On the contrary, several hotel employees attest to the fact that the work environment — where staff have to be on their best behaviour and observe utmost courtesy at all times — has helped change their personalities for the better.
The Royal Plaza on Scotts' assistant director of operations Azharie Mudakir, 42, had previously spent 13 years working as a police officer where, in his own words, he developed a serious demeanour.
Five years ago, he joined the hotel sector after overseeing student lodging operations at the National University of Singapore. The switch necessitated a change in behaviour and personality: He had to smile more and greet everyone he meets.
Now, he finds himself greeting even strangers cheerily — inviting more than a few bemused looks — who come out of the lifts at the Housing and Development Board block where he lives. "I was known not to be a smiley person, but ... I adjusted pretty well," he said.
Being at the frontline has also helped guest service officer Fazree Abdul Rahman, 26, come out of his shell. When he was younger, he used to be a reserved and quiet person, but that changed after he joined the hotel industry in 2012.
"I wasn't very confident when I started out. My English wasn't that great as well. But by interacting a lot (with guests), it did really help me improve," said Mr Fazree.
He joined the Shangri-La Hotel Singapore in September last year after two years in a similar role at the Grand Copthorne Waterfront Hotel.
Mr Fazree holds a diploma in digital media, but he chose to pursue a career in hospitality after enjoyable part-time stints at attractions such as the zoo and the Singapore Flyer. 
For him, being in this field gives him the chance to meet and talk to people from around the world. "I meet a lot of different guests ... It's pretty interesting to listen to their stories and connect with them," he said.
 
NO DEGREE? NO PROBLEM
In the hotel sector, the willingness to learn and the right attitude count more than paper qualifications.
The Shangri-La Hotel Singapore, for instance, aims to hire five to 10 more assistant housekeeping managers to prepare for the reopening of the hotel's Tower Wing — currently undergoing renovations — by the first quarter of next year.
Ms Ong Eng Hwee, Shangri-La's area director of human resources, said that neither a degree nor a hospitality qualification was a must, though these would be an "added advantage".
"In our industry, qualifications are not key. The most important thing is that people are willing to try a different career," she said.
For those in customer-facing roles, attributes such as a warm personality are vital. During interviews, interviewers would pose questions to determine if an applicant would go "the extra mile", such as getting them to cite how they went out of their way to help a friend, said Ms Ong.
Ms Lynette Chew, 44, who is the hotel's events management director, rose to her current position despite not having stellar academic credentials.
She started out in the industry in 1988 as a banquet waitress at Pan Pacific Singapore. Four years later, Ms Chew, who holds O-Level qualifications, moved on to an administrative role in catering sales.  
In 1997, she was hired by Shangri-La as a catering executive and after six years, she became its assistant director of catering. In 2010, she was appointed the department's director, before assuming her latest role in 2014.
Her motivation behind her success? Satisfied customers. "Having clients who follow you through your years of working in a hotel is one of the things I love," she said.
Reiterating the importance of being eager to learn, she added: "Being willing to expose yourself to things that you're not doing on a daily basis will give you better opportunities to move around."
Indeed, the wide repertoire of functions in a hotel — from front office to sales — means opportunities abound for employees to rotate among the various roles. Mr Azharie, for example, was initially hired by his hotel in 2011 as its fire safety and security manager.
Nearly three years later, he took the chance to be cross-trained and it opened a new career pathway for him. As the assistant director of operations, he oversees several departments including the front office, housekeeping and engineering.
"The right, positive mindset, and the willingness to learn and undertake responsibility are most important," said Mr Azharie, who has a diploma in management and police studies.
 
WANTED: VERSATILE INDIVIDUALS WHO ARE KEEN TO LEARN
The 35,000-strong hotel industry employs about 1 per cent of Singapore's workforce across some 400 establishments. It also contributes nearly 1 per cent of the country's gross domestic product.
Last month, the government unveiled a blueprint for the sector, one of 23 under its S$4.5 billion Industry Transformation Programme to augment skills, boost productivity and innovation, and help firms venture overseas.
The government estimates that about 200 jobs will be created in the sector every year until 2020 for professionals, managers, executives and technicians (PMETs). Currently, more than 2,000 job openings are available in the hotel and accommodation-services sector, with four in 10 for PMETs.
The push by some homegrown hotel companies into markets overseas is expected to open up senior management jobs for Singaporeans, such as general managers and HR directors.
Amara Holdings is one such firm seeking a slice of the regional pie. It will open a 343-room hotel in Shanghai by the middle of next year.
Strategic planning and corporate development director Dawn Teo said that amid the company's overseas expansion plans, it is looking to hire people with high potential and an appetite for multi-tasking to take on management posts in the region.
In Singapore, with new hotels opening, the number of existing roles that incorporate emerging skills such as revenue management will increase, Workforce Singapore (WSG) said. 
Jobs expected to see increasing demand include executives and managers in areas such as housekeeping and reservations.
Royal Plaza on Scotts general manager Patrick Fiat said that rooms inventory in the sector is expected to grow at least 15 to 20 per cent over the next few years, and the number of jobs will increase in tandem.
The hotel's assistant housekeepers receive S$2,200 to S$2,600 a month, for example, while an assistant director of operations earns between S$5,000 and S$6,500.
At Shangri-La, Ms Ong said it expects to recruit more people for positions such as guest service officers and assistant housekeeping managers, while Amara's Ms Teo cited emerging roles, such as revenue management and business analytics, as among the areas for which hiring will be ramped up.
Revenue managers analyse data such as historical trends to determine  room and product rates with the aim of optimising yields.
The Park Hotel Group is hiring staff under a scheme that focuses on multi-skilling and deployment across three divisions — housekeeping, food and beverage and front office — over a year. 
Group HR director Alex Ang said: "Due to a tight labour market and the push for higher productivity, we definitely see hiring growth for multi-skilled talent."