Archive exhibitions: What happens after SG50?
Very few things scream "rock 'n' roll" better than a pair of scruffy, dressed-up Levi's 501s. Much like the two hanging in one corner of the National Museum of Singapore's Salon exhibition space.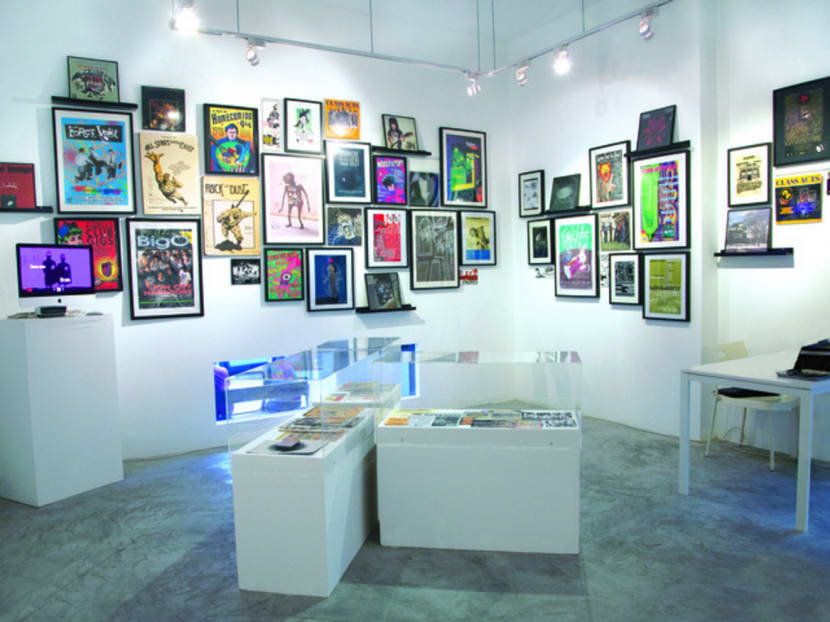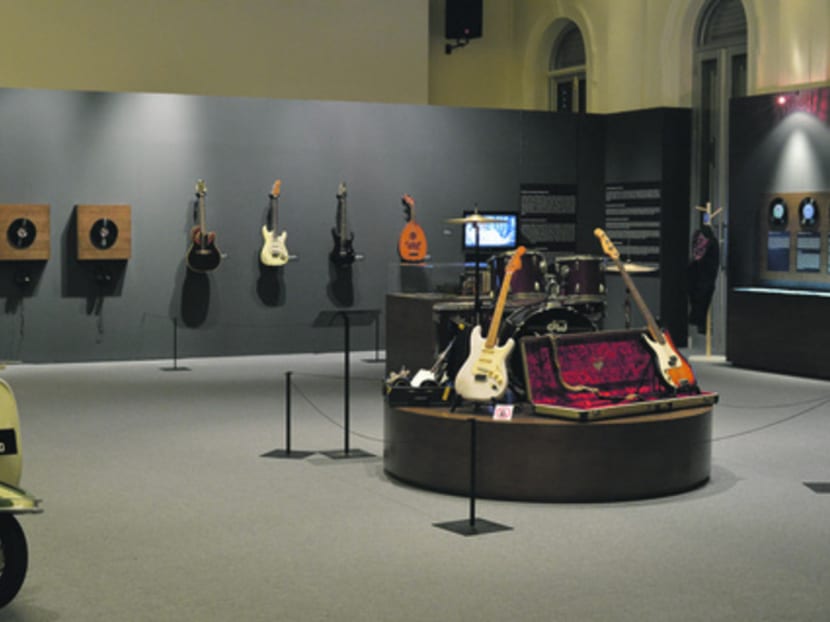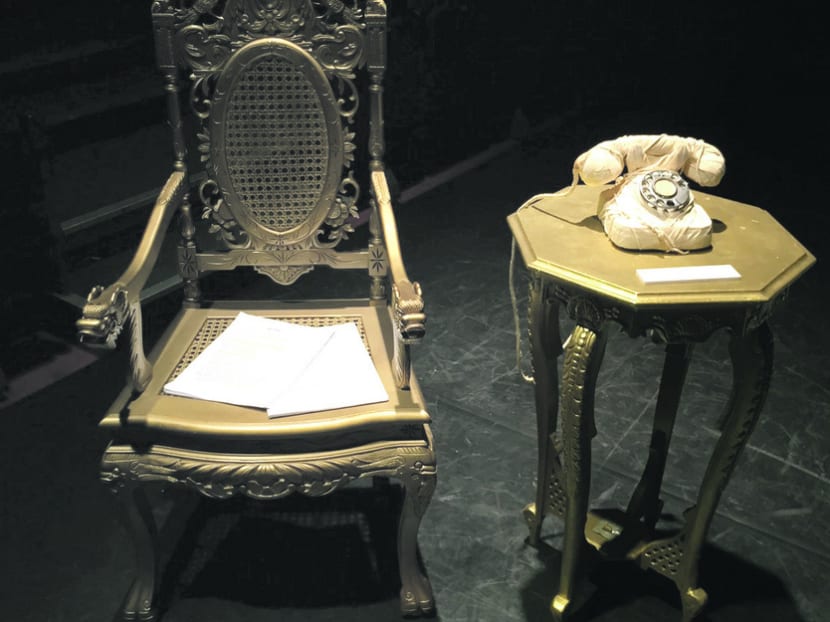 Very few things scream "rock 'n' roll" better than a pair of scruffy, dressed-up Levi's 501s. Much like the two hanging in one corner of the National Museum of Singapore's Salon exhibition space.
The colourful batik-painted jeans are from Mohd Khair Mohd Yasin, who, along with Art Fazil and Esham Jamil, formed the '90s Malay folk-rock trio Rausyanfikir; and it's one of the artefacts on exhibit at the ongoing Ole Ole Temasek — 50 Years Of Singapore Malay Pop Music. Aside from the exhibition's Hard Rock Cafe vibes — with its vinyl-on-walls listening stations, old guitars and drum set, 8-track stereo cartridges — it's a fascinating show under this year's Singapore Heritage Festival banner.
This meaty snapshot of the Malay music scene traces its roots, from the bangsawan (Malay opera) musicians of the 1920s to the Pop Yeh Yeh scene of the '60s and '70s to the Nusantara movement of the '90s, reveals a clearly laid out trajectory that leads to later developments such as the Anugerah Planet Muzik awards ceremony. The likes of Anita Sarawak, Rahimah Rahim, Black Dog Bone, Ramli Sarip, M Nasir, Najip Ali and many more are present and accounted for, a few via video interviews. Ole Ole Temasek also attempts to paint the context of the various eras — citing on the wall notes, information about recording studios, record labels and even the scene's go-to hangouts (we're looking at you, Peninsula Shopping Centre).
This exhibition follows two others that have cast their eyes on Singapore's arts scene SG50-style. At the nearby Substation, So Happy: 50 Years Of Singapore Rock is nearly wrapping up, while The Arts House played host to Theatre Memories: 50 Years Of Singapore Theatre earlier this month. We're still a few months away from Singapore's ultimate birthday bash, but the local theatre and music scenes have already begun theirs and, like Ole Ole Temasek, both these smaller, less sleek shows have been worth the visit.
BIG PICTURE VIEW
While So Happy is primarily a personality-centric photography exhibition of musicians and groups, from The Quests to The Sam Willows, that built up and sustained the local English-language rock community, those with enough patience to read the exhibition notes or listen to the interviews are rewarded with a satisfactory big picture view of the scene's evolution.
Even though we hoped for a more prominent nod to elements that have affected the scene, such as the seminal magazine BigO, The Substation's old garden space and the anti-long hair campaign, So Happy still offers precious insight into just how rich the scene was — and is. One is amazed at the amount of artistic output — the records and songs — of a scene that has mostly survived in the fringes. Even the idea of the local musician as an outsider, while true for the greater part, is challenged by gentle reminders otherwise. If you thought Electrico having a National Day Parade song was a shock, what about the fact that legendary music renegade Chris Ho's earlier band Transformer had regular appearances on national television in the late '70s?
There are also clues in So Happy that point to the scene (and its history) and how it's one that seamlessly integrates into the larger tapestry of Singapore's arts scene. Former Astreal singer Melissa Lim now keeps The Necessary Stage running smoothly and Concave Scream's Pann Lim is one of Singapore's top creative names and has an art collective with his family. Children's book author and publisher Don Bosco once formed Twang Bar Kings with The Observatory's Leslie Low. The Singapore International Film Festival's director, Zhang Wenjie, played bass in the '90s band Suchness. The hard-hitting rock band '80s NoNames' drummer-singer Abdul Nizam is known in some circles now as a film-maker.
Even as So Happy dishes out such delightful discoveries, Theatre Memories also offers an equally rich experience. The first floor of The Arts House had more conventional aspects such as objects, props and artefacts, including architect Lai Chee Kien's amazing collection of old theatre programmes. But the real gems were found upstairs, where one could see printed transcripts and video interviews with various personalities, who not only reminisced about their early experiences onstage or gave a shout out to those who have influenced many (including those who have already passed away, such as Kuo Pao Kun, Krishen Jit, William Teo and Christina Sergeant) but also discussed issues such as censorship, the pressure to commercialise, the rising costs, among others.
BEYOND SG50
In one of the interviews, W!ld Rice artistic director Ivan Heng said that in the midst of current celebrations, we should take a moment to reflect on things. He is, of course, referring to bigger issues in Singapore. But it could also apply to the very idea of such exhibitions that gather and showcase these "archives" and artefacts.
It should come as no surprise to see these kinds of exhibitions this year — SG50 fever is upon us and everyone will certainly be taking the opportunity to do these "look back" showcases. There is both heightened interest among the public and institutional support. For instance, both So Happy and Theatre Memories have got the backing of the Singapore Memory Project's irememberSG Fund. But perhaps it is equally important to think about what happens to this wealth of archival material, documents and objects once the party ends, so to speak.
It's heartening to know, for example, that organisers of both exhibitions are hoping to continue their respective projects — or have parts of it go up — elsewhere. Theatre Memories' co-curator Annie Jael Kwan said the precious interviews they've done are earmarked to eventually go up on the Singapore Memory Portal and there are also discussions to tour a capsule version overseas for Singaporean communities. Meanwhile, So Happy's curator and main organiser Little Ong has been releasing video interviews online as well. It has both its own website as well as a very active Facebook page, where people have been sharing their own memories and photographs.
All three archive-centric exhibitions mentioned are directly linked to — and even born out of — the current SG50 mania. But there's another ongoing archive-centric project that offers an alternative approach.
ALTERNATIVE ARCHIVE
At Gillman Barracks, artist Koh Nguang How has been putting together his Singapore Art Archive Project and he's been doing it way before SG50 mania even started. Beginning in 2004, he's put together countless newspapers, artefacts, photographs and sound recordings pertaining to the Singapore art scene and configured them in various ways to present exhibitions such as the popular newspaper work called Artists In The News at the Singapore Biennale in 2011.
Since he was appointed one of the first artists-in-residence at the NTU Centre For Contemporary Art Singapore last July, Koh has organised four (yes, four) exhibitions revolving around his archives. These included an exhibition on one of Singapore's lesser known artists, Shui Tit Sing, and one titled Six Decades Of Art Ephemera, comprising posters, flyers, leaflets, catalogues, newspapers and magazines dating back to the 1950s.
Koh's residency at Gillman is coming to a close, but his archive has garnered interest not just from fellow artists-in-residence but the public too: More than 8,500 visitors have checked it out so far. While the issue of storage and upkeep has been a perennial bugbear for Koh (the materials he has at Gillman Barracks is only part of a huge collection that is stored at his house and a rental storage space), the wealth of material means the sky's the limit when it comes to the kinds of exhibitions he can come up with as an artist.
In fact, he has another exhibition coming up at The Esplanade's Jendela called Art Places, which will feature his photographs of places and venues where art performances and exhibitions took place in the past. (By the way, Lai Chee Kien's theatre programmes at Theatre Memories were first spotted at Koh's Ephemera exhibition and Koh also provided a couple of photos for So Happy.)
THE PAST AS FUTURE
The SAAP could be seen as an example of the range of possibilities with archival materials at hand. What Koh's practice proves is that you don't necessarily have to stop at simply showcasing what you've got. Conventional exhibitions are just one of the many ways of making "the old stuff" come to life.
Artist Loo Zihan has been using the documentary and archival approach for his shows, such as this year's interpretation of the late Aids activist Paddy Chew's one-man show Completely With/Out Character or 2013's Artists' General Assembly: The Langenbach Archive, where he interpreted available material on the pivotal 1993 event that hosted Josef Ng's controversial performance. But it's not just about simply using the materials-as-objects. Perhaps we can consider The Esplanade's ongoing special Studios season, which comprises new stagings or dramatised readings from the literary "canon", as another way of breathing life into archives. Or even performances by a cover band such as The Fast Colors, who only does interpretations of Singapore music.
For a young nation where the most important currency is based on the newest thing, showcasing or underscoring the importance of archives and artefacts is a must. And efforts to do so should be lauded, not just of the organisers of these exhibitions, but also the likes of writing centre Centre 42, The Substation and The Necessary Stage, who have their respective archival projects underway.
We should also not forget that while 2015 is as good a time as any to hit the pause button and go, "We've certainly come a long way", ultimately, the importance of these lie in their continued relevance. They aren't merely records and objects of the past but a wellspring of lessons and inspiration for the future.
The bigger success of such archives is not merely in the fact that these were set up but in a young musician being empowered to continue playing music after watching one of the "old guards" reminisce about the highs and lows of the rock scene in the '80s. Or a budding playwright who, aware of the challenges the theatre scene faced in the '90s by reading an interview transcript, is inspired to trudge on. Or the sudden ubiquitous presence of batik-painted Levi's 501s at rock concerts.
On second thought, let's leave that last one out.
Ole Ole Temasek runs until May 17 at the Salon, National Museum of Singapore. Free admission.
So Happy runs until April 26 at The Substation Gallery. Free admission.
Art Places runs from May 1 to July 19 at the Esplanade's Jendela. Free admission.