Art review: President's Young Talents 2015
Piles of talcum powder and strips of human skin. An entire library of art books. A thousand images of a CD spread on the floor. Robots playing chess. Icebergs.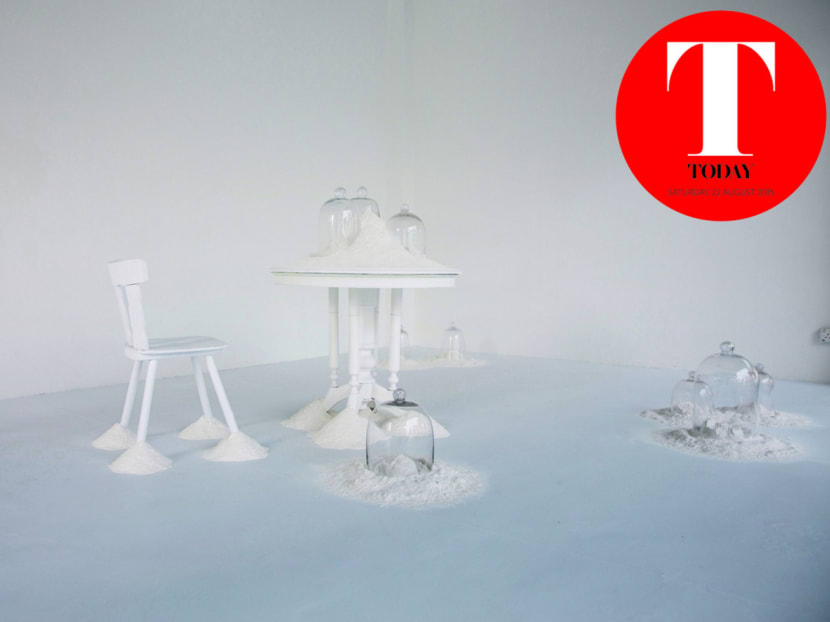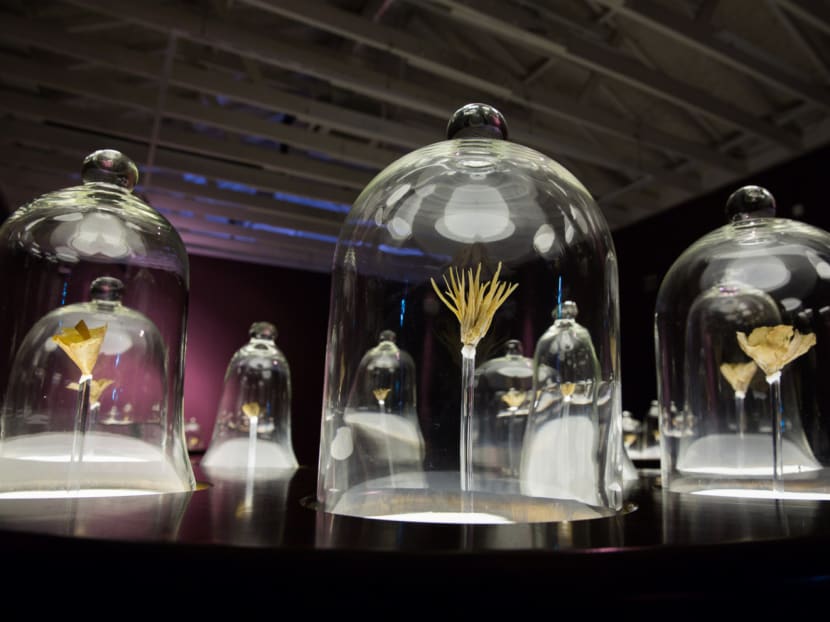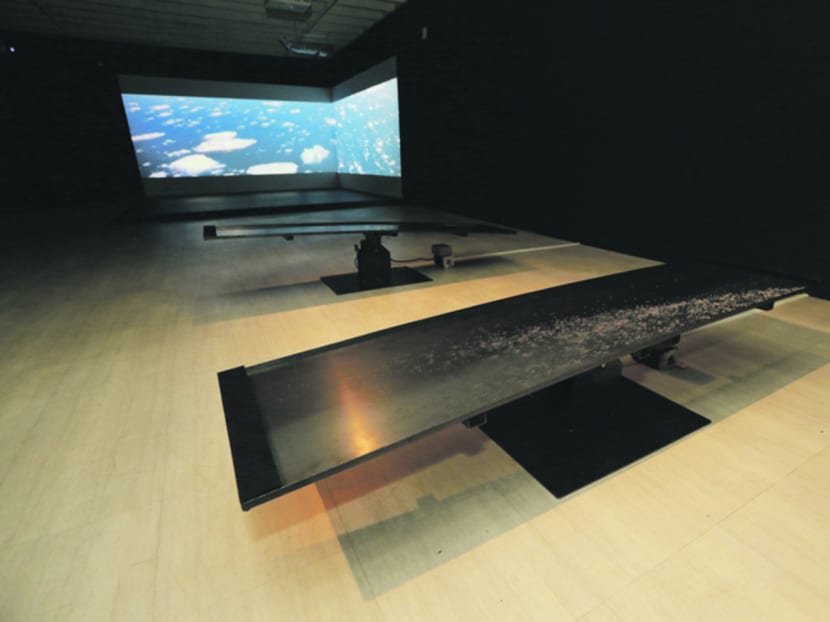 Piles of talcum powder and strips of human skin. An entire library of art books. A thousand images of a CD spread on the floor. Robots playing chess. Icebergs.
You'll find all of these interesting materials and subjects at the Singapore Art Museum's (SAM) latest President's Young Talents (PYT) exhibition, which is considered one of the country's main showcases of young contemporary Singaporean artists. But if you're looking for the brash, the cocky in this year's all-male batch comprising Ezzam Rahman, Loo Zihan, Ong Kian Peng, Ang Song Ming and Bani Haykal, temper your expectations. Those familiar with their previous works will recognise past elements and, overall, the delight is more in seeing them expand on these. Also, the sense one gets going through PYT 2015 is that of a quiet contemplation of the body and of the mind.
FROM HUMAN SKIN TO PAGES OF BOOKS
Perhaps nothing frames this idea more than the contrasting works of Ezzam and Loo, who are both known for their art performances, albeit coming from different ends of the spectrum.
The former's two works here — perhaps the closest you can get to outrageous moments in this show — extend the discussion on the artist's body. On the second floor of the SAM@8Q venue you'll find the most recent reiteration of Ezzam's popular (and possibly gross to some) "skin art" series, where he uses skin peeled from his fingers and toes to create small objects. For Here's Who I am, I am What You See, its fragile "flowers" in bell jars is metaphorically an extension of the artist himself.
While he considers these as art objects, his work inside a glass room near the SAM@8Q entrance is more directly linked to his practice as a performance artist. Titled Allow Me To Introduce Myself, the slivers of skin are replaced by mounds of talcum powder, which Ezzam will swallow, blow and expunge in a series of performances throughout the show's duration. If dead skin makes you squeamish, what will you think of the expected sludge mix of powder, saliva and sweat that will accumulate as "relics" of his performance?
In stark contrast to the visceral nature of Ezzam's work is Loo's "academic" installation on the first floor. Of Public Interest: The Singapore Art Museum Resource Room is essentially the museum's not-open-to-the-public library made public. About 4,500 printed materials — or 95 per cent of the museum's books, monographs and magazines — are arranged chronologically and geopolitically (Singapore, South-east Asia, Asia-Pacific and International), and visitors can peruse these. There's an added twist, too. Visitors can leave their own book in one section and also "withdraw" one from the SAM collection, which is then shrink-wrapped so that no one else can access it, in effect giving viewers "a stake in shaping the body of information", said Loo.
His mini-library isn't only consistent with his other archival projects (which are sometimes also performed), but also with similar projects dealing with bodies of knowledge, such as The Artists Village's own public art library project, archivist Zaki Razak's work at the previous PYT involving a tent where classes were held, and Koh Nguang How's art archive (including his newspaper installation at the 2011 Singapore Biennale set up in the same building). In fact, there's another subtle nod to Koh — Loo has cheekily withdrawn the seminal book Channels & Confluences: A History Of Singapore Art, which was the starting point of one of Koh's early exhibitions that pointed out some factual errors.
CONTEMPLATIVE EXPERIENCES
Two other artists carry on the contemplative mood of PYT. Upstairs, multimedia artist Ong Kian Peng's Too Far, Too Near takes on climate change: There's a video of his trip to Greenland, recording the melting icebergs, while speakers embedded on the floor vibrate to approximate the sound and sensation of cracking ice. This is complemented by two mechanical seesaws on which small ball bearings are placed, creating a wonderfully hypnotic sea soundscape while alluding to the unstable sensation of waves. Perhaps the only downside here is that the installation awkwardly only takes up half of the allotted room — a whole row of the seasaw contraptions and perhaps a bigger video screen could have amplified further the work's already haunting effects.
Meanwhile, conceptual artist Ang Song Ming's Days is perhaps the most unassuming of the lot, a personal diary-as-multi-part installation comprising a music video of his parents' flight en route to Berlin (where he's based), a collage of a thousand images of a CD laid on the floor, a series of reinterpreted musical scoresheets, and music stands with acrylic sketches and diary entries that cite the likes of Singaporean artist Ian Woo, David Letterman, Tan Pin Pin's Singapore GaGa documentary, among others. The different elements make up what he describes as instances of "visual compositions" using both familial as well as music-related themes, something that he has been using for much of his practice.
If Ong's big-picture environmental topic is displayed as an intimate personal experience, Ang's personal musings are fragmented, slightly abstracted and occasionally humorous statements on the routine. Both works offer more the longer you spend time with them.
A GAME OF CHESS
If there's one work that blends this idea of body and mind and takes it further, that would be multi-disciplinary artist Bani Haykal's multi-layered Necropolis For Those Without Sleep. At the heart of it is a game of chess played by two "mechanical turks", in reference to the 18th century "robotic" chess-playing contraption. The catch is that it's an uneven playing field — the chessboard design and the pieces are skewed in favour of one of the robotic players. The structure is flanked by two dummies wearing orange jumpsuits, referencing the uniforms of Guantanamo Bay detainees.
In fact, political references abound here. Rubber ducks are strewn all around (a nod to the term "lame duck") while the game of chess itself can be read in a Cold War sense (think of the American and Soviet chess grandmasters). (And to stretch it even further, Bani points out how the entire installation started from his obsession with the history of jazz, which was slyly employed by the Americans in their cultural Cold War versus the Russians, in the same way as the abstract expressionism of the likes of Jackson Pollock — jazz improvisation as a supposed metaphor for freedom.)
In Bani's work, mind (the cerebral game of chess) meets body (or its absence, in the form of the robotic hands connected to tangled wires, seemingly ripped from the dummies' arms). And this takes place as we, seemingly passive spectators, play out our own uneven viewing experience: Only two are allowed to enter the installation's room at one time, with one person only allowed 50 steps before being ushered out — an allusion to the fifty-move rule in chess, where one can claim a draw. Here, the work comes full circle as visitors, too, cheekily become pawns in Bani's tongue-in-cheek game.
The President's Young Talents runs until March 27, 2016 at SAM@8Q, with an awards ceremony taking place on Oct 21, 2015. The winning PYT artist will be awarded S$20,000 to create a new work or take part in an artist residency, while the People's Choice Award will be decided through public voting onsite, with the winner receiving a cash prize of S$5,000. For details as well as artist talks and curator tours, visit http://www.singaporeartmuseum.sg