Dance review: Same same but different in Re/Play Dance Edit
SINGAPORE — When someone gushes about listening to a song on repeat, we don't think they mean having it on repeat 10 times — one after the other.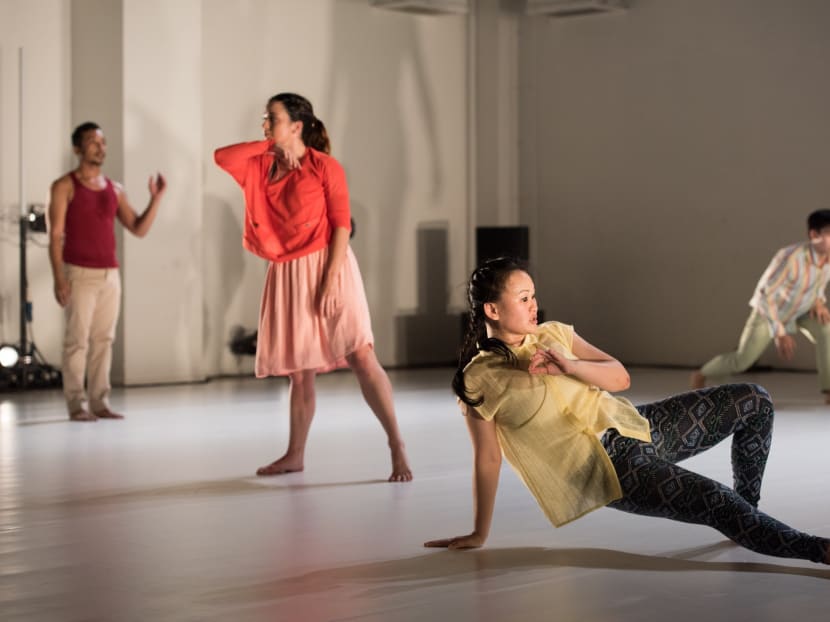 SINGAPORE — When someone gushes about listening to a song on repeat, we don't think they mean having it on repeat 10 times — one after the other.
That would be our experience with The Beatles' jaunty Ob-La-Di, Ob-La-Da, the track that anchors the central bulk of the audacious dance performance Re/Play Dance Edit at 72-13.
A collaboration between Theatreworks and Japan's Offsite Dance Project, the piece by Junnosuke Tada sees eight dancers from Singapore and Japan simultaneously performing what could be described as organised chaos, where the main conceit was the idea of repetition. The piece itself is a restaging of Tada's work Re/Play back in 2011, and here the eight repeatedly perform their individual parts, a mix of everyday gestures and dance movements: Static poses of being deep in thought, acting surprised, peering through a spyglass, leaping and prancing, the odd boxing jab, and lots of collapsing. And through much of it, they are accompanied by pop music: We Are The World, a Japanese dance pop tune and yes, the Fab Four's most weirdly titled hit.
Admittedly, halfway through the Beatles portion, bemusement was replaced by irritation. But such was piece's single-mindedness of vision, its insistence that we stick with it that, within its Groundhog Day scenario, we eventually end up admiring and being delighted with the beautiful experience that unfolded.
And like that movie's TV weatherman protagonist Phil Connors, who had to go through one day over and over again, it's ultimately about what the viewer does with his or her viewing experience that matters. Re/Play Dance Edit is definitely not one for instant gratification. Instead, with all the tweaks embedded — whether it's the deliberate pauses mid-way through songs, the obnoxiously intentional rise in volume, the subtle changes in lighting tones, or the almost imperceptible differences in the individual patterns and sequences of all eight performers — it urges us to listen to and watch closely this exercise in reading a performance piece.
The rewards are aplenty: With the songs and performances arguably on repeat, one slowly considers the question of what's being foregrounded and what's in the background in a performance (Already spacing out because you've seen one guy jumping out and down for the third time? Zoom in on Paul McCartney's bass riff!).
And because the linearity of show has been chucked aside (in what's mostly an assembly of looped moments somewhat suspended in time), one is prodded to see newness in relative familiarity — after all, you don't re-read a book the same way or listen to the same song the same way (even if it's for the 10th time).
The idea of "stretching out" the performances by way of repetition also liberates the performers. Because they're somewhat locked into their respective patterns, they more clearly "own" their respective dance vocabularies, consequently standing out as individuals for a viewer who now has the luxury of watching them as closely and repeatedly as possible. For instance, Ma Yanling's training with THE Dance Company is evident while Sheriden Newman exudes a carefree lightness; there's Jaenny Chandra's sassy athleticism, and Japanese performer Kitamari's endearing quirkiness.
This sense of individuality is complemented by a middle segment where they verbally re-enact conversations they had while in the process of rehearsing for the show (a "yam seng" moment, a dig at Singapore Dance Theatre, the friendships forged). Despite the seemingly robotic framework of the piece, they're far from being dance automatons. Runing an hour and a half, Re/Play Dance Edit also emphasises their capacity for endurance and their collective skill — in the madness of the constant reconfiguration of bodies onstage, there are no accidental bumps, revealing a heightened awareness of their bodies in space.
While we don't think we would want to hear Ob-La-Di, Ob-La-Da again for the rest of the year, Re/Play Dance Edit is one show where "same same but different" applies in the most wonderful way possible. And no, we don't think we need to repeat that.
Re/Play Dance Edit runs until Feb 20, 8pm, at 72-13 Mohamed Sultan Road. Tickets at S$18 from replay [at] theatreworks.org.sg or 6737-7213.