A decade of the M1 S'pore Fringe Festival
When the M1 Singapore Fringe Festival (M1SFF) kicks off its 10th edition this week, it will also mark a decade-long involvement for theatre and visual artist Noor Effendy Ibrahim.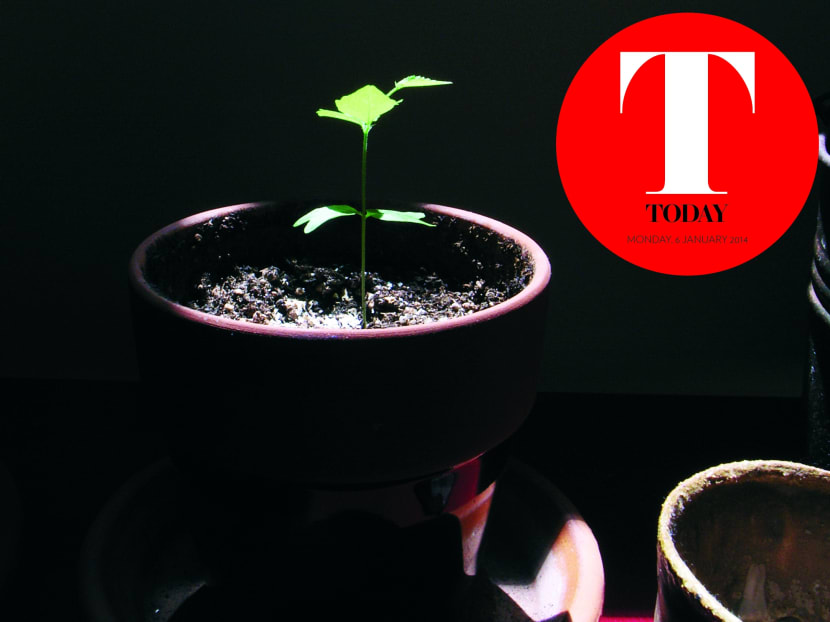 When the M1 Singapore Fringe Festival (M1SFF) kicks off its 10th edition this week, it will also mark a decade-long involvement for theatre and visual artist Noor Effendy Ibrahim.
Joget, Abang, Joget (Dance, Darling, Dance) — a physically-intense piece done with collaborators under the collective moniker ponggurl — will be his third appearance for the festival, following the acclaimed dark comedy Bilik Ahmad Berdaki in 2010 and the war-themed How To Peace during the inaugural edition in 2005.
"The Fringe is my best friend," he quipped, a tongue-in-cheek comment that belies the artist's affection for an annual event that has allowed him to present his rather challenging works to a general public.
"The Fringe makes it legal for me to remain in the fringe," he elaborated. "The space offered by the (festival) team ensures that it is okay for the work to resist or refuse popular reception, so it is quite all right to not make people as 'happy' as audiences expect. I do feel at ease."
Success redefined
It's this balance of the challenging and the entertaining, of the experimental and the palatably mainstream that has made the M1SFF appealing to a range of audiences. And this year's edition, with its theme Art And The People, in a way celebrates that range with popular works rubbing shoulders with some pretty esoteric stuff, grim-faced productions with those that simply put a smile on your face.
But its organisers still shy away from calling it a success. "I hesitate to use the world 'successful' because I think we have such a long way more to go and so much more to improve on," said Melissa Lim, Company Manager of The Necessary Stage, which organises and curates the festival.
Still, the group has been constantly innovating since it decided to transform the festival from its previous Youth Connection (and Theatre Connect) festivals into something more, well, fringe. Alongside the theatre group's presentation of the youth-oriented What Big Bombs You Had!!!, the inaugural 2005 edition also featured a line-up comprising cutting-edge artists like Amanda Heng, Li Xie, Zai Kuning and Effendy.
M1SFF was one of the first arts events to recognise and tap the possibilities of social media and mobile apps. They've also been open to other ways of presenting their works to the public (remember the exhibition of Singapore's mosaic playgrounds in bus stops during the 2011 edition?)
Still it's primarily what's on offer that defines a festival, and M1SFF has consistently been presenting (or attempting to present) works of note. Among these were last year's Brother Cane, where artist Loo Zihan recreated the controversial 1993 protest performance of Josef Ng; and 2008's The Complaints Choir, which got cancelled by the Media Development Authority and surfaced as a video on YouTube.
It needn't always be "heavy" issues. The 2007 Inclusive Design Challenge winners impressed with a design for underwear. "It was a pair of knickers created by local designers and special needs folks, which not only made it universally accessible for able-bodied and special needs people alike, but which actually looked attractive," said Lim.
No doubt the taste for the unusual continues this year, as the festival has invited people to try their hand at horticulture.
New York-based Japanese artist Hiroshi Sunairi's Majulah Singapura — Tree Project features both film screenings as well as an exhibition of seedlings of Hibaku trees — or trees that have survived the Hiroshima atomic bomb — which were cultivated by Singaporeans last year.
According to Sunairi, Lim had been one of the participants of the project a few years ago and had encouraged him to apply for the festival.
Locals first
But perhaps the M1SFF's best contribution has been its enthusiastic efforts to give Singapore artists a leg up.
Of the 241 works presented throughout the festival's 10 editions, 99 have been Singapore works. Of these, 53 per cent have been new productions. Some 678 Singapore artists have also taken part in the festival.
"The Fringe wouldn't be the Fringe without the platform for our local artists to play," said Lim. A quick glance at M1SFF alum reveals some pretty impressive names who got either their start at the festival or took some pretty big baby steps there: Ming Wong, T.H.E. Dance Company, Re:Dance Theatre, Daniel K, Ang Song Ming, Alecia Neo and Nine Years Theatre, among many others.
A number of them are returning for this year's edition, including Ong Kian Peng. The multimedia artist is back with a Facebook-driven daily newspaper called The Face Daily for the festival.
His debut at the Fringe in 2011 had resulted in an invitation to do work for The Substation's sound art programme, which spawned an exhibition at the SeptFest later that year. "(The two shows) further defined my interest in sonic art because previously I was a designer. I had no real training as a musician or sound artist," he said. "For young and emerging artists, there are not a lot of chances where they can actually participate in big festivals, which comes with a nice package of artist fees and material support. The Fringe is one of these. And it's really well connected with the general public in Singapore — they're geared towards reaching out to regular Singaporeans so it's offering an opportunity to be connected beyond the arts community."
Meanwhile, Fringe newbie Tan Wei Keong may not exactly be a greenhorn artist, but like Ong, the festival will see him doing something different from his animated short films.
Foundin is a public installation comprising miniature figurines scattered in public places. People can adopt a figurine at www.foundin.org and send messages, and others can interact with these adopters too.
Initially, Tan was planning a less formal and more "guerilla" project in Tokyo to connect with the people. After mentioning it to friend and Web designer Samuel Woo, the latter mentioned the Fringe Festival. "That's when I decided to bring it to Singapore first and it just happened to fit the theme really well," said Tan, who admitted that prior to this, he had very little knowledge of the festival. "I'm really looking forward now to the theatre pieces and the Japanese artists this year. I'm discovering the Fringe in its 10th edition!"
And if he sticks around long enough, like Effendy, he'll feel very much at ease.
The M1 Singapore Fringe Festival is from Jan 8 to 19. For more information, visit www.singaporefringe.com. Tickets from Sistic.