Dragonlance author Tracy Hickman's fantasy world
In an alternate universe, he is Tracar The Just, a Paladin or "holy knight" armed with magical plate armour, a long sword, a short bow and a mystical looking glass of knowledge called the "eye-pad".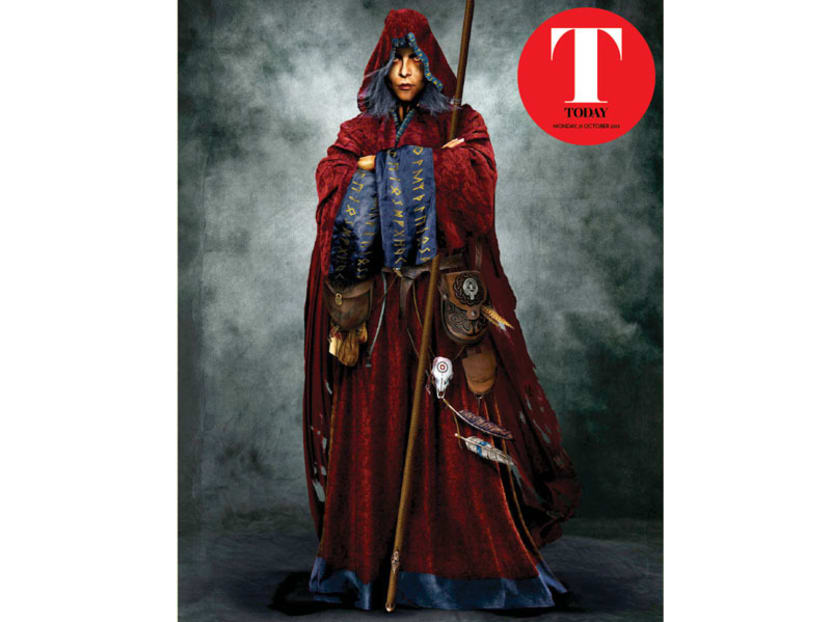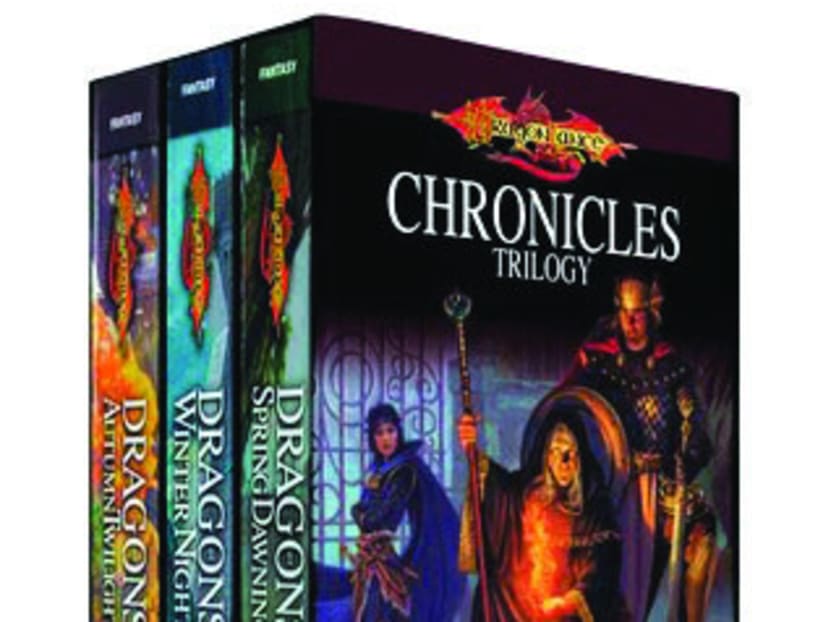 In an alternate universe, he is Tracar The Just, a Paladin or "holy knight" armed with magical plate armour, a long sword, a short bow and a mystical looking glass of knowledge called the "eye-pad".
But you can call him Tracy Hickman, the brains behind that fictional realm of dungeons, dragons and people who throw dice and dress up as wizards — Dragonlance. The legendary 57-year-old American fantasy author and game designer will be in town next month for the Singapore Writers Festival. And together with his wife and frequent collaborator, Laura, Hickman will discuss all things fantasy, including that magical universe created by the couple during the '80s.
Way before Tolkien's The Lord Of The Rings received the live-action big screen treatment, before J K Rowling birthed Harry Potter, and before George R R Martin's The Game Of Thrones became a HBO spectacular, there was Dragonlance, an expansive, self-contained fantasy realm that was the setting for role-playing games, merchandise and a slew of novels.
"All genres wax and wane. There was a time in the 1950s and 1960s when everyone in the United States was obsessed with westerns, spies and mysteries," shared Hickman in an email interview. "Sometimes they recede and then have a resurgence. It's a cycle. Dragonlance was the right story at the right time: Fantasy was just gaining a solid foothold in popular culture in the early 1980s. Now, thanks in part to Peter Jackson's Lord Of The Rings, Harry Potter and Game Of Thrones, I think there is more mainstream acceptance of fantasy and speculative fiction in general."
Hickman has gone on to write other fantasy books with his wife. But it was his collaboration with writer Margaret Weis that has left an indelible stamp on the fantasy world. The Weis/Hickman team-up produced two hugely popular trilogies: Dragonlance Chronicles and Dragonlance Legends. Both followed the swashbuckling-yet-tragic story of the Majere twins, the the naive fighter, Caramon, and the power-hungry wizard Raistlin, as well as their dwarven and elven friends. It wasn't a niche geek thing, too — the books went on the New York Times best-seller list.
While there was a 2008 straight-to-video animated version that featured the voices of Kiefer Sutherland and Lucy Lawless, the big question is whether a live-action movie adaptation will come about.
"I prefer to be a man of faith and believe that a live-action Dragonlance movie will happen. What's Peter Jackson doing next?" quipped Hickman.
Q: We read that you've been to Indonesia before. Did that ever serve as inspiration for your fantasy worlds or characters later on?
A: I have a deep love for the people of Indonesia. I served there as a Christian missionary from 1976 through 1977 and came to have an abiding respect for the Islamic faith and for the diverse people of that nation. I think that experience had deeply shaped and influenced all of my work both in my worlds and in my characters. I still speak a little Indonesian and often use its linguistic structure in the magical languages portrayed in my works.
Q: It's quite a challenge to create an entire fictional world. What inspired Dragonlance?
A: The world of Dragonlance was created as much out of desperation as inspiration! Laura and I were struggling financially early in our married life. We had two young children then and I had been out of work for six months. I recall we could not go to church that winter because we could not afford shoes for our children. However, we had written a pair of adventures for the Dungeons & Dragons game and decided to sell them to the publishing company to buy those shoes. The publisher, TSR, Inc, offered us a job in addition to paying for our games, so we packed up our little family into our Volkwagen Rabbit and drove across the plains of the United States from Utah to Wisconsin in search of work.
While we were crossing the plains, Laura and I discussed what we might bring to the company that would justify them actually paying us to write games for them ... and it was on that long drive in a continuous dialogue with my wife that Dragonlance was born.
Q: Why choose the fantasy genre?
A: I prefer to write fantasy because it is a genre of ethics. Fantasy is very closely tied to the Joseph Campbell ideal that story should be less about who we are and more about who we should be. I like to write about ideas to which we should aspire. Everyone in fantasy is heavily influenced by J R R Tolkien, of course, but I have other influences as well: Ursula K Le Guin and Samuel R Delany. I once met Issac Asimov, which was a thrill because he is my favourite in speculative fiction. I love Stephen King's prose style - so accessible and powerful at once. However, my favourite influence has been from a Canadian author by the name of Stephen Leacock — a humourist and lecturer from the early 1900s, in particular his Sunshine Sketches Of A Little Town and his delightful Nonsense Novels.
Q: You've collaborated with Margaret Weis and your wife, Laura. What's the writing process like?
A: Every writing partnership works differently. It's like a marriage in some ways: You have to learn how to work through your differences and focus on the book as being more important than either of your egos. Perhaps it is because my wife and I have such a strong marriage that we have been able to translate that into our writing relationship. In general, Laura and I sit down and talk through the story. One of us becomes the "Wordsmith" and the other one becomes the "Guardian." The job of the Wordsmith is to write the actual manuscript, while the Guardian reads afterward for corrections and discussion. It is important that only one of us do the actual writing in order to keep the voice of the text consistent.
Q: Considering you've been at this for years, how do you keep things fresh? Have you ever said to yourself, 'Okay, I think I shall become a cookbook writer now?'
A: Well, my wife actually did recently write a cook book, although I don't think she did so to escape our writing fantasy! I think one keeps fresh by being actively engaged in life. I often tell young writers to remember one difficult and wonderful truth: You have not yet written your best work. I believe that of myself and come to the keyboard each day in wonder at what new thing may be ahead of me.
Q: Before the books, there was the role-playing game. But with the rise of computer gaming and MMORPG (massively multi-player online role playing game), as well as mobile and tablet platforms, where does that leave the old school RPG games, with its dice and rulebooks?
A: Currently, I'm working with Richard Garriott de Cayeux as the lead story designer for his Shroud Of The Avatar computer game. It has been fascinating to see the elemental differences between computer games and table-top RPGs. That said, I prefer the direct connection between individuals and the give-and-take of creativity that you experience in table-top role playing games. The digital world has certain advantages but so too, does the very human connection of being around a table with friends and playing a game. This is why Laura and I recently completed a Kickstarter project for a table-top game that uses ebook downloads as an integral component of play (http://sojournertales.com) The game is designed specifically to bring families and friends together. We live in an increasingly divisive world. We need the more personal connection that gathering around a game can bring.
Q: What else are you working on right now?
A: Richard and I will be writing a novel for For Shroud Of The Avatar as well. And I have two trilogies I'm working on right now with my wife, Laura: Knights Of The Red Band for DAW books and Nightbirds for Tor. The first book in the Nightbirds series is called Unwept and and will be out next July. And we are finishing up our serial published series called Dragonsbard and considering starting up our writing workshops again. I am also writing a steampunk series set in the United States Civil War called Dragons Of The Confederacy. You might say we are a little busy!
Q: Dragonlance is obviously your most popular and influential work. Any chance of seeing even more?
A: Dragonlance remains very dear to my heart. I have an entire trilogy of new Dragonlance novels I would love to write if I were ever given the opportunity.
The Singapore Writers Festival 2013 is from Nov 1 to 10. The Hickmans will be involved in three events on Nov 9: The Road Goes Ever On: Foundations On Writing Epic Fantasy, Revisiting Dragonlance and Hearts Of Darkness. For more details, visit http://www.singaporewritersfestival.com.