Hello, Dolly
She's been juggling duties as a radio DJ and back-to-back rehearsals as the newest member of Singapore's much-beloved musical cabaret group, Dim Sum Dollies. Yet the energetic, amiable and giggly Denise Tan — who is probably just as familiar to regular listeners of MediaCorp Radio Gold 90.5FM's The Lunchtime Jukebox as she is to habitual theatre-goers — is surprisingly upbeat.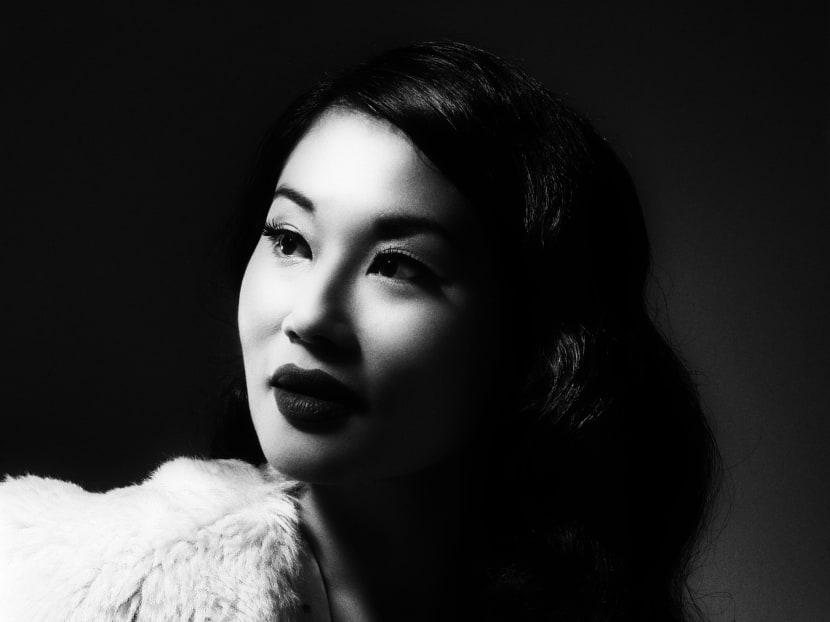 She's been juggling duties as a radio DJ and back-to-back rehearsals for a recently-inhabited role as the newest member of Singapore's much-beloved musical cabaret group, Dim Sum Dollies. Yet the energetic, amiable and giggly 38 year old  who is probably just as familiar to regular radio listeners of MediaCorp Radio Gold 90.5's The Lunchtime Jukebox as she is to habitual theatre-goers is surprisingly upbeat. You can't tell the petite one is carrying a bit of a load on her slim shoulders because Tan is now the third member of the Dollies, stepping into the shoes of original member Emma Yong who passed away from stomach cancer early last year. For a while, Yong's untimely passing left the remaining two Dollies, Pamela Oei and Selena Tan, not only mourning the loss of a partner and close friend, but it also left the fate of the Dollies hanging in mid-air. In fact, Selena Tan, unofficially the 'mummy' of the performing trio, had resigned herself to hanging up the Ting Tong Belles' sequined boots.
That is, until Denise came onboard after Selena unexpectedly sprang the invitation to her to be the new third member of the Dollies. Denise turned visibly sombre as she revealed she took a month to consider the offer. Not least because Yong had been a dear friend for over a decade and she had reservations about what Yong's family, friends and fans would feel about the change. She herself felt emotionally conflicted about what it meant taking over her pal's part. "I really didn't want to give the impression that I am snatching something away, because there are very precious memories. And it's an emotionally sensitive situation. For me, too, the grieving process was not quite complete—I don't think one ever gets over something like this. It had been a shock to the system; in my head I still kind of think she's gone away on a vacation and that she will be coming back, and that I will see all three of them again. It took a while to get over all these emotions to make the decision," she explained thoughtfully.
 
But after coming to a decision, the trio went full steam ahead in preparing for Crazy Christmas, a year-end extravaganza. For Denise, who describes herself as a 'Type A perfectionist', working with Tan and Oei has been a breeze, as she had previously worked with both actresses on different productions. And the duo only had praise for her. "Denise really works hard and she's a perfectionist, but the most wonderful thing about her is her heart-she's a kind and beautiful person who always gives off her best," said Selena. Oei agreed: "She also has sharp instincts as an actor and a voice that could melt gold. The transition to dollydom has been seamless."
Being one of the fabulous dolly can be considered a far cry from Denise's first theatre outing after returning to Singapore in 1997 with a double degree in English Literature and Theatre Studies from the University of Leeds in England. She recalled her audition for her first part in ensemble cast in Beauty World's 10 anniversary show in 1998. " I remember that I was the last girl coming in on the last day of auditions with Casey Lim (former associate artistic director of TheatreWorks), and I was so 'swa ku' (Hokkien for 'naive') I actually wore a samfoo top and had my hair in braids!"
 Have you always been interested in theatre?
Yes, my whole life. My earliest memories are of me being a ham. I was a ham from birth. I was always putting on impromptu concerts for my family and my friends. My earliest memories were always of singing, making up songs, dancing and performing for people. When I was in kindergarten my favourite things were singing lessons and being on stage - I recall that my biggest role in kindergarten was being a duck in my graduation show. All through primary school, secondary school and JC, my extra curricular activities revolved around theatre, and every year I performed in at least one production.My friends and I would always get together every year for assembly and ask if we could do a skit, and we would make up some script and rehearse and put it on for the school. But I never took drama lessons; the closest I got to that was taking ballet classes, which I did from the age of four till I was 18.
 
How did your three years at university in England further contribute to your wanting to be in this industry?
My uni experience was awesome because I love to dabble in a lot of things, not only on the academic side. I didn't go to drama school, instead I wrote a lot of essays and studied a lot of history; I had to write arguments and take so many different modules. Academically it was a great time of growth and my brain was definitely challenged a lot. Yet on the side, to get my fix of performance which I love, all my extra curricular activities were once again centred around theatre and acting. I would rush from class where I was discussing avant garde theatre and different theories about Peter Glass (an influential American composer), to rehearsals as I was in the musical theatre society. If there was a show I would be rehearsing for it or I would be part of the choreography team and helping to direct. So I would say I had the best of both worlds. Both worlds did kind of clash sometimes because the academic and the practical worlds sometimes don't gel that much. A lot of my tutors were very much learned and all about discourse and debate and for me I just liked to be on stage and sing and dance and wear costumes and get my hair and makeup done! Sometimes my lecturers would be like, 'you know, musical theatre is kind of like the lowest denominator when it comes to theatre.' But I didn't care -I loved it. 
 
What was the culture like? Was it conducive to be dabbling in both extremes as you mentioned?
Absolutely. At first I thought, "Oh, I am this little Chinese girl from Singapore amongst all these white people." To put it bluntly: how was it going to work out? I wondered how they would see past that when I went for auditions. But there was no discrimination - it was all in my own head. Everything was very colour blind; if you were good, you were in, basically. My very first musical theatre while at uni was Hair which was awesome because it was about hippies and love. By the time I got to my third year I actually played Chava from Fiddler on the Roof - and I mean, there I was, a Chinese girl from Singapore playing a Jewish daughter from Eastern Europe. It was conducive, and people were very supportive and encouraging.
 
What did you think of the theatre scene in Singapore when you returned, and how did you get involved in radio?
Back then in the 90s, I was right there when people would start rehearsals at 7pm because everyone had day jobs. Everyone had a full time profession but theatre was a passion and we would rehearse till midnight every day. It was intense. I took a four year break from theatre for a while, and the reason I left was because I was dead broke. Back then you couldn't support yourself doing just theatre so you would have to supplement your income doing dinner-and-dance, shopping centre shows or teaching. In 2000, I was tired so I took a break and went to radio, although during that period I still dabbled in theatre on occasion.
 
How do you juggle theatre and radio now?
Exactly that - the key word is 'juggle'. I think it's about being organised and being prepared because it is mentally and physically exhausting, although it is doable. I realised when I started with radio that it is also theatre - theatre of the mind. Because even though you are using just one faculty - your voice - you are still a performer and entertainer and painting pictures in people's minds. So that's what excited me about radio because it is so linked to theatre. When I discovered it, I felt that I could not let go of that either. It had to be part of what I do. I think I have been really fortunate to be able to find a way to do both; I do my radio show and when I am done I do my rehearsals in the afternoon and show at night. It's a good set-up that works for me.
 
Have you had any particularly memorable productions that you hold close to your heart?
Beauty World will always be a milestone for me because it has popped up twice in my theatre career. After the 10th anniversary production, I also auditioned for the 20th. Both times I auditioned for the character of Ivy Tan Poh Choo - and I got dressed up again for the second one, I never learnt my lesson! But both times I didn't get the role. The first time I was just part of the chorus ensemble. Ten years later I  got one of the lead roles, Lulu, the conniving number one cabaret girl. And for me it reflected my growth and journey. It felt really good and was super scary at the same time, because it is an iconic role that has been played by iconic women (Christina Ong, Tan Kheng Hua and Sharon Au played Lulu before) Those were definitely big moments. And although you don't do things for accolades, it was nice when I got the nomination (from Life Theatre Awards) for best supporting actress for Pangdemonium's first production, The Full Monty, in 2010. It represented some sort of recognition, and was nice to have.
 
Both Tan and Oei have described you as a perfectionist. Do you still get the jitters before a production?
Always, I am a nervous wreck. I am a worrywart and it is good and bad. It is bad because you suffer and feel stressed, but it is good because the nerves make you work harder, and for me, help me to focus. The nerves push me to do a good job. I am absolutely a perfectionist, but in weird ways, because I am not that organised - if you visit my home you'll see that I belong on the TV show, Hoarders. I am not Type A perfectionist in that way, but I believe in working really hard and producing something good. If something can be made better, I will ask why can't it be made better. 
 
Why do you think Singaporeans love the Dollies?
Selena always says that there is a Dim Sum Dolly in everyone, female or not, as long as you are a fun, fierce, fabulous person who is larger than life and not afraid to tell it like it is. We will make sharp commentary on Singapore. We are local and vocal. Anything that is happening in Singapore that might be a hot topic or provocative, we try to make a comment about it via a humorous turn because people always respond well to humour. When you are able to laugh at something that might be sensitive or is a hot-button issue, you leave feeling a sense of catharsis. I think that is what Dim Sum Dollies is about.
 
Do you enjoy participating in fun productions like Crazy Christmas or dabbling in serious plays?
It is hard for me to pick one; both are different and take different things out of you - but don't knock being fabulous because it is really hard work! Being fabulous is not frivolous; it's not being fabulous for the sake of it. It's like gift wrapping a serious message, and people relate to it more when something is being relayed by this trio of dancing Dollies. As a theatre practitioner, you are always looking for different things to do to fulfill yourself. Who knows, maybe next year I I will do a serious play. Like I said, I don't plan, so I don't know! But the good thing is that there is so much variety in the local theatre scene now so you can do different things at any one time.
 
Why do you think there has been more theatre productions?
Now you have the Internet, TV and movies that compete for people's attention. But there is something about theatre that is hard to articulate - there is something you can't get from anything else. It is the live element and human connection. You are on the stage and looking at the audience, and they are looking at you and connecting with you. And you don't get that watching The Hobbits, for instance. Like with live comedy, you are feeding off the audience's energy and reaction, and you feel if they are getting the joke and you work with it. There's a lot of thinking on your feet. I have done TV; I can't knock it - it's a whole different set of rules and also exciting in very different ways. There is its own craft when it comes to TV, but I come from a theatre background so it's always going to be close to my heart. To me, theatre is alive.
 
How do you think the theatre scene in Singapore is evolving?
I think that we shouldn't try to force anything. Often people try to compare us to the West or other places, but we are a young country. When you force something, it doesn't ring true. I think Singapore has a long way to go, but the point is to keep to your integrity, enjoy the evolution and journey. But it has to be organic.
 
 
 
What: Crazy Christmas: Ting Tong Belles
Where: Esplanade Theatre
When: Dec 11-22; Tuesdays fo Fridays at 8pm, Saturdays at 4pm and 8pm, Sundays at 2pm and 6pm
Tickets: $35 to $127 from SISTIC
Advisory: R18 for all shows except family-friendly matinées (2pm or 4pm) shows
Hair and make-up: Joanna Ang, Sono Bello, using Make Up For Ever