'Keyboard warrior' turned satirical illustrator
Illustrator and self-professed "keyboard warrior" Dan Wong is just like any other millennial who is grappling with the world and its ridiculousness in this era of social media.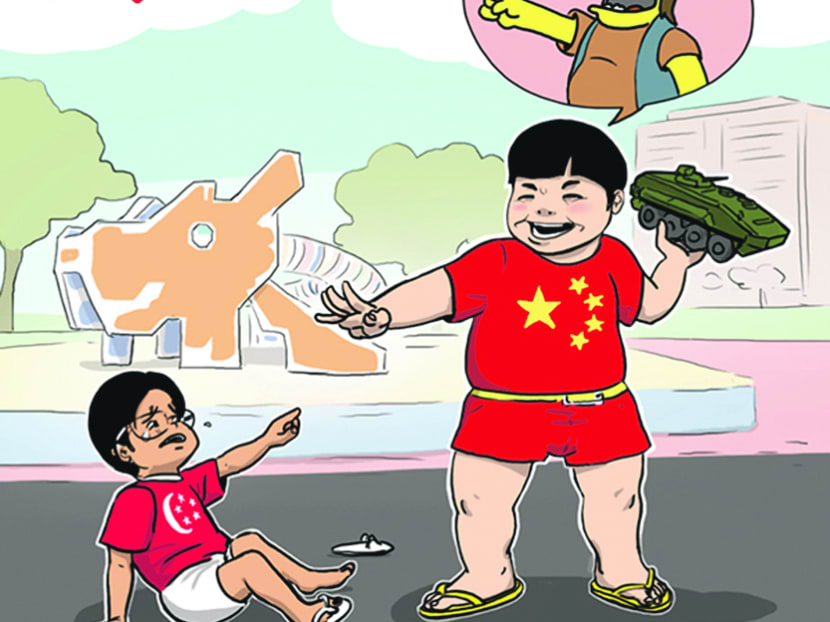 Illustrator and self-professed "keyboard warrior" Dan Wong is just like any other millennial who is grappling with the world and its ridiculousness in this era of social media.
The difference is, the 33 year old channels his frustrations into creating hilarious, incisive illustrations that he publishes regularly on A Good Citizen, an online platform he created in 2012. Variously described as social art, satire, and a movement, A Good Citizen showcases illustrations of public pet peeves on a myriad of both lighthearted and serious topics, ranging from local gaffes to hotly debated national issues — but in a humorous manner.
This year, some of Wong's hilarious takes include the July 7 Standard Chartered Bank robbery at Holland Village and the outage of Singtel's fibre broadband services earlier this month. Some of his works have elicited strong reactions online.
Most recently, his take on the seizure of the nine Terrex Infantry Carrier Vehicles in Hong Kong received close to 500 likes and over 600 shares.
Wong told TODAY in an exclusive interview that the site began as a way to vent his anger.
"I was always a hot-headed, opinionated young man who had many frustrations about living in Singapore. I often took to arguing with people on online forums and was a 'keyboard warrior'. In retrospect, it was a rather negative and shameful use of my time," he shared.
Five years ago, Wong illustrated a painting that detailed his "frustrations of living in a small space", and he was pleasantly surprised to find that people were entertained by it.
"I thought: 'Hey, this seems like a better way to express my feelings and turn the negative energy into something more constructive; something that can even make people laugh'," he said. "Since then, I've come up with many more paintings, and even found a few like-minded artists to collaborate with from time to time."
Q: What inspired you to work on the visual on the seizure of the Terrex Infantry Carrier Vehicles in Hong Kong?
A: I was having a discussion with my girlfriend on how everyone is a child, deep down inside. From an authoritative figure, to a powerful entity like a country, our desires can be quite child-like. Sometimes I feel like countries relate to each other just like children in the playground. There are alliances and rivalries, mediators and bullies in one common playground in the middle of the HDB blocks. While the realities are, of course, far more complex and subtle, I'm quite convinced the essence is as such.
Q: Did you expect such a response to the illustration? Why do you think it went viral?
A: Not at all! Although I personally felt the work was honest, I never thought it was particularly well-crafted or funny. I have absolutely no idea how something goes viral. I must confess that content that I believe is absolutely amazing is constantly overlooked, and sometimes work that I'm not satisfied with becomes popular. I am unable to deconstruct this. So far, the closest thing I've found as a constant is the issue of timeframe. I learnt this while drawing cartoons with Mothership.sg. If you're going to react to something that just happened, you must produce content for it in a span of one to four hours for the best result. The further you delay, the number of responses drops exponentially. I only use Facebook, as I'm too lazy to maintain an Instagram account. Sometimes I feel like I'm missing out on appealing to a younger audience because I don't use Instagram.
Q: Tell us about your background as an illustrator — what drew you to this work?
A: I fell in love with illustrations during my days in Nanyang Polytechnic about 15 years ago. Through my peers and the Internet, I discovered various amazing artists whose work blew my mind. I felt that once an artist can draw well, he or she can bring life to fictional characters, narratives, environments — anything!
I studied digital painting and illustration in the hope of somehow getting into the games or film industry. After I came out from the army, I eventually managed to do so.
One of the first jobs I did was drawing illustrations for a trading card game back in 2005. It was a terrific job, to be able to draw fantasy properties, monsters, characters and architecture for a living. As a matter of fact, that is where I met Sonny Liew (the award-winning graphic novelist behind The Art of Charlie Chan Hock Chye). He came in to work as the art lead for a while, and I learnt much from him.
Q: What do you make of people's reactions towards your illustrations?
A: I love it when someone stops in front of the work and spends time to peruse the details and pick out the little narratives inside. I love it when they smirk, or laugh, or point out something they found to a friend. I also love it when they argue about and debate the issues depicted. The artist inside me doesn't care if they agree or disagree with my personal beliefs; the mere fact that they are discussing it heatedly already fills my heart with the satisfaction of a job well done. They say that the worst response to an artist's work is indifference — it is true! Thankfully, my illustrations seem to evoke something from most of my audiences.
Q: Do you think that comics, graphic illustrations and the visual form help people make sense of situations in the world? How so?
A: Certainly! Firstly, I believe in the power of satire and the use of humour to make tough issues palatable to everyone. This is even more synergistic with the visual form as it takes mere seconds to get a point across compared to a paragraph of text. Secondly, for better or for worse, a well-crafted image has the potential to make the complicated simple. I think that when people are faced with a complex situation, they want to cut straight into the heart of the matter. Again, this is more easily achievable through the power of the image.
For more of Dan Wong's illustrations you can visit http://www.agoodcitizenobeys.com