In love with the circus
When I was 16, I wanted to run away and join the circus. Like most Singaporeans, I had seen several travelling circus shows as a child. But, there was something mysteriously captivating about Cirque du Soleil.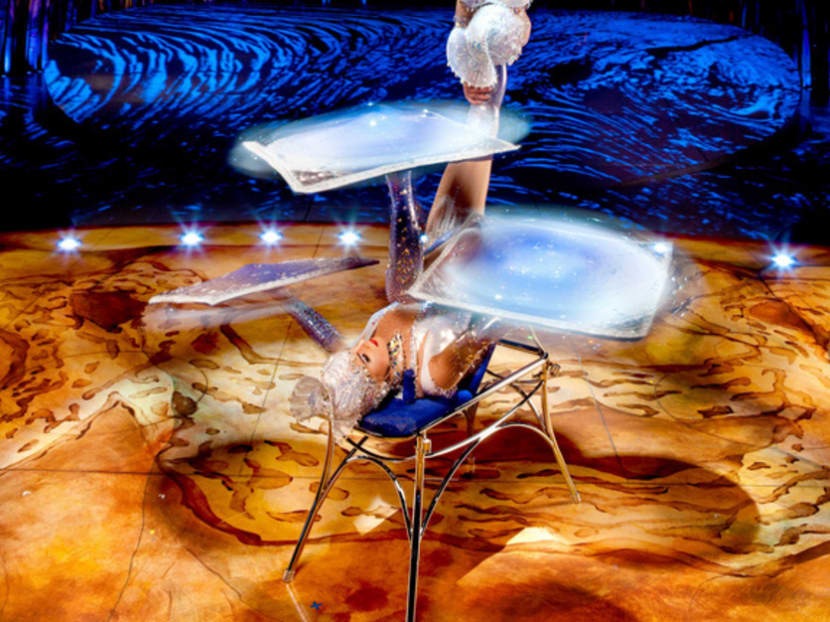 When I was 16, I wanted to run away and join the circus. Like most Singaporeans, I had seen several travelling circus shows as a child. But, there was something mysteriously captivating about Cirque du Soleil.
Experiencing their first show Saltimbanco in Singapore back in 1999 was a game changer for me. I don't enjoy animal acts because they can be cruel, and besides, most traditional circuses follow a standard template; if you've seen one, you've seen them all.
Cirque du Soleil's productions, however, were distinctively unique and radiated personality and soul.
Choosing not to follow classic circus tradition in training animals, the company decided to focus on celebrating the strength and beauty of the human mind, body and spirit. It was a paradigm shift and it made me want to revisit, or even possibly be a part of, this thrilling other world.
That was exactly half a lifetime ago. Fast forward to 2015, I found myself braving the winter chill in Perth, Australia, to catch Cirque du Soleil's Totem before the award-winning production comes to Singapore for its run at the Big Top, Cirque du Soleil's eye-catching circus tent that accommodates over 2,600 people, from Oct 29.
THE BIG SET-UP
Totem, involving an international cast of 46 and a crew of 64, is a world-class production full of modern wizardry, evident in its state-of-the-art electronics and sophisticated staging, rich soundscapes and stunning choreography. And let us not forget those elaborate costumes that would put Lady Gaga or Katy Perry to shame.
With its towering 25m-tall masts and a width measuring 51m, the performance tent, with its 11 tunnels, is massive and requires eight days for a team of 85 to raise. The entire structure is a hefty 5,227.3kg, approximately the weight of five full-grown bull elephants.
Cirque du Soleil's Totem officially debuted in 2010 and has been seen by over three million people. Borrowing creation stories, legends and mythology from various cultures, the theme is an enchanting motif of life and humanity's evolution from water to land and our aspirations for flight.
As with all of Cirque du Soleil's productions, philosophies challenging perennial, existential questions of life are presented via a strange world of archetypal personalities. There are men in suits, comical cavemen, curious primates and a host of interesting characters in between.
From a Darwin-inspired scientist to lithe Amerindian hoop dancers and the enigmatic tracker who works a wicked diablo, and more.
"We wanted to present these themes with a lot of respect, we want to be authentic … and not offend anyone in any way. For example, all the Native American references were approved by a team of elders in Quebec … there was a lot of respect in that exchange," Neelanthi Vadivel, the show's art director, told the media in a previous interview.
"The hoop dance is a traditional dance. We evolved it by adding a manipulation skill to tie it in with the circus arts. There are throws and rolls … all of that was to kind of make it a hybrid version while keeping the main parts of that dance authentic."
The trick is the make sure that what you're showing is different from all other productions, she added. "There are a finite number of circus skills, but its how they are presented that makes them unique. You don't want to present something that (people have) already seen."
OF PEOPLE AND PLACES
One of the authentic elements of Totem is the singing, some of which is performed in the traditional language of the Wendat, or Huron, people. But, while connecting with audiences in a language few understand may be daunting for some, singer Christian Sondakwa Laveau takes it all in his stride.
"I know that the people don't understand when I talk or when I sing, but mother always told me to sing with my heart," he previously said. "When you sing with your heart, even if people don't understand the meaning … if they feel the emotion and the truth, it's good."
He added: "That's what I do every day. I sing and talk with my heart. I hope people feel that the emotion is real."
Meanwhile, 20-year-old Nikita Moiseev has a different set of challenges. The easy-going youth was born on tour to parents who are also Cirque du Soleil performers. Moiseev was just seven when he played a major character in Cirque du Soleil's earlier show Alegria.
Currently, he plays the Cosmonaut flyer on the Russian Bars act in Totem (his father Sasha is the current artist-coach). For Moiseev, a typical day would consist of five hours of disciplined training, followed by team rehearsals three hours prior to the show, before he heads off to put on his make-up and gets ready for showtime.
However, Moiseev, who is not a fan of social media, regards himself as an introvert (he doesn't like to tell people he is a star gymnast). Having lived in a vibrant circus environment his whole life, the well-travelled trilingual bachelor candidly expressed that dating and keeping in touch were difficult.
That could all change for him. Because he missed out on a regular childhood (he was home-schooled), he is considering leaving the circus next year to pursue a university education in computer science.
"It's a scary move," he conceded, since leaving the circus means leaving the only concept of kinship and friendship he has ever known.
While there is much seductive allure and prestige in showbiz, it is still very much a risky business. An impressive highpoint of the show is the supercharged acrobatic rollerskating act by husband-and-wife team of Massimo Medini and Denise Garcia-Sorta.
Garcia-Sorta's father, a professional trapeze artist, had a tragic accident at their family circus when she was a young girl. Having witnessed his fall, she is firm in their decision that while they will allow their eight-year-old daughter Gypsy to choose to learn any circus discipline, she cannot do the aerial arts.
When the spotlight is on them, though, the concern evaporates and there is nothing but a dazzling performance on wheels.
Medini and Garcia-Sorta met at the age of seven and nine, and it was love at first sight. And you can see that love and trust as they spin around on a raised platform, the intense passion and chemistry between the two sizzling in their breathtaking performance (accompanied by hypnotic drumbeats and soulful tribal chants by Laveau).
"I trust Massimo with my life," Garcia-Sorta said. "His family has performed this act for generations and I know my husband always watches out for me, for us and for our daughter."
"There are many challenges," Medini admitted. "Moisture, humidity, physicality ... It is a constant struggle with gravity and centrifugal force. We have our own difficult moments, too."
"For example, when I am so mad with him," his wife said with a laugh.
"But, we have an understanding to always kiss each other before our performance. No matter what. Sometimes, it is so difficult; but it is a different world when we are on stage. I fall in love with him all over again."
Falling in love with Totem is what organisers and the creators of the show want audiences here to do. Will it happen? There is only one way to find out.
Cirque du Soleil's Totem runs from Oct 29 to Dec 6 at Bayfront Avenue, next to Marina Bay Sands. Tickets start from S$98 from SISTIC.