The Manhattan Project: Singapore's art ambassadors in NYC
NEW YORK — For the longest time, Singapore has tried to get Jerry Saltz to check out the arts scene in the Lion City (since the Singapore Biennale in 2006, to be exact), but all efforts to bring the famous art critic for New York rags such as TheVillage Voice and New York Magazine fell through.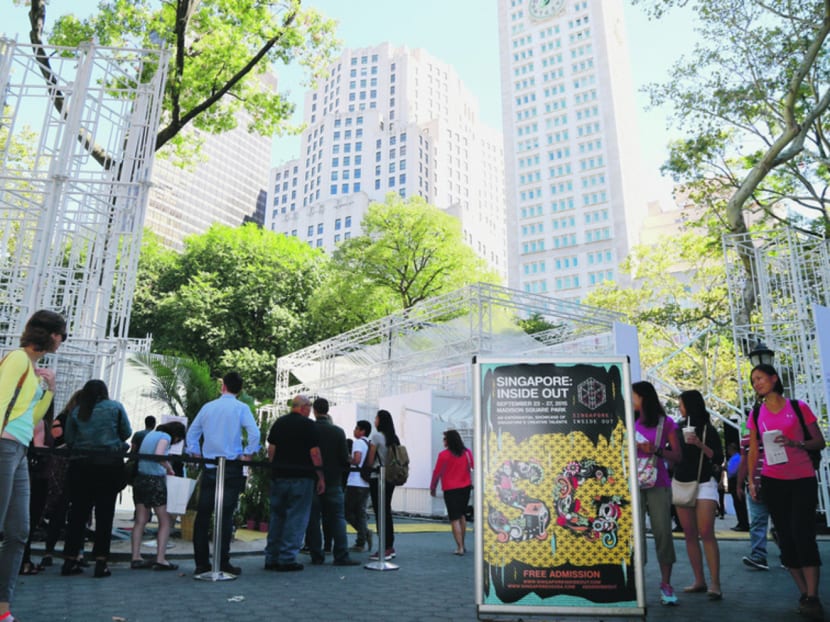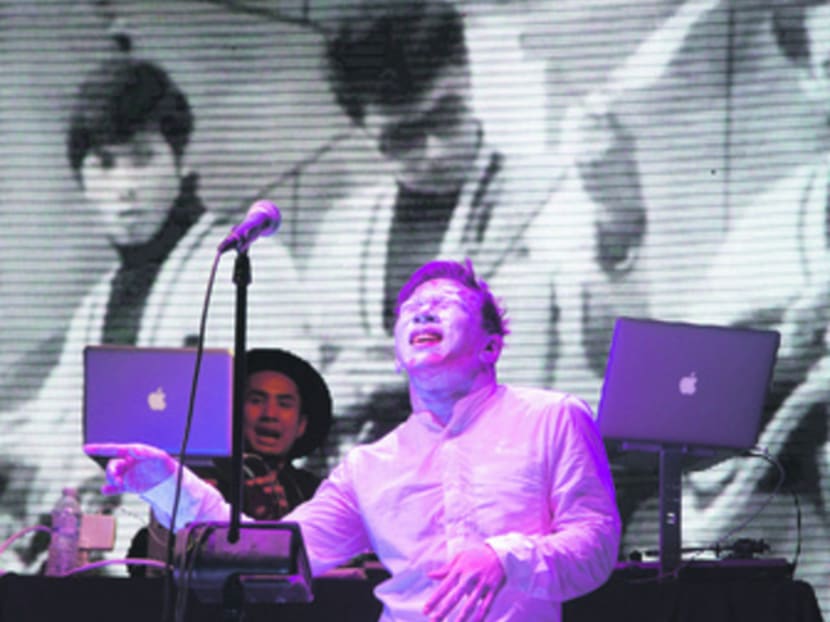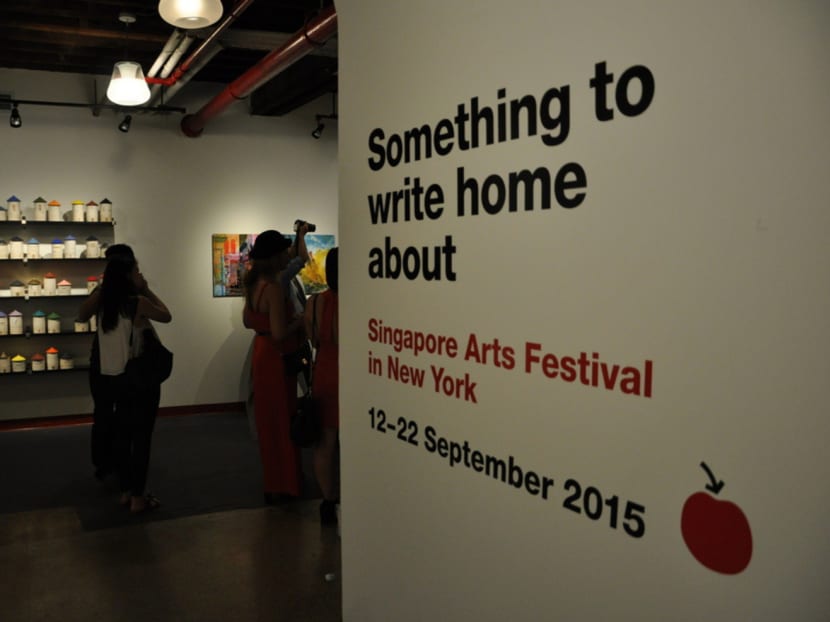 NEW YORK — For the longest time, Singapore has tried to get Jerry Saltz to check out the arts scene in the Lion City (since the Singapore Biennale in 2006, to be exact), but all efforts to bring the famous art critic for New York rags such as TheVillage Voice and New York Magazine fell through.
So it did the next best thing: It brought the art over to him.
The move paid off handsomely. Last week, the 64-year-old Saltz, who has become somewhat of a social media cult figure, was spotted in the crowd during the opening night of Singapore Tourism Board's (STB) five-day travelling arts showcase Singapore: Inside Out (SGIO) at Madison Square Park in Manhattan.
There, he tweeted about artist Zul Mahmod's sound sculpture and Instagrammed a wefie with pastry chef Janice Wong and her creative lollipops to his 67,700 and 122,000 followers, respectively.
And if that wasn't enough, the STB folks got him on video to describe how "amazing" the "open-air kasbah-carnival-art fair-museum" was and how he was "madly jealous" about the "huge exploding art scene in Singapore"; before literally giving the entire event a thumbs up.
NEW YORK, HERE WE COME
Obviously, you don't just fly over an arts showcase just for one art critic, and Saltz's enthusiastic endorsement wasn't purely by chance. In a week when New York was abuzz with a Papal visit and the United Nations General Assembly, Singapore was aggressively jostling for the city's attention.
That week's issue of New York Magazine (where Saltz is a columnist) carried a rather meaty story-slash-advertisement about SGIO, featuring fashion designer Elyn Wong (of Stolen) and multi-media collective Syndicate.
Elsewhere, long-time New York resident John Clang's photographs were on window displays at Bergdorf Goodman on 5th Avenue. (The posh department store's in-house magazine also featured 44 whopping pages of a fashion shoot done in Singapore).
There was also an assortment of Singapore-inspired food found at various F&B joints courtesy of a Singapore Restaurant Week, ranging from fancy takes on bak kut teh and bubur cha cha, to a pop-up curated by food guru KF Seetoh and popular burger joint Shake Shack coming up with a special sambal-inspired burger and an ondeh ondeh shake.
But the centerpiece was SGIO.
Promoting a country by way of its arts isn't new (there was also a French arts festival taking place at Times Square around the same time); but this particular effort by STB for the country's Jubilee Year has been rather unusual.
The big-budget artist caravan — which previously went to Beijing and London — comprises an unusual mix of people that you'd never expect to see together. For instance, performance artist Jason Lim did a gritty five-hour durational piece with huge candles, while next door, THE Dance Company was all grace and flowing lines in their piece.
Wong's food installation booth was flanked by listening booths featuring Singapore music compiled by Ujikaji Records. The main stage would alternate between music performances by the likes of NADA, Caracal, Octover and LIONCITYBOY and talks by design company Supermama and a book launch.
TRICKY TOURISM
It wasn't just the diversity that raised eyebrows but the content itself. Artist Robert Zhao Renhui presented a nudge-wink museum shop that poked fun at the very idea of tourism and representation. There was also a self-reflexive performance tour around the space, where actors portrayed SGIO's participating artists. As actress Noorlinah Mohamed said in the performance, which looked at the very exercise of arts-as-tourism: "Tourism is a tricky thing."
Playwright Joel Tan, who crafted the piece, admitted his suspicions about such promotional platforms. "I've always been sensitive to how the arts and culture tends to be looked at through purely economic terms and about what kind of dividends you can get by encouraging the arts," he said.
Tan's take was to "undercut a lot of the big state-level storytelling happening" by underscoring the personal stories of the artists, even though he is also aware that it's all happening under the umbrella of a government organisation.
That STB is quite cool about these nudge-winks is, on some level, quite surprising. Letting the artists showcase what they can do is, after all, the whole point of an exercise in revealing the non-economic side of Singapore.
"We think we'd allowed some free reign (for artists) to create something they would be proud of. We recognised the need for them to be behind this project for it to succeed," said Carrie Kwik, the board's executive director for arts, entertainment and integrated resorts.
Indeed, the whole project has been consciously underscoring the art-is-cool factor, all the way down to where SGIO camped out. The Beijing edition was held in the design district of 751 (near the now-touristy 798 art district); while London's showcase was at Brick Lane, where some of the musicians got to collaborate with record store Rough Trade.
And while Madison Square Park draws tourists, Kwik pointed out its proximity to the city's designers and creative agencies.
The approach has been a pleasant surprise for artist Jason Lim who described the project as a "brave" endeavour by STB. "Usually, they will promote Singapore as a food paradise or a garden city, but to promote Singapore in a sense that it has all these talents, it's a different angle for them to take," he said.
It might be a new angle for STB, or an old one done on a much bigger scale, but as theatre veteran Tan Kheng Hua, who directed the artist tour, reminded us, artists have always been ambassadors of their countries.
"Whether it's a Brazilian artist going to London or Spanish artists going to China, this exchange of art or showcase of one's culture in another happens all the time. I wouldn't use the word 'promoting' but art is a way of sharing something from one country to another," she said.
SINGAPORE – REPRESENT
But ambassadors don't necessarily have to travel in a grand fashion. Sometimes the work is done behind the scenes, such as Singapore's Galerie Steph's two-year discussions with Fred Torres Gallery to put up a group show featuring Hilmi Johandi, Fyerool Darma and SBTG, which opened at the Chelsea art district.
Sometimes the ambassadors have been there all along, such as the folks behind the grassroots initiative Something To Write Home About, an arts festival held at the prestigious off-off Broadway theatre, La MaMa.
While the festival featured some Singapore-based artists such as Checkpoint Theatre, Maya Dance Theatre, The Necessary Stage and Verena Tay, it also gave a chance for New York-based Singapore artists to showcase their talents. Some 1,200 folks attended the 11-day event that wrapped up just as SGIO opened.
Like SGIO, it was an event spurred by the SG50 fever and its aim was to present a different side to Singapore. The main difference is in its humble, ground-up approach: It was organised by New York-based sculptor Hong-Ling Wee and her group of volunteers, many of whom were Singaporeans, artists and non-artists alike, who have made New York City their home.
Only time will tell how much impact the gargantuan, whirlwind three-country effort called SGIO will have on Singapore's image and tourism – some 26,000 people attended the New York edition, including its partner events. But at the same time, the work is continued in subtler ways by those who stay behind. In New York, these include established residents such as Wee, musician Margaret Leng Tan, chef Larry Reutens, actor Kenneth Lee, playwright Damon Chua, husband-and-wife team Colin Goh and Yen Yen Woo, poet Jee Leong Koh and artist Clang. Then there are those who shuttle back-and-forth such as artist-writer Jason Wee and Amanda Lee Koe.
And let's not forget the younger ones trying to make it in the city, such as choreographer-dancer Yun-Chun Chua, actress Elisabeth Ng or movement artist Denise Shu Mei, one of the members of the festival's organising team who, when asked why she volunteered to help, put it rather succinctly: "I want Americans to see these works — they're good freakin' work!"
Let's have another instalment then – perhaps one with yet another Instagram or tweet from a certain Jerry Saltz.