SIFA 2015: The Kathakali tradition comes alive in Smriti Padha
SINGAPORE — In the dance programme, Smriti Padha, audiences are treated to scheming kings, some gambling, slavery, divine intervention, some comic relief and a dose of sweet revenge. What more can you ask for, right?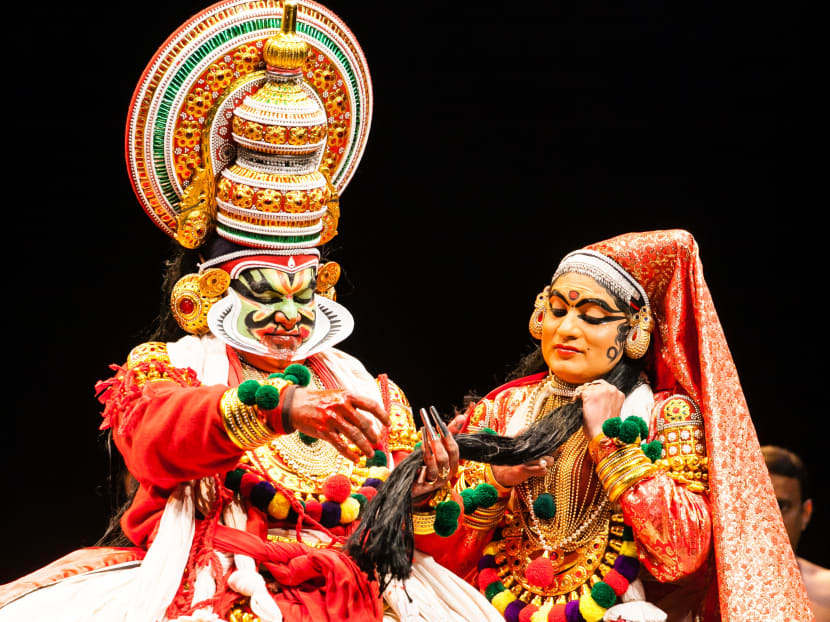 SINGAPORE — In Smriti Padha, you get scheming kings, some gambling, slavery, divine intervention, some comic relief and a dose of sweet revenge. What more can you ask for, right? 
How about some of the most elaborate and delightfully surreal costumes you will ever see this year?
To the uninitiated, the performers look like they're all bling-ed out, wearing mini-stupas as headgear and oversized Victorian crinoline dresses, their faces thick with colourful make-up — it's a look so larger-than-life you sometimes forget they're people and imagine them as majestic mascots. 
But this isn't some Cake show (that was a few weeks back). At its core is the traditional Kathakali dance drama from India with an aesthetic sensibility going back ages. 
These days, one could be forgiven for thinking that arts festivals are the exclusive domain of all things contemporary, modern, avant-garde or experimental. That the only time anything traditional gets a pass is when it's a take-off point or is deconstructed, re-examined, appropriated or revisited by a hotshot contemporary artist or group.
With its hypnotic rhythms, outlandish costumes and masterful performances, Smriti Padha proves that doesn't have to be the case.
Elegant and garish, primal and out-of-this-world magical, it's a gem of a show that's pretty much the Sambaso of this year's edition of SIFA — minus the sexy artist name. While that traditional Japanese ritual performance last year included famous photographer Hiroshi Sugimoto's set design, this is really a back-to-the-roots show featuring performers from the Indian traditional school Kerala Kalamandalam and Singapore's own Bhaskar's Arts Academy.
They did revisit the past, yes, but in a different way. In 1954, Kerala Kalamandalam had performed Dussasana Vadham (or The Slaying Of Dussasana) from the Mahabharata here at Victoria Theatre. Bhaskar's Arts Academy founder, the late KP Bhaskar, had a hand in bringing them to Singapore.
Fast-forward to the present, and his wife, artistic director and Cultural Medallion recipient Santha Bhaskar, now brings back the same school doing the same piece as the central performance of Smriti Padha. This is bookended by Bhaskar's works done in collaboration with students of both the Kerala school and her own.
The difference in skill levels becomes obvious once the big guns come out for the main story, where a royalty named Duryodhana brings down his rival Yudhistra and his brothers via a game of dice. Yudhistra's wife, Panchali, gets humiliated by Duryodhana's brother Dussasana, who gets his comeuppance — a bloody one — later.
The story is sung in Malayalam and Sanskrit and surtitles are reserved for one-line scene explanations, but such is the visual and aural experience that it doesn't really matter for those who do not understand the languages.
The musicians — who are onstage with the performers — sing and beat away on drums, cymbals and gongs an infectious rhythmic cacophony that syncs ever so tightly with the performers' slightest movements, of which there was a lot of despite rarely moving from their places.
With those crazy colourful costumes, sets and props can seem redundant, really, and the intricate and delicate hand and arm gestures, the swift facial contortions do more than enough to propel the story.
The contrast in terms of quality between the professionals at the core of the show and the students who bookend it is beside the point (although the "epilogue" went on a tad too long for an epilogue). The juxtaposition, instead, highlights history, heritage and links formed.
Smriti Padha is a show that goes full circle, not just between the Bhaskars and Kerala or Singapore and India but between apprentice and master, the budding potential of youths embracing tradition and the ultimate aspiration to be artists at the height of their powers.
Smriti Padha is on tonight, 8pm, at the Victoria Theatre. Tickets from SISTIC. Performed in Sanskrit and Malayalam with English surtitles.