Singapore's dynamic duo NADA offers a blast with the past
SINGAPORE — You might not have heard of Atzar Rimpun and Fajar Asuhino, but the story is that they were members of a music group called NADA, which disappeared without a trace back in the 1980s.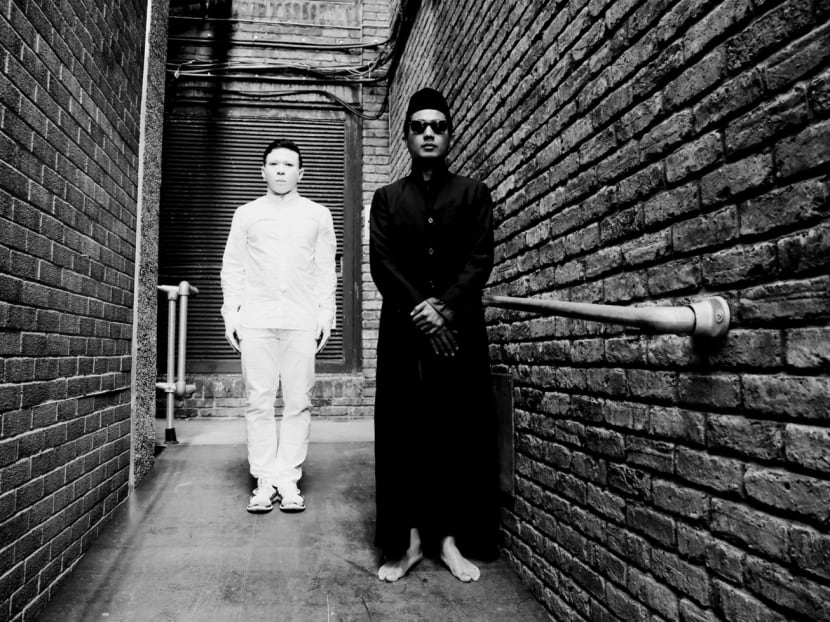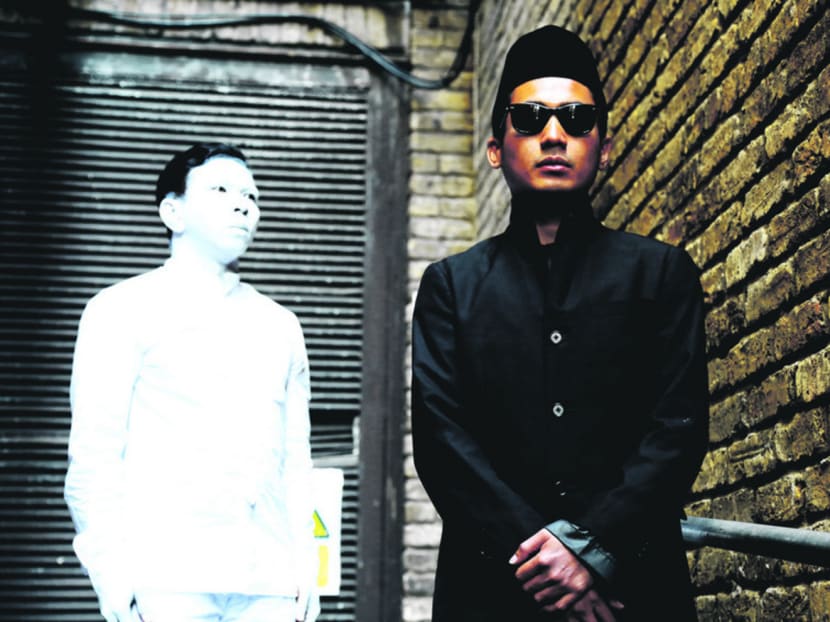 SINGAPORE — You might not have heard of Atzar Rimpun and Fajar Asuhino, but the story is that they were members of a music group called NADA, which disappeared without a trace back in the 1980s.
Of course, they're also the anagram pseudonyms of musician and theatre performer Rizman Putra and sound designer and producer Safuan Johari, who actually make up the very real music group called NADA.
But as confusing as this may sound, all the duo behind this visual art-meets-music project wants is for you to groove to their retro-sounding Malay pop tunes.
Formed in 2014, NADA — the name is a play on the English synonym derived from the Spanish word for "nothing" and the Malay word for "tone" — has been quietly making waves with its eccentric performances, where one dresses up in all-white and the other in all-black. Together, they mine Malay pop and traditional tunes from the 1960s to the 1980s.
"It's an homage to a golden era of Malay music and culture that we both wish we had lived in. We have always been imagining or fantasising what it was like to be in the scene back then," said Safuan. "Other than the books by (author) Joseph Pereira, there is not much documentation or insightful commentary about it.
"I, for one, have always been fascinated by the stories (about that era) told by my father, uncles and random taxi drivers. I was hungry for more, so why not just recreate our unlived nostalgia?"
That homage is filtered through an unusual lens. "We make an attempt to blur the line between fiction and reality by deconstructing popular Malay songs from the past, melding them back together like a newly discovered treasure of long-lost tapes that have aged with time," explained Rizman.
Rizman and Safuan were friends before this project began and they found that they had common musical tastes. They used to share their discoveries of classic Malay songs, both popular and obscure, but Safuan said that at the back of their minds, they both knew this love for Malay pop could potentially end up being something to work on. They even wanted to do a multimedia theatre piece based on the legendary crooner, Ismail Haron.
That particular project didn't take off; but last year, the Malay Heritage Centre approached them to come up with a project for the centre. The result was an installation piece that served as a "visual shrine" to the fictional NADA, which included old posters and photographs, and a few songs — and the duo performed behind a screen aided by video projections from Brandon Tay, who would later become a regular collaborator.
With Safuan handling the beats and music samples, Rizman handling lyric samples ("the lyrics are taken from Western songs, rehashed and mixed up like collages"), and collaborator Tay mixing up images from old Malay films for their 'live' performances, NADA has since gone on to do other gigs here and overseas.
These include an installation in Paris' contemporary art space Palais de Tokyo; the Singapore: Inside Out events in Beijing, London, New York and Singapore; the opening of the National Gallery Singapore; and Singapore Night Festival and Neon Lights Festival.
Next month, they'll be heading off to London, but before that, the duo will be in the M1 Singapore Fringe Festival show The Chronicles Of One And Zero: Kancil, as part of the collective Zeugma. The two will perform with actress Gloria Tan, although Rizman is also doubling up as the director of the piece and Safuan is handling the sound design (under the moniker Max Lane).
The show takes on the world of storytelling and the Malay fable about the adventures of a mouse deer, Hikayat Sang Kancil Dan Monyet, which was shown on television in the 1980s via Malaysia's RTM.
"It was on air every day. We learnt our morals and values from shows like these, and the aesthetics and awkward animations stuck with us," said Rizman.
While the pair say they have enough material to record a proper album, they added that there are no concrete plans for that yet.
"We have 11 songs, actually. And with this body of work, of course an album is always at the back of our mind. We will sort it out sometime, sooner or later," said Safuan.
In the meantime, we'll all just have to make do and get our groove on to the sights and sounds onstage by the local music scene's unusual men in black-and-white.
The Chronicles Of One And Zero: Kancil runs from Jan 13 to 16 at the Esplanade Theatre Studio. Tickets from SISTIC. For more details about the M1 Singapore Fringe Festival, visit http://www.singaporefringe.com