Solo flight at the M1 S'pore Fringe Fest 2015
SINGAPORE — There's strength in numbers at this month's edition of the M1 Singapore Fringe Festival. But amid the groups in the line-up are a handful of artists who are going solo at the festival. We cosy up to four brave souls who strike out on their own.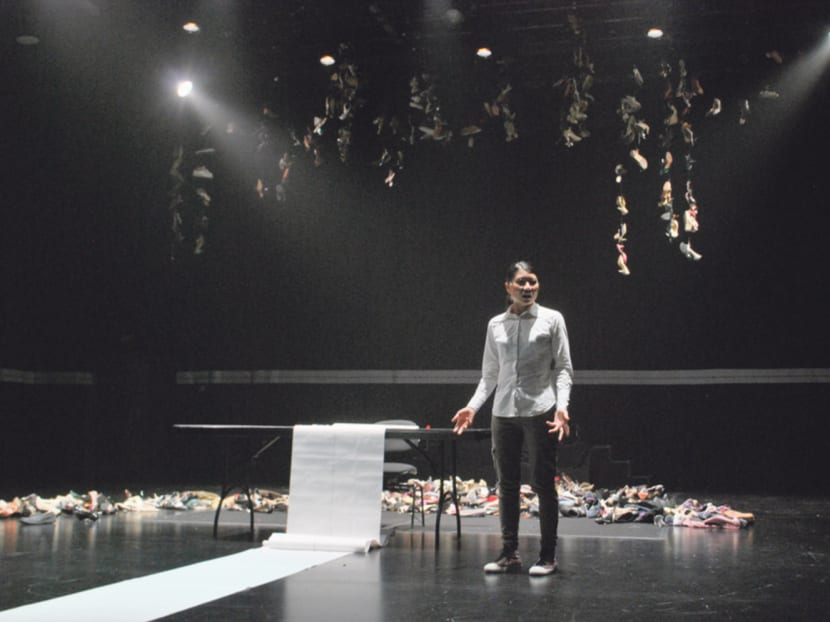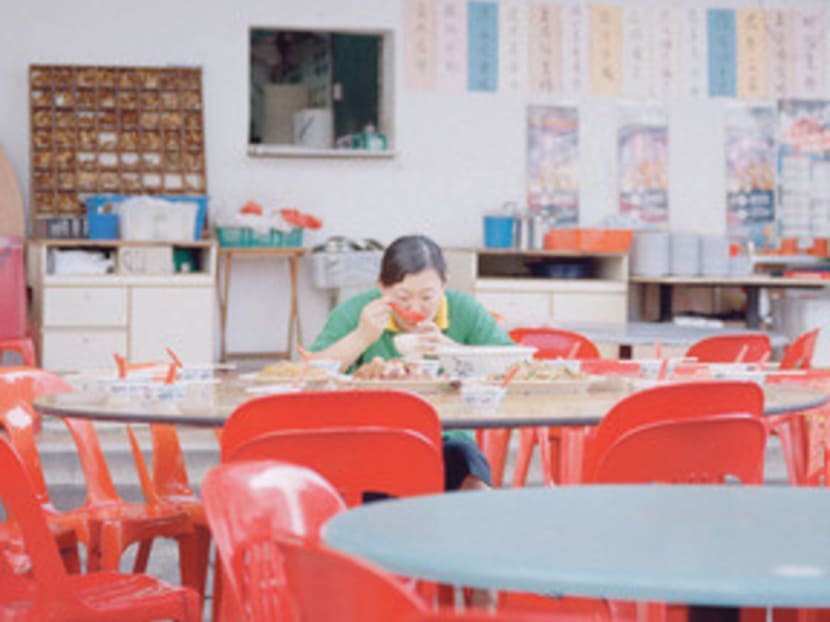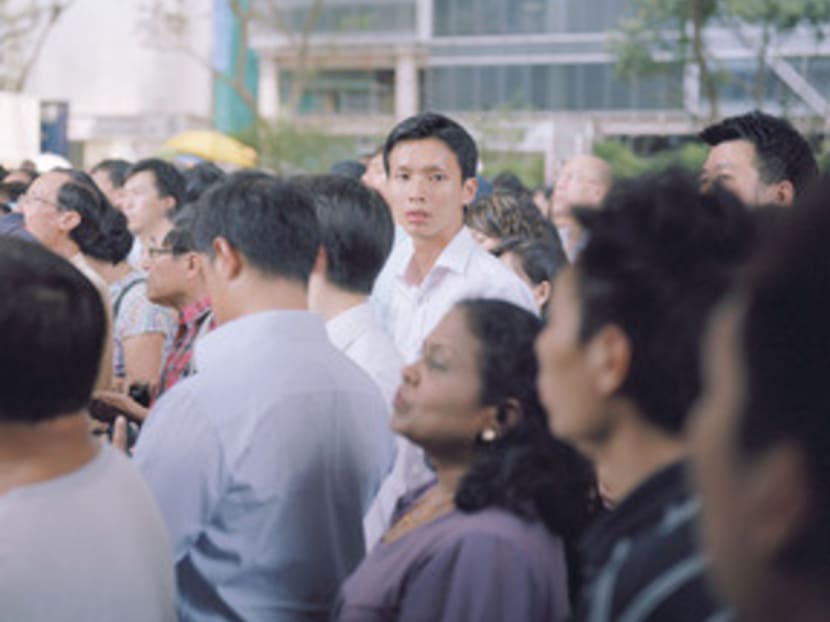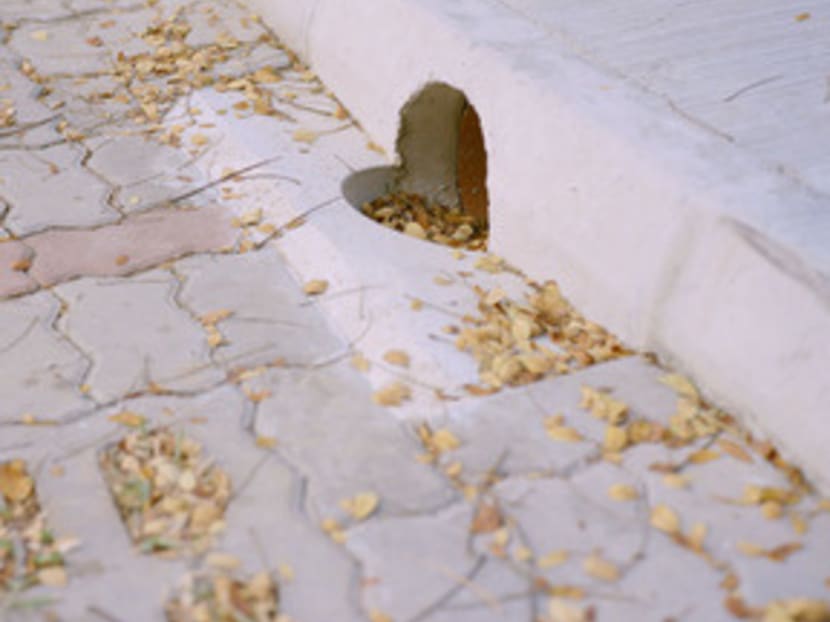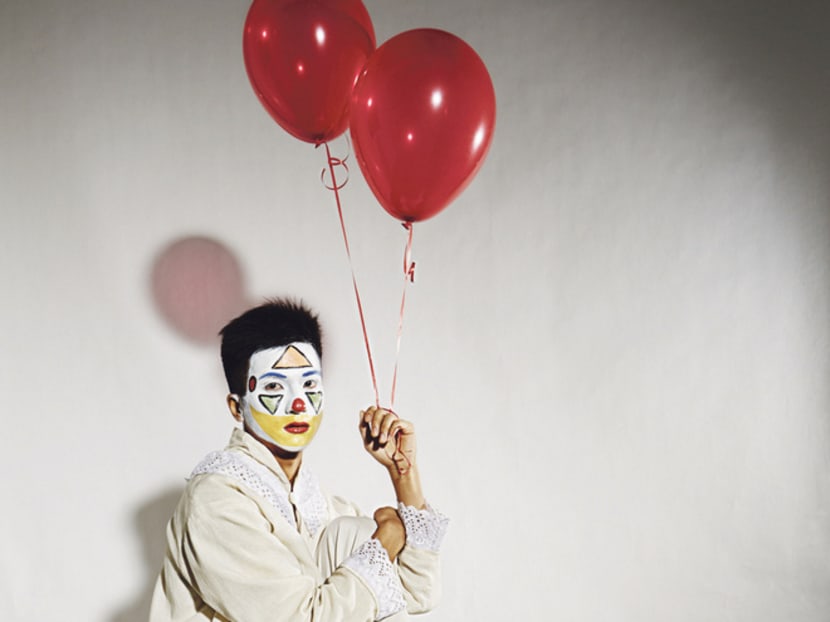 SINGAPORE — There's strength in numbers at this month's edition of the M1 Singapore Fringe Festival. But amid the groups in the line-up are a handful of artists who are going solo at the festival. We cosy up to four brave souls who strike out on their own.
The M1 Singapore Fringe Festival 2015 runs from Jan 14 to 25 at various venues. For more information, visit http://www.singaporefringe.com/
WALK THIS WAY: PAT TOH'S TERRA INCOGNITA
Theatre artist Pat Toh doesn't mind going on random walks by herself — in fact, she welcomes it.
"It's definitely a solitary experience and it's a time when I can hear myself when things get too tense. It's my little 'tourist' moment," she said. "My workplace is half an hour's stroll (from where I live). Or I try to do an evening walk after my daily run, go around different neighbourhoods …"
Her love of walking eventually paved the way for her solo show, Terra Incognita. Set against a backdrop of shoes, with little more than a table, a chair and a long paper scroll, this installation-performance sees Toh ruminating on this ordinary-but-not-quite act. The piece was developed from a presentation back in 2012 titled Homogeneous and draws from her personal experiences, including one that involved her late grandfather — and, ironically, his inability to walk.
"(Homogeneous) was my little thing for my grandfather. He was an outdoor type of person. He used to go out on his bike and go about town before, and when he went for a knee operation, he couldn't move any more," she recalled. "He became very angry and didn't talk to anyone. When he moved to an old folks' home, things deteriorated. It made me think of what happens when you can't move."
Through a series of vignettes, mobility, immobility, the loss of a loved one and the idea of routine daily patterns are all intertwined in Terra Incognita. "We're always walking within our comfort zones, so the loss of someone is really about breaking out of daily patterns and heading into the unknown, too," she said.
Adding another layer on top of the personal is the wealth of research material on walking and movement that Toh tapped into.
Among the strongest influences have been the books of writer Rebecca Solnit, such as Wanderlust: A History Of Walking and A Field Guide To Getting Lost. She also dug into books on mobility and city planning; read up on Balzac's Theory of Walking; and touched on the notion of the "flaneur", a literary stereotype of a person who strolls, made popular by the writings of Walter Benjamin and Charles Baudelaire. "Walking is a philosophical question," said Toh.
Walking as a form of artistic performance — such as Marina Abramovic's The Lovers, which sees the performance artist and her former lover Ulay walking from opposite ends of the Great Wall of China to meet at the middle — has also been something she is fascinated with. "This whole walking thing is actually something I've been very interested to develop as an artist. I've created small little performances before, where I got audiences to walk with me," she shared.
"Moving is very important to me and not only as a theatre performer. There are really moments where for me, it's a form of release."
(Terra Incognita is on Jan 14 and 15, 8pm, Esplanade Theatre Studio. Tickets at S$22 from SISTIC.)
RABBIT CAUGHT IN THE SPOTLIGHT: LIM KAY SIU'S WHITE RABBIT RED RABBIT
On Jan 21, Lim Kay Siu will be stepping onstage to do a solo performance of Nassim Soleimanpour's White Rabbit Red Rabbit — and right now, he has no idea what it's about or what he's supposed to do.
"It's a play by an Iranian playwright. That's all I know!" he said with a laugh. "I think the stage manager is going to give me some instructions from the playwright 48 hours before. I've done rehearsed readings of certain plays, but not something where I come in cold. I've never done anything like this before, so I'm treating it as an experience."
As per instructions from the playwright, he hasn't bothered finding out more about it ("I know someone who saw it before, but I didn't enquire!")
In fact, we know more about it than he does: The award-winning piece was supposedly written by Soleimanpour in response to being banned from leaving his country; it doesn't have a director or a set; and every performance is played by a different actor. First staged in Singapore at last year's NUS Arts Festival, with four different actors, it's now being restaged with Lim taking on the first night, followed by Pam Oei, Benjamin Kheng and Karen Tan.
"We went for the photo shoot (for the festival publicity materials) and (we were teasing one another), 'Scary ah'," he good-naturedly joked. "It makes us a bit nervous as a group, but we're all in the same boat, so it doesn't matter. I suppose I'll just prepare myself to be as emotionally open as possible, and not worry about being a performer and just do it honestly."
Lim said the unusual staging of White Rabbit Red Rabbit was a welcome challenge, especially for one who has been acting professionally for three decades. "If you've been at it for quite long, you get worried about your reputation. But an exercise like this forces you to throw away your care of reputation, which is such a superficial thing. For me, it's a very welcome thing lah."
In a way, performing solo under these unusual circumstances reminded Lim of the very act of performing in Singapore during the early days when acting was a rather lonely profession. He may have followed his older brother, Lim Kay Tong, at TheatreWorks, but he made sure he staked a name for himself on his own merits at the relatively late age of 29 starting with Be My Sushi Tonight in 1985. And he hasn't looked back since.
As for his White Rabbit Red Rabbit performance, there's one thing Lim will be pretty mindful of: "It's important to try to pay respect to the writer and get the words absolutely right. Of course, if I get them wrong, ad-lib a bit lah," he quipped.
(White Rabbit Red Rabbit is from Jan 21 to 24, 8pm, Esplanade Recital Studio. Tickets at S$22 from SISTIC.)
WANDERING EYE: NGUAN'S HOW LONELINESS GOES
For someone whose photographic portraits of everyday people come with touches of mystery, melancholy, voyeurism and nostalgia, Nguan Tan's working style doesn't seem particularly out of the ordinary.
"I would go out into the streets for about three hours in the late afternoon, when the light is a bit softer, just walk around with my camera and wing it," explained the soft-spoken photographer, who just goes by the name Nguan.
Except that "winging it" sounds like a major understatement from someone who admits to approaching his work "with an attitude of a painter". Indeed, there's something very painterly about Nguan's photographs, whether it's a man kneeling at a bus stop, seemingly at a loss, or a woman eating alone at a big table meant for a feast. Around 23 of these will be on display in the exhibition How Loneliness Goes, which, curiously enough, is his first solo gallery show, despite having been practising for the past decade or so.
Chalk it down to Nguan's exacting standards. The 41-year-old had actually studied film at Northwestern University in Illinois before realising his calling was in photography. "I moved to New York and didn't know anybody there, so I used to take a lot of long walks in the city, taking pictures as a way to make notes of scripts I wanted to write. But I never did write those scripts because I found out that these isolated fragments of time were potentially truer and more interesting than any story I could contrive."
He started taking pictures in 2000, but reckons he only made "one good photograph" in 2003. "I took thousands, but only one could be considered good. If you want to call yourself a visual artist who works with photography, you better have a high standard," said Nguan, who describes himself as a "purist".
He's been quite selective in where to show, too. "My options have been limited — I didn't want to show in a commercial gallery or (the spaces available) were too small."
Instead, Nguan's outlet — which eventually would earn him a cult following — had previously been through a couple of monographs (including How Loneliness Goes) which he describes as "travelling exhibitions" and the Internet. "My website is my gallery and my agent. It has worked very well for me," he said. His Facebook page, too, has chalked up almost 4,000 fans, of whom only a quarter are from Singapore. One photograph, he added, has been reblogged 50,000 times on Tumblr. "I don't even feel it's my image anymore. They've removed my name but it's fine. It's the way the world works now — the alternative is to keep the works to yourself," he said.
Nguan's photographs have not just been limited to Singapore subjects (on his Facebook page you'll see images taken in New York and Japan) but he has been working on a larger project focusing on the former, a selection of around 200 photographs which he simply calls Singapore. "I want to create this magical portrayal of Singapore, but I'm also aware of the artificiality of it. I'm aware that maybe we are longing for a time which actually never existed."
(How Loneliness Goes runs from Jan 14 to 25 at ION Art Gallery, ION Orchard. Free admission.)
COMPLETELY A CHARACTER: LOO ZIHAN'S WITH/OUT
Loo Zihan never personally knew the late Paddy Chew, the first person in Singapore to come out as HIV-positive. But talking to people who did, and after poring through archival material, the artist reckoned he was "a very, very colourful character".
"I have a lot of admiration for his courage and spirit. It was really something to be able to stand up and publicly declare his status as a time when society was much more conservative," he said.
Audiences will catch a glimpse of Chew and what he stood for in Loo's With/Out, a reconstruction of The Necessary Stage's (TNS) 1999 one-man show Completely With/Out Character. It's his second consecutive performance based on a landmark arts performance in Singapore. In 2012, Loo staged Cane, a reenactment of performance artist Josef Ng's 1993 performance piece Brother Cane. The media-fuelled controversy surrounding that performance overshadowed its roots as a protest piece against an anti-gay operation that resulted in arrests.
"So I wanted to work on something about the queer community in a more direct way, compared with Brother Cane, which was obliquely relevant. Especially now, with the understanding of AIDS having evolved over time and no longer seen as a terminal disease."
Unlike in Cane, however, Loo will not be "performing" as Chew in With/Out. "It's a no-man show actually," he laughed. Instead, the archival documents will be used to represent the play — without its penultimate performer, who had died a few months after Completely With/Out Character ended.
In preparing for the show, Loo had to pore over TNS' archives, only to discover there was no single complete documentation of the show. Instead, there was partial video footage of three different nights. These will be assembled into a three-channel presentation in a black box "immersive cinematic setting" complete with the set, props and lighting design, and each night a different person will be reading the script to compensate for the "almost inaudible" sound recording. "The experience of the entire evening is simulated," explained Loo. Meanwhile, another room serves as the designated "control room", which will house archival materials as well as the technical crew.
Loo hopes the show's fragmented, deconstructed presentation — not to mention the absence of Chew — will provide food for thought regarding how we perceive the theatre experience. "If (Chew) is no longer alive, can we still talk about it? Fifteen years on, with the advancement in technology and archival resources, can we approach something that is more than only a video documentation? If we want to have conversations around works, and theatre is so much based on live experience, how can we go about it?"
And somewhat tied to With/Out's experimental form, Loo said it wasn't just the subject matter or the persona that drew him in, but how cutting-edge the original play was back then. "Not only was it a play about a person telling a story onstage but he was doing seven nights, 90 minutes each night, with a live Internet Relay Chat link (element). Everyone was swept away by the emotion, but we forget how avant-garde the entire format of the play was."
Nonetheless, at the centre of it all was Paddy Chew. And Loo admits it was pretty powerful material thanks to him. "If you watch Paddy perform, there was a certain kind of magnetic energy that draws you in and (makes you) invest in him emotionally."
(With/Out runs from Jan 14 to 18, 8pm, Black Box / Rehearsal Room, Centre 42. Tickets are sold out.)