S'pore Fringe Fest 2016: The zookeeper's daughter
SINGAPORE — After watching a show titled Bitch, next up was Bi(cara).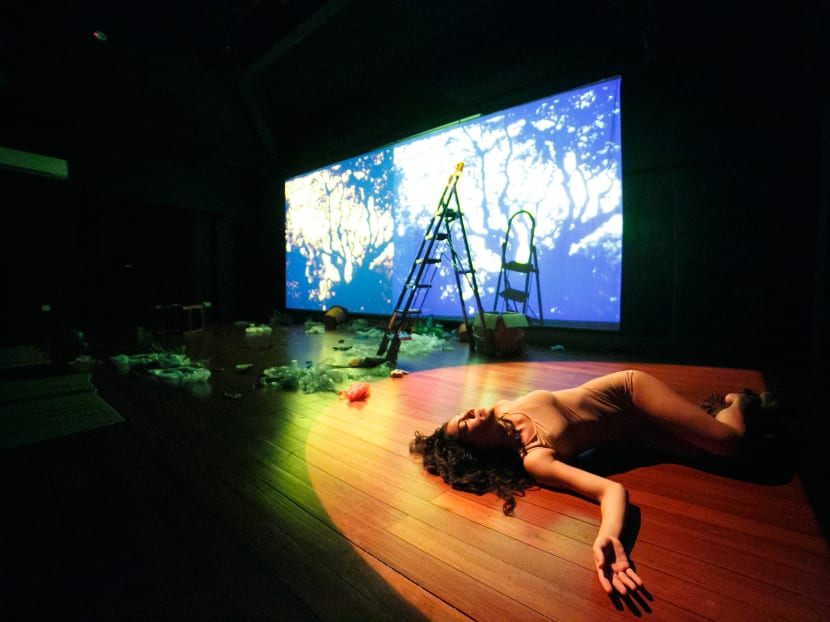 SINGAPORE — After watching a show titled Bitch, next up was Bi(cara).
And it's probably no coincidence that these Fringe Fest shows were staged at the same time. Both touch upon the relationship between humans and their animal companions. And if the animal speaks in Edith Podesta's dog show, in Sharda Harrison's evocative storytelling hour, it is man's turn. And like Bitch, Bi(cara) — which is a play on the Malay words for "discuss" and "how" — proposes new ways of thinking about what we've deemed the natural order of things.
The jumping point for Harrison's semi-autobiographical piece (presented under her Pink Gajah Theatre) is her rather unusual childhood, as the daughter of the Singapore Zoo's other iconic biped, Bernard Harrison.
But the piece, co-written by Sabrina Dzulkifli, also expands to other stories and characters as it touches upon man's love-hate relationship with animals and with his own kind.
There's the endearing "crazy cat lady", a poor cleaner who nonetheless takes care of a handful of cats in a red light district. In her colourful, lively portrayal, Harrison also weaves in issues beyond this special, and even painfully heartbreaking, bond between a lonely old woman and her friends. Questions about the quality of life quietly reverberate in the connections between the poor cleaner, prostitutes, stray cats and somewhere in there, even the chicken that we eat.
In contrast to this is the complexly tragic-yet-beautiful story of a bitter zookeeper who, traumatised by his parents' failure of a marriage, is unable to love his own wife. And yet, he has a strong, inexplicable connection with the orangutans he takes care of.
And sliding in and out of these vignettes are Harrison's own stories about snakes and her fear of these animals, as she recounts her own traumatic experience of a pet Burmese python escaping from its tank in her house and another instance of her sudden desire to kill a cobra.
Bi(cara) is based on Harrison's father's talk Why We Do What We Do? And that question rears its head as menacingly as, we imagine, the cobra does at that particular moment. Harrison's film-maker brother Sean (who occasionally steps in to perform in this family affair of a show) bombards us with a video montage of man's own bloodthirsty, less-than-honourable epidodes as a species: Images of the refugee and Middle East crises, the Holocaust, the atomic bomb, it goes on.
And while we're on the topic of snakes, why not bring it up for Harrison herself? Because while there's a literal "shedding" scene in the play, you could also say that of her as an artist. Bi(cara) feels like a turning point for Harrison. Here, she's taken things to the next level as a performer, whether it's as a physical theatre practitioner (there's an confident sense of control seen in her sensual, fluid "snake dance") or as a comedic and dramatic actor, with her "cat lady" and zookeeper vividly coming to life. But most of all, it's a work that shows Harrison's promise as a young creator. Yes, perhaps an unusual childhood has given her a headstart, but there's also an acute awareness here, as she branches off to find connections with other things, of one's place in the bigger picture. After all, it's really what you do with what you know, isn't it?
For more on the M1 Singapore Fringe Festival 2016, visit http://www.singaporefringe.com