S'pore Writers Fest: American poet Robert Pinsky sounds off
SINGAPORE — American poet Robert Pinsky is on a quest to make poetry popular — and what better way than to read some poems in an episode of The Simpsons?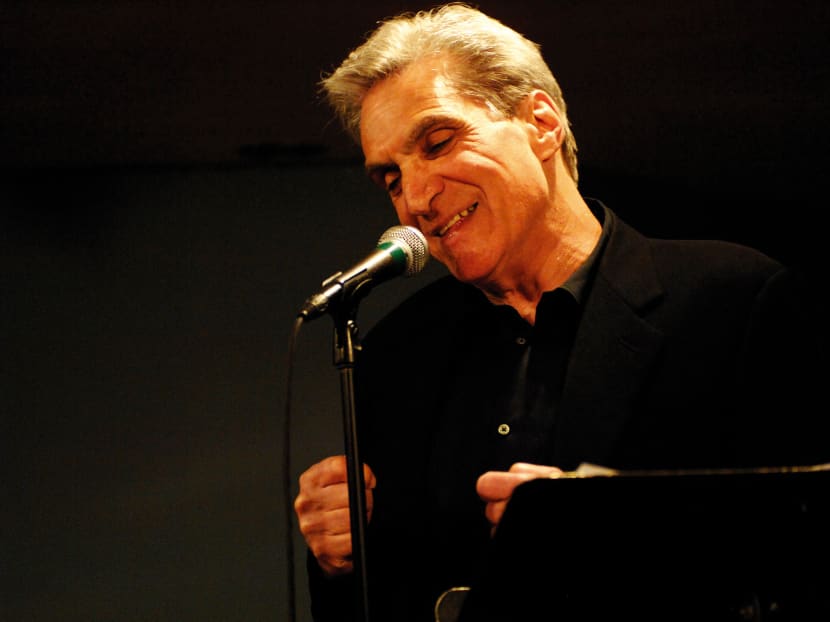 SINGAPORE — American poet Robert Pinsky is on a quest to make poetry popular — and what better way than to read some poems in an episode of The Simpsons?
Back in 2001, the former American Poet Laureate had a cameo as a cartoon character in the show, where he read some poems to an audience of frat boys and Lisa Simpson.
"It was like working out with NBA players. The Simpsons people were very kind and attentive. A couple of friendships have lasted," he said, in an email interview.
Recording for that episode was part of an even stranger experience for the 73-year-old, though. He had flown out to Los Angeles from Boston, where he's based, the day before the events of 9/11 — on the same flight route. "It's something I've never known how to deal with. My memories of something awful and something wonderful are strangely braided," he said.
Pinsky, who will be appearing at the Singapore Writers Festival (SWF), is one of contemporary American literature's most public figures, championing poetry as part of everyday life. During his stint as Poet Laureate, he embarked on the Favorite Poem Project, an ongoing massive undertaking that saw thousands of Americans from all walks of life reciting and recording on video their favourite poems (say, a construction worker reading Walt Whitman). Last month, he took it further with another project called The Art Of Poetry MOOC, an online poetry appreciation course.
If you thought poetry was something too highbrow, then Pinsky would beg to differ. For him, it's a very basic human activity. "I can't imagine a culture without poetry. Infants and toddlers love hearing poems and saying them, as they love dancing, vocalising, making pictures, playing with a ball. Then, alas, sometimes well-meaning school teaches us that we can't dance, or that we don't get poems right, or we're not athletic, or we can't draw. But these arts are fundamental," he said.
As fundamental as music, too. For SWF, he'll take part in few events: An intimate meet-up over food, a panel discussion with Pulitzer Prize-winning Irish poet Paul Muldoon and a poetry reading done with jazz music. Titled PoemJazz, it's an extension of yet another of his ongoing projects, which resulted in an album in 2012.
"I was a poor student in high school — music, playing the saxophone, sort of kept me in school and on the planet. In my graduating class I was voted Most Musical Boy. (But) as I learnt I wasn't really all that good as a musician, I turned to poetry!" he quipped. In fact, ask him about his influences and included besides poets such as Emily Dickinson, William Carlos Williams and Allen Ginsberg are jazz giants such as Charlie Parker, Dizzy Gillespie and Ella Fitzgerald.
Not one to dismiss more contemporary forms of music, Pinsky added that rap and hip-hop could learn a thing or two about contemporary poetry in English — and vice versa.
"One way to describe my PoemJazz work is that it is rap, but in a totally different musical idiom and language idiom," he said.
Despite some very public poetry projects — combining it with jazz, getting people to share their poems online — for Pinsky, it's really just about spreading the enjoyment of poetry. "'Accessibility' doesn't mean much to me — if I'm having a good time with a work of art, I don't care how little I understand. And no matter what the concept might be behind a piece of writing, if I don't feel anything when I imagine saying the words, then I can't stay with it," he said.
One word that seems to pique his interest is, well, Singapore, which he describes as a musical name. "I hereby promise to use the word (in a poem) some day."
At SWF, Robert Pinsky will have a panel discussion (with Paul Muldoon) and a lunch session on Nov 1. His poetry reading-meets-jazz event will be on Nov 2. For ticketing and other information, visit https://www.singaporewritersfestival.com. For our complete interview, visit For Art's Sake! (http://tdy.sg/artssakeblog)