The Substation's new director Alan Oei announces big changes for the arts centre
SINGAPORE — There is a mural up on The Substation's wall along the alley at Armenian Street. On it are the words of its late founder Kuo Pao Kun: "The Substation should be anything anyone wants it to be: Open and flexible enough to do things his or her own way."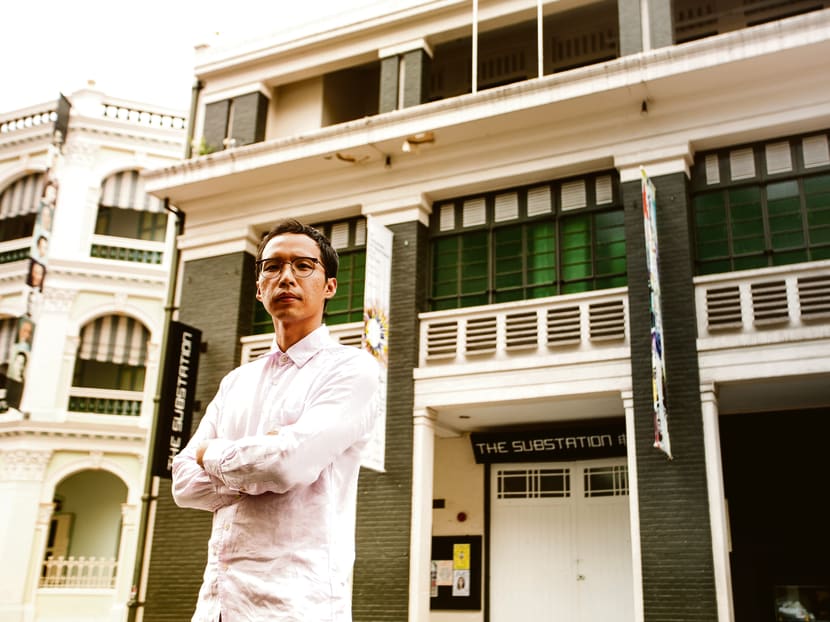 SINGAPORE — There is a mural up on The Substation's wall along the alley at Armenian Street. On it are the words of its late founder Kuo Pao Kun: "The Substation should be anything anyone wants it to be: Open and flexible enough to do things his or her own way."
Well, it looks like the arts centre's new artistic director, Alan Oei, is taking Kuo's words to heart.
After two months of radio silence following his appointment in October, the 39-year-old artist-curator finally revealed his gameplan for The Substation — and major changes are afoot.
In an interview with TODAY, Oei said he would be rejigging The Substation's venue rental and programming functions — the former will be eased out (although some events will still take place during the early part of next year), while the latter will be reshaped. With these also come changes in how the building's spaces are used.
Beginning next April, he will be unveiling The Substation as a "research and developmental space" and embarking on an ambitious year-long programme that will concentrate on one big theme or idea.
This will comprise small events that will lead up to a bigger one at the latter part of the year, which will run for four to five months. The first theme will be: Nostalgia.
To achieve this, Oei will be starting a residency programme for artists and non-artists who will be housed in the topmost floor of the building (where the current office is). They will be helping the centre devise events. For the first batch, Oei is roping in multidisciplinary artist Loo Zihan and one academic anthropologist.
Oei also plans to turn the current dance studio into a permanent gallery space, which he described as a Cabinet Of Curiosities that will accumulate artworks. Finally, the spaces on the ground floor — including the black box theatre space and the gallery — will be treated as one seamless exhibition and performance space.
Oei has been known to shake things up, whether it's unusual events at his defunct artist space Evil Empire, the neighbourhood arts tours of Open House, which he still runs, or the exhibitions at the defunct Sculpture Square.
And as The Substation moves on to its 26th year, it would seem he is taking his idiosyncratic vision to the beloved institution. But why now?
DOUBLE DOWN ON KUO PAO KUN'S VISION
"I don't think people have been dreaming for a long time here. If you look at the building, you can kind of sense that this place is a bit tired," he explained, adding that there has been a kind of "institutional creep" into The Substation, which has been "programming for the sake of programming".
The changes, he emphasised, are not meant to destroy the vision of the centre's late founder, but to "tweak it so it works for this generation".
"The hope is we can double down on Kuo Pao Kun's legacy, which is multidisciplinary, but not only artists. So it is now expanded to anyone at all who cares about the condition of Singapore, whether you're a geographer, a writer, an economist," he said. "I think we have something to learn from them as well and putting them in close proximity to artists will help us open up conversations."
He added: "Kuo Pao Kun wanted The Substation to be a very open and plural experimental space. But ultimately, if I understand him correctly, his dream wasn't only for The Substation (per se) — it was for Singapore itself to become an open and plural society. And we hope to take on the big cultural questions that affect us, as a nation and as individuals."
Oei is no outsider coming into The Substation — he regards former artistic co-director Lee Weng Choy as a mentor from his years at LASALLE College Of The Arts. He has also been an Associate Artist and has done a few shows there, including a billboard and postcard project back in 2000 called His Master's Voice.
Incidentally, the giant billboard from that show can still be found somewhere in Timbre's current premises.
GETTING THE HOUSE IN ORDER
But before all the changes can take place, it's all about getting the house in order.
"Part of it includes looking at what we've been doing and streamlining what things we can do that no one else can," he said.
In a separate statement released to the media, Oei pointed out the present context in which the arts centre finds itself, surrounded by more arts venues, more arts housing and better arts infrastructure.
"A more urgent question is what sort of role The Substation plays in the arts today," he said.
This includes revising the idea of the building as a venue rental space. "While there is a value for having a cheap venue space where artists can come freely and experiment, I don't think that's The Substation's role," he said, pointing out that it can be a tiring and time-consuming business.
He also emphasised the presence of other spaces that serve similar functions, whether it's commercial galleries such as Chan Hampe Gallery or FOST Gallery, incubation/experimental spaces such as Latent Spaces or Grey Projects, commercial studio spaces or performance and rehearsal venues such as Aliwal Arts Centre.
For Oei, the rental space issue has also muddled The Substation's identity in terms of public perception, who don't make distinctions about whether a show or exhibition is done by the centre itself or by people simply using the space.
"Basically, we have no voice right now," he said.
In what he described as an "interesting ... and kind of tumultuous" first two months in charge, there were other issues he has had to deal with — from personnel changes to financial issues.
"The Substation has been in the red for a number of years, every year drawing from its reserves," he admitted. "It's not sustainable at this rate."
When asked about the online rumours flying around about staff retrenchment and restructuring, Oei explained that familiar faces, such as long-time Substation fixture Chua Ng Ger — affectionately known as Mrs Chua — are still there. But at the same time they're planning to move technicians to a contract basis, and are working towards a lean-and-mean programming team of around one to two people.
"We have to think — if we don't do venue rentals, do we need (permanent) technicians? If we move towards artist residencies, how many programmers do we need? I think the team and the staffing have to follow the form and concept of the new direction," he said, adding: "Part of the restructuring — which includes trimming down your staff and having a smaller payroll for the amount of things we want to do here — is about improving our finances as well, because otherwise this space is unsustainable."
Funding from the National Arts Council and the rental from Timbre will still be their main revenue sources. (The Substation runs on around S$1 million a year.)
At the same time, Oei plans to tap into a different avenue: He hopes schools will come on board.
"I think, for me, education is the most important thing. My vision for this space is that every day, there's one school group that's going to come in here. And our education programmes are going to be paid for, so that's going to give us a constant revenue that will hopefully keep this place alive," he said.
GETTING EVERYONE ON BOARD
But for all his grand plans, Oei also acknowledges the difficulties of reshaping the beloved space. In fact, he said he was initially hesitant to take on the task.
"If you look at it from the outside, it's like this big boat that cannot really turn. It has this direction and momentum. And The Substation isn't just The Substation. It's all the voices in the arts community and they all feel very strongly in a way that it's not just (about) the organisation when we decide to change things," he said.
To this end, The Substation plans to hold a series of discussions with the arts community at the beginning of next year, before finalising the programme initiative.
There are other questions to address, too, such as whether Oei, himself a visual artist, will be more inclined towards the visual arts, and how he plans to divide his time between The Substation and his own Open House programmes.
Regarding the former, Oei emphasised it's not about championing one form over the other but "talking about the big difficult questions and things that matter to Singapore through the contemporary arts".
As for the juggling act between the two institutions, "both are independent organisations with their own teams, missions and boards that will protect and safeguard their interests".
"As long as you have really good, strong people on both sides, the job of a leader is just to provide a clarity of where we want to go, not to fill in the details of what colour to paint the wall or what artwork to show," he said.
So, yes, Oei and his team have a lot to do before we see what The Substation will be like after its proverbial facelift next year.
In the meantime, we'll have Kuo's message about openness and flexibility to ponder.