The young and the ... artsy
Using dead skin to create sculptures, spoken word performances to enliven poetry and making theatre more experimental — this year's crop of Young Artist Award recepients are nothing short of creative and genre-defying.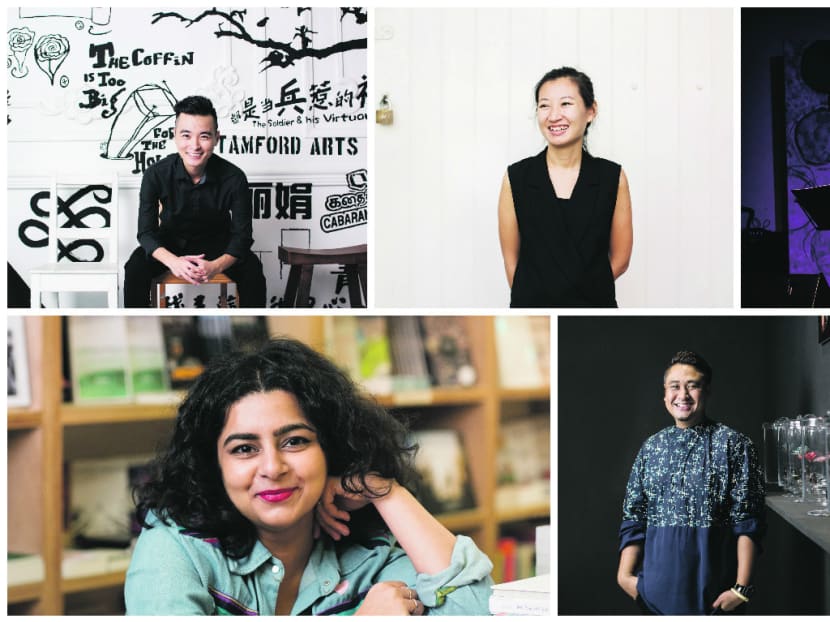 Using dead skin to create sculptures, spoken word performances to enliven poetry and making theatre more experimental — this year's crop of Young Artist Award recipients are nothing short of creative and genre-defying.
Five artists — Alecia Neo, Ezzam Rahman, Liu Xiaoyi, Marc Nair and Pooja Nansi — who range in age from 30 to 35, will receive the National Arts Council's (NAC) Young Artist Award at a ceremony on Tuesday (Oct 4) night. Their works cut across a variety of art forms such as poetry, theatre, performance art, installation and even art that uses human relationships as its basis.
"The diversity in Singapore's arts scene is reflected in the art-making and practices of our Young Artist Award recipients," said Kathy Lai, NAC's chief executive officer.
"We see this through their creation of multi-disciplinary works, their collaborations with artists both within and outside Singapore, as well as their blending of boundaries between arts genres, with traditional definitions of the literary arts, music, theatre, dance and the visual arts becoming more fluid."
Photographer and installation artist Neo, for example, describes her work as "relational and experiential". The 30-year-old works with peripheral communities on memory and identity — that means, organising multidisciplinary art exhibitions featuring works created from long-term collaborations between people within and outside the community.
Since it was introduced in 1992, the Young Artist Award, given to artists aged 35 years and below, has been conferred on 145 recipients.
These awards are given alongside the prestigious Cultural Medallion, which was instituted in 1979 to recognise individuals whose artistic excellence as well as contribution and commitment to the arts have enriched and made a distinction to Singapore's arts and cultural landscape.
This year's Cultural Medallion recipients are Koh Mun Hong, 64, a highly regarded Chinese calligrapher and ink painter who is also accomplished in poetry, and Asiah Aman (known as Nona Asiah to most), 
86, the mother of late music maestro Iskandar Ismail, and an icon in her own right for the Malay entertainment industry, having made a significant impact on the development of Malay music and film.
Koh has, over the past 40 years, exhibited locally and abroad extensively, won numerous prizes from Singapore and overseas, published several articles and groomed a whole generation of calligraphers. In 2008, he was highlighted by Lianhe Zaobao as one of the best 10 Singaporean artists of that year.
As for Asiah, the multi-talented singer, actress, dancer and fashion designer was known as an iconic singer in the 1950s and 1960s, and was the vocal coach of over 300 songs, many of which were composed by Zubir Said. In the 1970s, she produced many children's songs that are still popular today, including the Selamat Hari Raya song. Asiah also groomed several young talents who appeared on the iconic children television series, Mat Yoyo, which aired in the 1980s on the then-Singapore Broadcasting Corporation. 
Could this generation of diverse millennial talent recognised by the NAC become the future generation of mainstay artistic influencers like the Cultural Medallion recipients mentioned above? Time will tell. Here is a peek into the works and minds of our young creative talents.
WHEN DEAD SKIN IS CONTEMPORARY ART
You have got to love contemporary art for taking the most profane and turning it to art. Multi-disciplinary artist Ezzam's most notable body of work began in 2014, with a series of miniature sculptures made from the 35-year-old artist's skin commissioned by the Singapore Art Museum, which was showcased in an exhibition 
entitled Unearthed.
Following that show, Ezzam went on to collect his own skin and nails for a whole year for the President's Young Talents 2015 Exhibition, placing them in 34 bell jars as sculptures of the most barren of flowers — with scraggy "petals" showing off intricate veins.
"I was formally trained as a sculptor and I have always loved playing with different materials. It wasn't planned at all but I've been playing with dead skin as a medium in my works since 2008," he said. "It was purely accidental. To me, it was just monthly grooming until I realised the potential of this material," he added.
WHEN THEATRE MOVES INTO THE FUTURE
For anyone who does not know what experimental theatre is about, Liu's explanation sums it up best: "I think theatre should not just repeat itself. To me, 'experiment' means to do things we have not done before. It's not only to validate assumptions, but also to challenge the existing framework, system, methods and rules."
Liu, 34, is widely regarded in the industry as one of the best practitioners in both the Chinese and experimental theatre scenes in Singapore. His shows are known to question the conventional structure of theatre performances, for example, through technical disruptions such as scene delays or audience participation.
From helping to stage local playwright Kuo Pao Kun's classic play The Coffin is too Big for the Hole a few months after graduating from the Nanyang Technological University's School of Humanities and Social Sciences in 2010, to sold out performances for his experimental play, Fluid in 2014, presented as part of The Theatre Practice's M1 Chinese Theatre Festival, his goal is to drive a theatre-directed revolution to transform people's outlook on art, life and existence.
The Singapore-based Chinese-born director of The Theatre Practice's The Practice Lab — a series of courses for budding playwrights, actors, directors and reviewers — shared his vision: "To achieve this, I hope I can continue to (hold) dialogues with people and works from different disciplines and eventually construct my own methodology of training and creating. And then deconstruct and reconstruct it again."
WHEN COMMUNITY ART GOES BEYOND ART AND CRAFT
On the surface, Neo's project known as Unseen: Constellations seems like a straightforward community engagement project.
But the socially-engaged art project was a two-year-long effort which involved the artist creating a platform for seven youths with visual impairment to explore their self identities and dreams by interacting with people from different backgrounds and creating art in the process.
Neo did this by intentionally inviting people of completely dissimilar backgrounds — who would not usually have a chance to interact — to hang out with each other and the youths on a long-term basis. She wanted to use art as an agent to help people get to know each other in spite of their differences, even beyond visual impairment.
Her efforts ended in a multi-sensory installation exhibition earlier this year at Objectifs, featuring works ranging from music and film among others and exploring the youths' exploration of their identities through their creative collaborations.
Neo sees her work as involving "constant negotiation between different desires, motivations, beliefs, values, tastes, choices, power and relationships and hopes to create understanding in an honest, meaningful, non-confrontational way".
"I think it is important for people to understand that the work I do is relational, and it's the quality of the relationships that matter. I think that there is space and potential for this field to grow in Singapore, and the challenge would be for people to learn to navigate our environments to create the change they desire," Neo said.
WHEN POETRY COMES ALIVE
Anybody who is familiar with the local literary arts scene should have come across the works of Marc Nair and Pooja Nansi. Perhaps you may even have stumbled into one of their spoken word performances at a literary festival or Artistry Cafe, and experienced the thrilling sensation of being electrified by the words.
As a young poet, Nansi firmly believes in the importance of the art form. "Don't listen to people when they tell you that success can only mean a car or a condo or a career in finance," she said. The 35-year-old will be performing a one-woman-show You Are Here at the Esplanade next month.
Nansi has certainly followed her own advice with two published collections of poetry and curation work with Speakeasy, a monthly event she organises about "giving poetry, much of it Singaporean, a space in the middle of the city". She added: "I also believe that poetry is meant to be experienced and heard, not just lie still in a book."
Nair, 35, who most recently launched an anthology of poems and photographs titled This is Not A Safety Barrier last month, agreed. "Spoken word has, for years, occupied an uneasy space, subsisting in the cracks between more formal poetry readings and theatre." He added: "Consequently, spoken word poets haven't been taken as seriously as page poets. But modern spoken word has built a strong reputation and following overseas, and the knock-on effect through channels like YouTube has allowed local poets to establish various platforms which enable the fostering of younger poets in the scene."