Salute to Singapore: Director Chai Yee Wei's homegrown gem
What does a girl in a pinafore have to do with xinyao?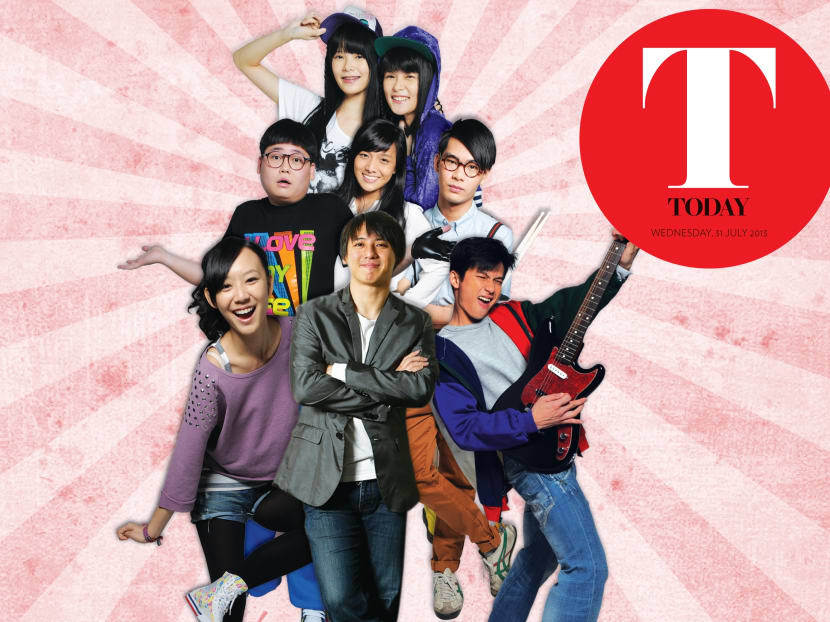 What does a girl in a pinafore have to do with xinyao?
Well, both are quintessentially Singaporean: We've all seen "that girl in the pinafore" at some point our lives growing up, right?
Both are equally part of our national fabric (pun fully intended). And both play integral parts in the latest movie by Chai Yee Wei.
Titled The Girl In Pinafore, it is the first Singapore film in 15 years to celebrate the success of the xinyao movement. The word xinyao itself is the short form of "xin jia buo nian qing ren chuang zhao de ge yao" which roughly translates to "songs composed and sung by young Singaporeans". Immensely popular among teenaged students, it started in the early '80s and usually featured positive and folksy music, with singers harmonising together and accompanied solely by the guitar.
Chai's movie stars Project Superstar Season 2 winner Daren Tan and upcoming MediaCorp actress Julie Tan as the young couple who are drawn together by their love for xinyao. Identical twins Jayley Woo and Hayley Woo, and new faces like Sherly Ng, Kenny Khoo, Seah Jiaqing and Kelvin Mun make up the rest of the cast.
A LOVE SONG TO SINGAPORE
The movie, Chai's third feature film, is also an about turn from the horrorfest that was 2009's Blood Ties and 2011's Twisted.
"This is not just a movie about love, but also about the love of country — my country," explained the 37-year-old former Catholic High and Catholic Junior college student. A true fan of xinyao — he even had a special xinyao band play at his wedding — Chai said he had been wanting to make this film for a very long time, as far back as after the completion of Blood Ties.
"I kept asking myself, where are one's best memories made? Most people's fondest memories are of the time they were studying in school, and for me, those memories were soundtracked by 'xinyao'," he said. "We kept hearing it on the radio, and getting together to sing … "
But the director said there was no girl in pinafore in his life back then. Well, not really. "Autobiographical? Not exactly!" he replied with a laugh. "The film is not strictly autobiographical, but every role in it contains the stories of me and my friends — something I think a lot of people of my generation would identify with."
DOING IT HIS WAY
While it all sounds like misty-water coloured memories, Chai is, in his own way, blazing his own trail, having paved a pretty hard-fought way.
Not only does he boast of an entire cast of relatively younger actors instead of relying on local film stalwarts such as Mark Lee, Gurmit Singh or Henry Thia as most local films seem to do, he has also launched a movie soundtrack featuring both remixes and covers of xinyao classics. Aficionados will be happy to know that popular classic like Xinyao doyen Liang Wenfu's The Narrow Stream Flows For A Long Time and Sparrow Song have been included. But Chai also made sure he included some lesser-known, quirkier gems alongside some re-worked oldies-but-goodies.
"A lot of people I spoke to were sceptical about the prospects of success — they didn't think xinyao would sell and wasn't particularly hip. So it took a few years to put everything together," he shared, citing his gratitude for the support of mm2 Entertainment. "I also really have to thank Ocean Butterflies. I wanted them to treat these songs not as old songs, but as new ones, and they really breathed new life into them. After the songs were re-arranged, some people didn't even realise that the songs have been around for over 20 years!"
SHAMELESSLY SINGAPOREAN
Tackling something that is perceived as "passe" and extremely niche in the eyes of the producers and investors was probably the biggest hurdle, Chai said. "Most Singaporeans of this generation are more exposed to western influence now, that doing something that is so specific to a period of time in Singapore's history can be rather risky business."
mm2 Entertainment's managing director Ng Say Yong agreed: "Making movies in Singapore is a very challenging business. The easy way out is to make movies with a fixed formula and the same genres ... a good movie is also part of our cultural heritage, a repository of our cultural DNA. Xinyao is a shining example of Singapore's contribution to the music scene, not just in Singapore, but beyond."
For the director, it harkens back to not only nostalgia, but identity. Chai believes that xinyao is very much a part of our history and culture now.
"The Americans have their 'American dream' and to me, xinyao is the perfect embodiment of the Singaporean's dream," he said. "It represented the spirit of Singapore's youth and their willingness to chase after their dreams and make it happen. For that one reason alone, I believe the spirit should be preserved."
So perhaps it's only fitting for That Girl In Pinafore to open a week before Singapore's National Day.
"This film is a love letter to the past, and I hope it will remind people of the feelings that we have of our country, regardless of when and where we are," said Chai, who added that he was all prepared to be unabashedly "shamelessly Singaporean". "I want people to remember this film, as one that is shamelessly Singaporean, and yet one that they can be proud of."