Madonna to perform in Singapore on Feb 28
SINGAPORE — Madonna will perform in Singapore for the very first time, at the National Stadium on Feb 28.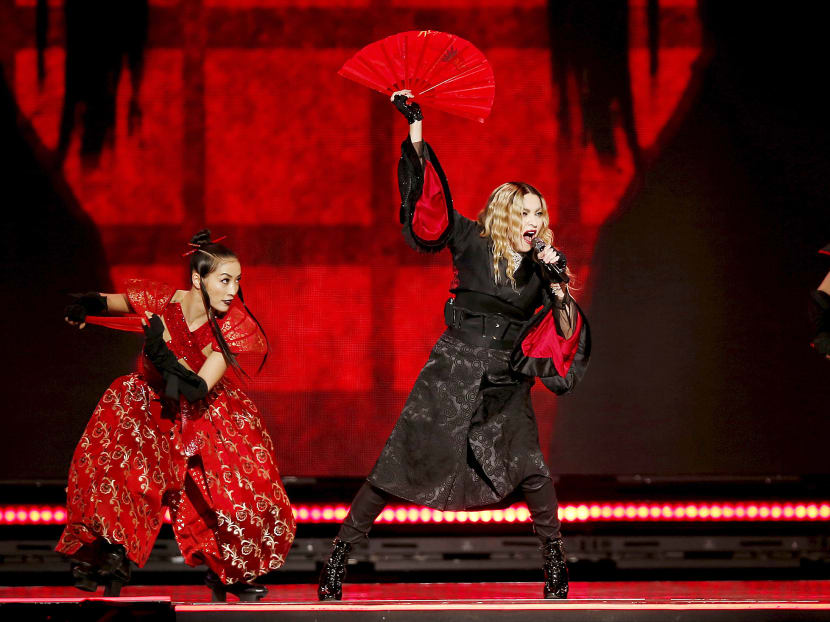 SINGAPORE — Madonna will perform in Singapore for the very first time, at the National Stadium on Feb 28.
Mediacorp VizPro announced today (Jan 6) that the Queen of Pop's Rebel Heart Tour, which kicked off in Montreal in September last year, will make a stop in Singapore, with tickets from S$108 to S$1,288 going on sale from 10am, Jan 12 via Sports Hub Tix. The Singapore concert has been given an R18 rating for sexual references.
The set list spans songs across the iconic superstar's illustrious, decades-long career, including tracks from her current album Rebel Heart, such the No 1 Dance hits Living For Love and B****, I'm Madonna; to classic fan favourites such as Material Girl and Holiday, as well as a medley including Dress You Up, Into The Groove and Lucky Star. In addition to Singapore, the 57-year-old will also be performing in other Asian cities such Hong Kong, Macau, Bangkok, Manila, Taipei and Tokyo.
Fans of the American singer, who is known for her provocative stage performances, say they are excited about the show.
"I'm truly glad as it will give a chance (to) people in this region to finally see first-hand just what an amazing live performer she is," said writer Ms Marguerita Tan, who has seen the pop icon perform in five cities across three continents over the past 23 years.
"Every Madonna concert is a visual spectacle. If it is half as good as the concert I saw in Prague last November, audiences here will be in for a good time."
"The news and rumours on the Internet of Madonna coming to Singapore made me go wild. I could barely concentrate on my work," said Mr Tan Boon Tong, who will be watching his idol for the first time when she performs in Bangkok in February and again when she comes to Singapore.
"I hope that her show will be 'complete' as Singapore is still quite conservative when it comes to art and music. Madonna has always been controversial throughout her career."
Lifetime Legacy members of Icon, Madonna's official fan club, will receive first access to tickets and VIP Packages starting from 10am today to 5pm tomorrow.
Citi card members will have access to a pre-sale opportunity beginning Jan 9 at 10am to Jan 10, 5pm. OCBC card members will also have access to a pre-sale beginning Jan 11 at 10am to 5pm.