Electro grooves: A quick glimpse at some of Singapore's electronic music makers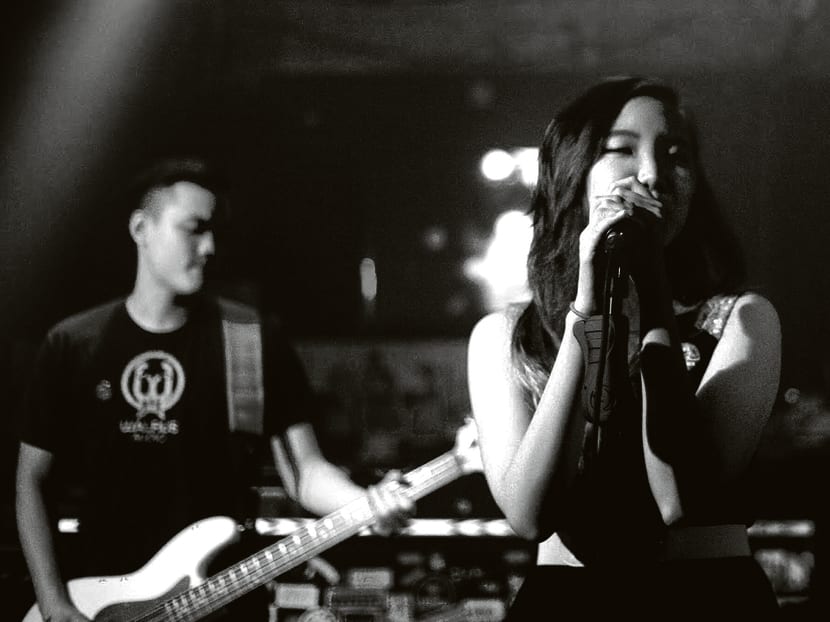 > THE ANALOG GIRL
Named by TIME magazine as one of 5 Music Acts To Watch in 2008, The Analog Girl (aka Mei Wong) has since become a powerhouse in the field of electronic music. She has garnered much acclaim wherever she performs — from the United States to Europe to Asia — thanks to her collection of haunting and seductive songs such as I Woke Up To, Tonight Your Love and Someone Like You. Her latest single Alpha is a harbinger of her new album. For more about The Analog Girl, visit https://www.facebook.com/theanaloggirl.
> CORPORATE TOIL
An electro-pop duo formed in 1985 by musician Joe Ng (picture), who is also credited for kickstarting the demo culture in Singapore when he released limited editions (50 copies only) of Corporate Toil's music. The duo's best-known tracks include Johnny Says (available on the +65 Indie Underground compilation album), King Eric and Hope And Requiem (from the original New School Rock CD). Ng switched from electro to rock in 1992 when he formed The Padres and is now a much-respected composer.
> COSMIC ARMCHAIR
Formed by husband-and-wife duo of Cosmic Ben and Jane, this electronica outfit released their first EP Marching Of The Days in 2009 and have since followed up with tracks such as Just One Look, I Don't Belong Here and Take You Home. Their music has been compared to St Etienne and Goldfrapp, and they've been hailed not just in Singapore but in international waters as well, by the likes of Side-Line magazine, neodiscotheque.com and synth.nu. Find out more at http://www.cosmicarmchair.com.
> DAZE
This trio shot to the top of the charts with the single Sexy Little Boy (also found on +65 Indie Underground) in 1992. The song was punctuated with deadpan vocals from Adrian Ho (of Mortal Flower), an omniscient distorted guitar by Don Bosco (Twang Bar Kings) and electro beats by electronic musician Case Woo, who runs 2403 Recordings and has remixed the likes of Dick Lee, X'ho, Vandetta, Sandy Lam and many more.
> .GIF
Comprising Weish (Chew Wei Shan) and
Din (Nurudin Sadali), .gif (pronounced "dot jif") recently released their debut full-length album, soma, to critical acclaim. Following their well-received EP Saudade in late 2013, .gif has been lauded as one of the top electro acts in Singapore, with well-received shows everywhere they perform. Listening to the songs on soma, it's not hard to see why. Listen to the album at https://syndicatesg.bandcamp.com/album/soma.
> OCEAN'S CHILDREN
This indie electronic music outfit was formed in 2011 through the National University of Singapore's Electronic Music Lab (EML). Now comprising Rachel Goh and Kester Tan, their music has been called "an eclectic mix of catchy vocals, trip hop breaks, dubstep beats and electronic sounds", and they have performed regularly with EML, as well as opening for Japan's Cobalt Bomb Alpha Omega in 2014. Check them out at www.oceanschildren.com.