Haim: Living the dream
SINGAPORE — Consisting of three sisters — Este, Danielle and Alana Haim — the band Haim has taken the music world by storm this year.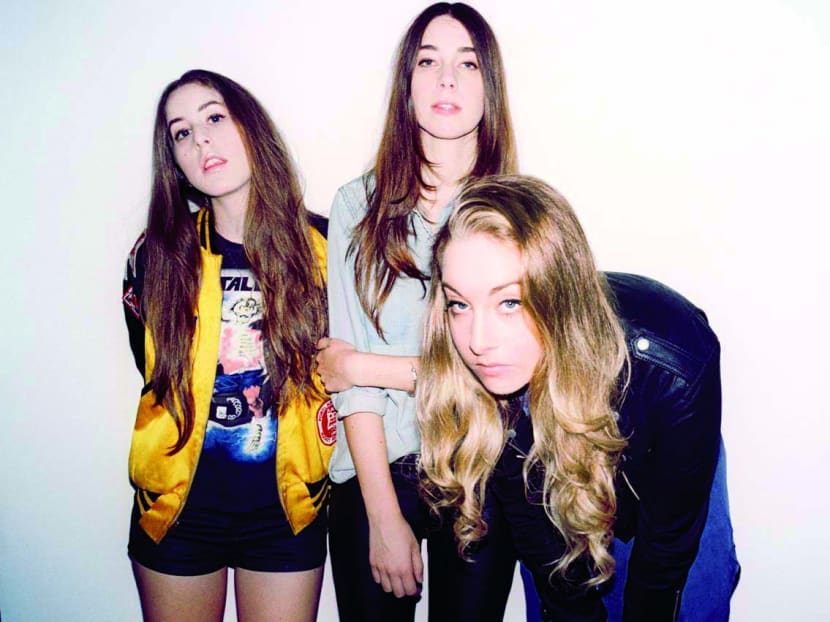 SINGAPORE — Consisting of three sisters — Este, Danielle and Alana Haim — the band Haim has taken the music world by storm this year.
Haim's debut album, Days Are Gone, received critical and commercial acclaim, appearing on numerous year-end "best of" lists and with an appearance on Saturday Night Live cementing their pop cultural significance, it seems that the sky's the limit for them. They're also in the line-up for the St. Jerome's Laneway Festival in Singapore next month.
Self-proclaimed "resident sister", Este is the eldest at 27 but if her Twitter account (@jizziemcguire) is any indication, she is not one to take herself too seriously. She has already carved a reputation for making "bass faces" — amusing facial expressions whilst playing her bass guitar, often to her sisters' embarrassment.
When asked about their pre- and post-show rituals, Este said: "Lots of jumping jacks (before the show). We do lots of calisthenics and a lot of hair brushing. Typical girl stuff. Lots and lots of water (after the show). Lots and lots of caffeine. Lots and lots of parties after the show. Yeah, just a concoction of all three mixed into a bowl, you have a Haim post-show party. And a pinata — then you get everything: Exercise, candy and fun."
And no, Haim apparently do not get any embarrassing Spinal Tap moments on tour. "I don't get embarrassed! I never really get embarrassed! People want to embarrass me. I think the last time I was embarrassed was when I was in dance class one time — my tutu fell down and everybody could kind of see my butt. I think that's probably the most embarrassed I've ever been," said Este.
"I think the only Spinal Tap thing about our band is for the first five years before we found Dash (Hutton, drummer and scion of Danny Hutton of Three Dog Night fame) we went through like 25 drummers. The joke was that they kept dying — so thank God we found Dash. He stuck with us."
But the conversation turns a little serious when Este talked about the band's sound. "Honestly, when I think about it, the only way I can describe our sound is that it's us," she said. "It's hard to describe something like that. To me, talking or writing about music is like dancing about architecture, you know?
"I think our music is a little bit of everything. A million different things. That's how we grew up — listening to everything from funk to classic rock to R&B to music from the '80s. A ratatouille of music, I guess."
Of course, this is someone who previously said Haim sounded like "The Wiggles meets Elvis Costello". "Obviously, I was taking the piss out of (the interviewer). That's a question that isn't easy to answer."
But while Este takes Haim and its music very seriously, it is clear that she and her sisters are enjoying the moment and living the dream.
"The most enjoyable thing is just being able to tour," she said of the band's success. "We were a band for so many years and we were stuck in Los Angeles, and we never got to venture outside of our city. It's really fun for us to be able to travel all over the world, to new places and to meet new people. We're happiest when we play shows." Kevin Mathews