Megadeth wants to tour as the Big Four again
SINGAPORE — The big question on most fans of metal is this: Will the Big Four of thrash metal ever tour together again as they did in 2010 and 2011?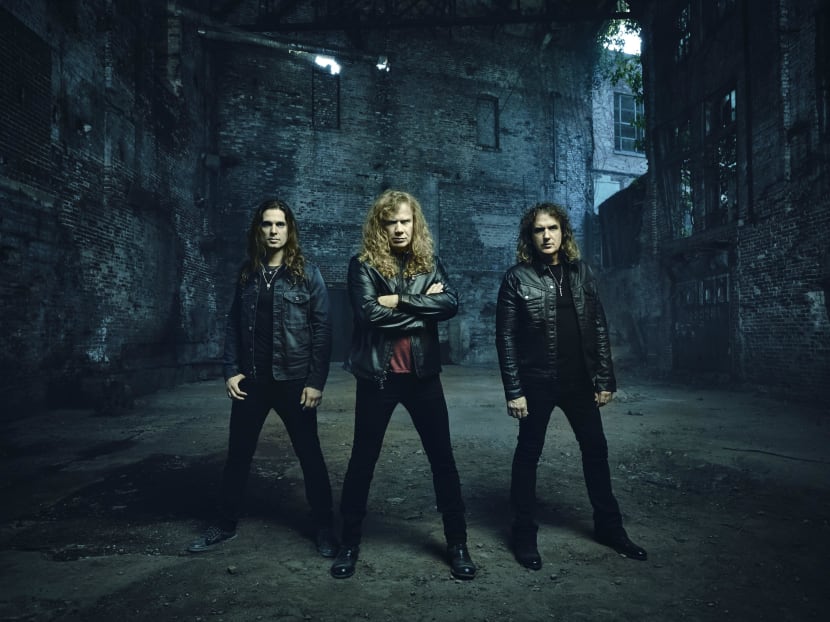 SINGAPORE — The big question on most fans of metal is this: Will the Big Four of thrash metal ever tour together again as they did in 2010 and 2011?
For the uninitiated, the Big Four in the genre are Megadeth — which plays its third Singapore show on Tuesday (May 2) — along with Metallica, Slayer and Anthrax,
Megadeth frontman Dave Mustaine is hopeful for another reunion, especially since all four bands are promoting new albums. Megadeth is here on its Dystopia tour.
"There's always a chance for us to play a concert with anybody until we retire," said the 55-year-old, who spoke to TODAY from his home in Franklin, Tennessee.
Mustaine added of the Big Four: "I think the people in Slayer's camp and in Anthrax's camp have made it clear that we'd like to play (and that) we like our heritage ... At this point it's up to the managers and the agents, and all four groups to be in agreement, not just three of us that want to do it."
Basically, it's your move, Metallica.
And although fans of Megadeth may remember its last gig here at Fort Canning differently, Mustaine said that the show in 2012 was "really, really, really bad".
The singer and guitarist puts this down to technical issues. He recalled having to fire a sound technician on a tour stop just before Singapore. That led to a sound quality that was not up to par.
"I know that this (upcoming) show is going to be much better," he said.
California-born Mustaine was famously fired from heavy metal band Metallica in 1983 due to his hard-partying ways. He founded Megadeth that same year. He has been known to court controversy with his outspoken views on religion and politics.
That has helped the band, which is touring for its 15th studio album, sell over 50 million records worldwide. It won its first Grammy Award this year for Best Metal Performance.
Asked if there's anything in his past he would have done differently if given the chance, and Mustaine, who is married with two children, is vague.
"There's a lot of stuff I would do differently ... probably treat a lot of people differently, probably excuse myself from a couple of situations a bit sooner than (I did)," he said thoughtfully. "There have been many times where, if I'd have left two or three minutes earlier, I wouldn't have got in trouble."
Still, he noticeably perks up when talking about his debaucherous past, briefly referencing "the night Nikki OD-ed" — that would be Nikki Sixx, the Motley Crue bassist who was proclaimed dead for two minutes in 1987 but who was revived — and lamenting that "you just don't hear good stories anymore".
"All these guys partying in a hotel and ... the cops come and everybody splits ... that's like full-on Spinal Tap meets Fast Times At Ridgemont High," he enthused, referring to the 1984 rock music mockumentary and the 1982 coming-of-age comedy respectively.
Mustaine himself is much more mellow these days. He and his family traded in their Los Angeles home for a farm in Tennessee, where they run the Megadeth beer line and run vineyards under the Mustaine name.
His children, however, are in the music industry. His son has founded a band management company, and his daughter is an up-and-coming singer in Nashville.
There's one thing that the laid-back Mustaine will sneer at: Between-song banter, which he promises the Singapore audience will get little of.
Mustaine insists that such filler is not necessary "if it's about the music. And it really is about the music", he said.
"I'm not really caught up in like, the 'Oh hey, you guys are all looking mighty nice tonight, and your outfits are just dandy!'"
Catch Megadeth at the Kallang Theatre on May 2. Tickets from $108 to $158 are available through Sistic (www.sistic.com.sg or call 6348-5555).