Mike Kasem: My dad is still not buried
SINGAPORE — Nearly three weeks after the death of American radio legend Casey Kasem, his son Mike confirms his father's body has not yet been buried.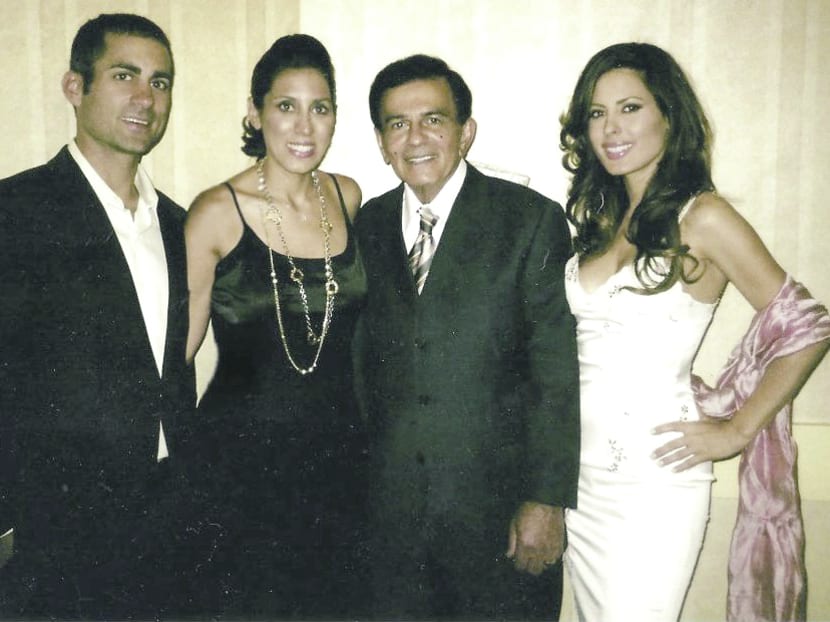 SINGAPORE — Nearly three weeks after the death of American radio legend Casey Kasem, his son Mike confirms his father's body has not yet been buried.
"My stepmother (Jean Kasem) has the rights to his body and she won't take him out of the morgue," Mike told TODAY. "He is rotting somewhere in Washington and she won't give him a proper burial."
Casey Kasem, who is known for his popular weekly radio show American Top 40 and for lending his voice to the character Shaggy in the Scooby-Doo cartoons, died on June 15 in a Washington DC hospital. He was 82.
Mike, who said his father wanted to be buried in Forest Lawn cemetery in Los Angeles, added: "We are calling every day to find out if he has been taken out of the morgue. There's only one possible reason for her to leave him in the morgue and it's the same reason she wanted to put him back on life support — and that's just to hurt us."
The Kasem siblings — Kerri, Julie and Mike — have been embroiled in a bitter public family feud with their stepmother since Mike's sisters led a protest outside their father's home in October last year, demanding to see their ill father. Both sides later fought over the care of their father in his final days in hospital and whether he should be on life support.
Mike, who is a radio DJ with MediaCorp's Class 95FM, said he's still in the mix, even though he is back in Singapore. "I got back last Wednesday and it has just been a very tumultuous, difficult month for me. I've never gone through anything so difficult in my life," he said.
"In one sense, it's good to get back to work, to get my mind off it. But it's hard to give the show 100 per cent. I just can't. It's so difficult. I hate that and now I feel like I am not giving my all on radio, giving my all to Class 95FM right now. But I am just emotionally too strained, so I am just trying."
Mike said he and his sisters believe their stepmother to be guilty of elder abuse, adding that they have "plenty of evidence to prove it".
"It's very stressful. It's horrible," he admitted. "It's like, when do I get to grieve? When do I get to go, 'Oh wow, my dad is gone, I am never going to see him again. I am never going to be able to call him again. I am never going to be able to ask him for advice again'. It's incredibly, incredibly difficult."
Q: Were you with your father when he died?
A: Yes. We saw it coming, we saw his breath getting ... he had been very peaceful. You (have to) keep turning (him) because the sores hurt quite a bit, so you keep turning him to one side, turning him to the other, wetting his lips and all that. And so it was time for another turn, and we turned him on his side to put the other wedge in underneath his back, and his lungs filled up again with fluid, and he just couldn't come out of that one. And that was the last ... he started choking, and he usually would be able to choke a little bit and come back to normal breathing. (But this time) the fluids stayed in there and we knew that okay, he's not coming back from this one. So about an hour later, he took his last breath. And it was on Father's Day.
Q: What was it like for you and your family over the past few years?
A: A couple of years ago, he was still able to walk and I believe that if he had had the right physical therapy and the right staff around him — which he could completely afford, that wasn't the issue — he might still be walking today. He just died too early. All I can say is, at least we were around him. Family was around him. I'm sure, even when you are in that state, you're very perceptive as a human being and you're hearing their voices. Maybe you can't exactly understand what's happening, but it's ... familiar voices.
Q: What are some of your best memories of your father?
A: I have fond memories of when my mum and dad were still together. They divorced when I was five years old, but I still have the memories. I can remember Christmases. He would always be there with his Super 8 camera. We would come running down the hallway, he would be sitting there with his coffee, with his robe on and we would all just start ripping presents open. It's family time and I remember that very fondly. I also remember having great talks with my dad and being able to ask him any question about the business. This is when he was in his 60s and he had great advice for me. As I was beginning my career, I was getting advice from someone who already had 40 to 50 years of experience. We would have great talks about the business, how to use the microphone, how to get the best out of your voice, how to sound natural in difficult situations. So I really valued those and that's where we really connected as father and son.
Q: What's next for you?
A: Today was the first time I woke up and felt it was time to go back to normal, time to put it behind. I am looking forward to going on shift and just having a good time with Jean Danker, putting this stuff aside and compartmentalising. It's time to be professional — gotta go to work, gotta entertain. Everybody has to deal with this — maybe not exactly like this — but your close ones are going to pass away. So just man up and focus on your work. There will be time for grieving.
Check out Mike Kasem's video tribute to his dad. http://www.youtube.com/watch?v=TdiVhL5P0Rk