Miss Lou: Going vintage in modern times
SINGAPORE — "It has been a rollercoaster ride. This year feels like three years," said singer Lou Peixin over the phone.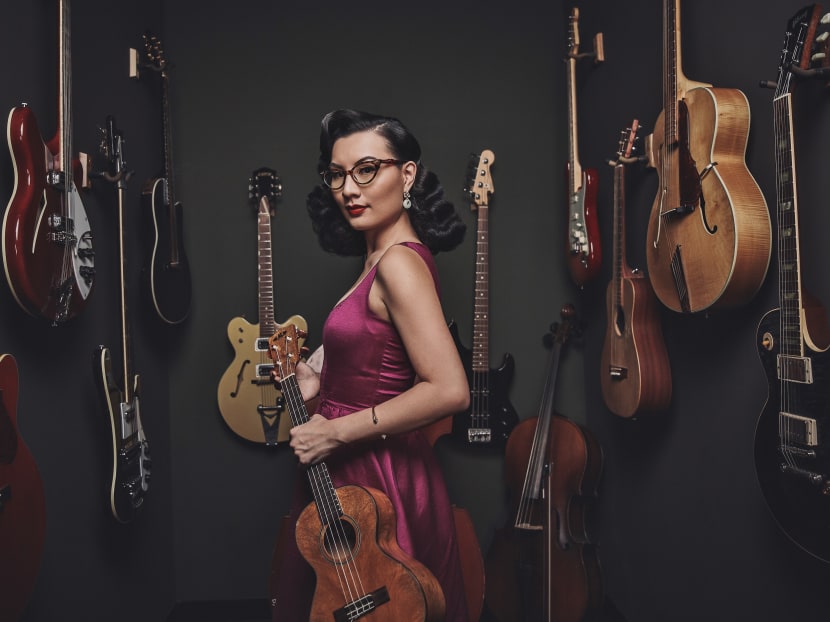 SINGAPORE — "It has been a rollercoaster ride. This year feels like three years," said singer Lou Peixin over the phone.
Lou has had a busy 12 months. Apart from helming her online vintage clothing store, Baju Mama Vintage, she finished graduated with a degree in business management from the Singapore Management University, and went to California to record her debut EP, under her stage moniker, Miss Lou.
The EP, Glamour Vintage Sonbird, was released on Sept 22 and the singer said those three words "sum up who I am as an artiste".
"I wanted to establish an identity for myself," she explained. "The EP could have been self-titled, but I wanted to fulfil that vision I had."
The key word in those descriptors is "vintage". And it isn't a marketing ploy for her.
Miss Lou said she has "been in love" with vintage fashion since her school days, although she only "started really getting into it about a year ago".
"I'd always been into vintage dressing — makeup, the hair and clothes. It came from necessity, in a way. I had to have glasses, but like any young girl, I wanted to wear contact. But my eyes are too dry for contacts, so I decided that if I had to wear glasses, I might as well get a fancy pair. That was the first step into transitioning into the vintage lifestyle."
Doing "vintage music" though took her a while longer. Although she loved singing old jazz tunes – she joined a jazz group when she was in university — she was singing contemporary tunes regularly at bars.
She only decided to go "all vintage" with her Miss Lou moniker after being a contestant on the second season of singing competition show, The Final 1.
She was booted out after being the Top 10, but that was a blessing in disguise.
"I said yes to whatever (the producers) wanted me to do but (the show) ended up making me upset about how I was portrayed on TV," she said.
During the episode where contestants had to create a viral video, she wrote a song that would end up being More Than Just That Bass.
"In that video, I was dressed in vintage clothes and all, and that formed my sound, I would say. That's when I realised what I wanted to do. I didn't want to do the kind of pop music that others were doing ... So thanks to the Final 1, it showed me who I didn't want to be, which in a way, formed my identity."
And though, at 23, Miss Lou may seem a little young to be riffing music made in the heyday of jazz-pop –she makes it work to a T on the EP, with a voice that recalls Ella Ftiizgerald, Dinah Washington or Peggy Lee.
"I really love to sing jazz and evergreens," she said. "Not many youngsters do it these days. My songs are essentially pop songs, with a little tribute to the past."
Glamour Vintage Songbird was recorded in nine days in California, and songs like More Than Just That Bass (a musical answer to Meghan Trainor's All About That Bass, if you will), Better Off Without You (written after making some "major decisions") and Timeline (that references to her recording) see her tipping a nod to the big band or swing style of yore.
Miss Lou found a producer online, Mikal Blue, who produced the likes of Colbie Caillat and Jason Mraz, and emailed his manager to see if he was willing to produce her. He said yes.
She spent nine days in California recording the EP, which she said was an "eye-opening experience".
"I thought I had to spend a few months to write and record, but I realised that if you focus and have your stuff ready, you can record in nine days. I had not experienced such professionalism and dedication before," she said.
Right now, Miss Lou said her life is devoted to two spheres — her corporate career, wherein she organises and hosts events; and her singing career. And she hopes to blend the two spheres of her professional life – organising company events and music.
"I feel like letting the corporate clients see and know who I am as an artiste, which will inevitably help my career; and it gives me more financial freedom to do the kind of gigs that I really want.
"As a musician or singer, you're sometimes at the mercy of agents who book you and all you take home is the cut that's left for you. So this corporate career also helps my artiste career. It's a different model from what everybody else is doing."
She added: "I want to create a niche for myself, that when people think of Miss Lou, it's not just as a singer, but that she can organise and host events ... and she's also a singer. I really want to develop myself in many ways."
Already she has events marked for the next two quarters. She also plans to release new music every quarter or so. And she has a benefit concert in November.
"Essentially we want a concert that's not only about me. It is about me in that I'm the one performing but we also want to drive home some messages," she said, adding that she is in talks with some organisations that she wants to support.
Is Miss Lou taking on too much too soon? Not really, she said.
"I'm clear as to what I have to do with my artiste and corporate careers. It has to sustain me. People say they do it for the passion and of course, I love it, that's why I'm doing it! But it needs to be sustainable, it can't kill you.
"The moment you start struggling for a long time ... I imagine it will be very damaging to the soul. I'm trying to break the mould in a sense, and find my own way. And hopefully, in the year to come I will have some results to show.
"(I want to) just do it while I'm young; while I have the energy to do it. I don't want to live my life and have any regrets."
Miss Lou's Glamour Vintage Songbird is available on iTunes, Spotify and the Apple store.