One fan talks about going around the world to watch Madonna
SINGAPORE – It's just a little more than a week before Madonna, the Queen of Pop, takes to the stage in Singapore for the very first time.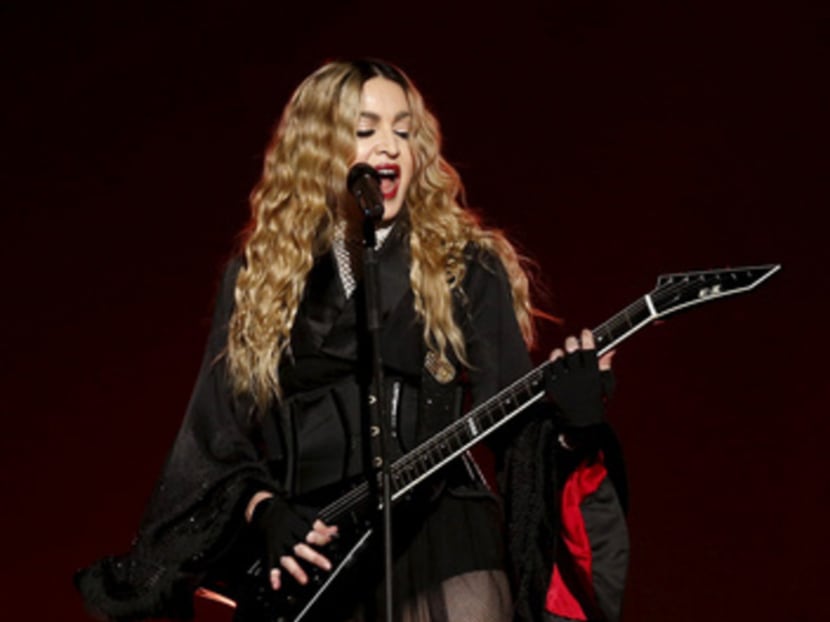 SINGAPORE – It's just a little more than a week before Madonna, the Queen of Pop, takes to the stage in Singapore for the very first time.
In a way, this upcoming show is also a first in that it has been specifically tailored for Singapore. This was due in part to certain restrictions placed by the Media Development Authority here which has rated the show R18 and asked for the song Holy Water, to be dropped from the set list.
"Madonna agreed to change her show for Singapore, so in a way, this is a unique show, because it's not the same as the rest on her current tour," said James Lee, the CEO of King Lun, one of the investors for the concert here.
Does this matter to fans? Well, Singapore isn't the first country to an edited verison of the Rebel Heart tour. When the pop goddess ran out of stadium time, the lively Gypsy medley – comprising Dress You Up/Into The Groove/Everybody/Lucky Star – was dropped in many cities including Amsterdam, Glasgow and even as recently as the concert in Bangkok. Nevertheless, the most successful female artiste of all-time will still have a lot in her boombox to entertain us with. For instance, she has been singing 1994's Take A Bow on tour for the first time (only in Asia mind you).
For this writer, who has seen Madonna performing in four continents over the last 20 years or so, this is why one should catch her show here. Because, no two Madonna shows are ever the same.
Of course, my reaction the first time I saw Madonna was very different. "This woman cannot make it" was what I said after watching her 1983 music video for Lucky Star. You know, the one with her writhing all over the floor? But a couple of years later, the Material Girl got me into her groove with one dance-pop hit after another, and the occasional emotional ballad. Her enticing music videos were big draws too (controversial ones notwithstanding).
After seeing a clip of Ms Ciccone dancing with gusto on a conveyer belt in 1987's Who's That Girl Tour, I cherished the hope of watching her live in concert. That wish eventually came true when I managed to catch her Girlie Show tour in 1993. (It also began my lifelong quest to catch the Queen of Pop on tour in a city I had yet to visit.)
GIRLIE SHOW TOUR, Melbourne Cricket Ground (1993)
Of course, the Girlie Show tour was banned in Singapore, so I flew to Melbourne to catch Madonna doing her thing at the Melbourne Cricket Ground. "When you want something, all the universe conspires in helping you to achieve it." Madonna loves that quote from author Paulo Coelho's The Alchemist. And it kind of sums up my experience.
I had asked an ex-schoolmate to help me buy a Golden Ticket (in the first 20 rows of the stadium) - but instead of taking my money, she later gifted it to me. My Australian pen-pal whom I befriended through the Madonna fan club checked on me often as I was travelling alone. Finally, a seller with a second show ticket whom I contacted at the last minute through a newspaper ad had her colleague deliver the ticket to my hotel so that I would not be late for the concert.
Watching Girlie Show Madonna live was an absolute thrill. She was funny and lively and the show was impressive - from costumes to choreography to new arrangements for the songs Vogue, Rain and Justify My Love. Was I glad I went Down Under to see the Queen of Pop? Of course, because it would be another eight years before the woman toured again.
DROWNED WORLD TOUR, Palais Omnisports de Paris-Bercy, Paris (2001). Fast forward to 2001, and I found myself at Palais Omnisports de Paris-Bercy (now AccorHotels Arena) in Paris, for her Drowned World tour. Happily re-married with two kids in tow and her Evita dream realised, Madonna toured to promote her 2000's acclaimed electronica-folk Music album. We chose Paris because it is a city she loves and Bercy is a renowned indoor sports arena and concert hall.
The show, with its vibrant punk/geisha/cowgirl/spanish/ghetto themes, is one of my favourites; but my personal highlight was staking out at the megastar's hotel with the other fans (it was my first and last time). Standing at the side entrance of the luxurious Hotel de Crillon, I met fans from around the region who would hop from one European country to another via train to catch at least four or five of her shows when she toured. After hours of waiting, we were rewarded with the Moment: She emerged to go for her sound-check at the stadium, and Her Madgesty strutted right past us and into a waiting car with darken windows. (To say that was the thrill of my Madonna-chasing life is an understatement.)
STICKY & SWEET TOUR, MGM Grand Garden Arena, Las Vegas (2008). Due to family commitments and financial constraints, I had to miss out on Madonna's next two tours – 2004's Re-Invention and 2006's Confession – but I managed to catch the Sticky & Sweet tour. And where better to see such a show than at the famed MGM Grand in glitzy Las Vegas. In a wonderful coincidence, my very first pop idols, Donny & Marie Osmond, also began their still-running Vegas residency at the Flamingo. The toothsome twosome were as delightful as always. They're the epitome of wholesome family entertainment as much as Madonna is sometimes seen as a standard bearer for raunchy risque fare.
I would like to say that I enjoyed the show, but the 2008 Rock and Roll Hall of Fame inductee was not at her best: Her voice was hoarse and costumes were a tad tacky (the ensuing divorce from British film-maker Guy Ritchie was also thick in the air at the time).
But there were energetic routines aplenty and the pumped-up remixed finale of Like A Prayer, Ray Of Light and Give It To Me really had the 30,000-strong crowd on their feet. Back at my hotel, a local guest enquired about the concert before lamenting that the singer's tickets were "just too expensive". At least she does not have to pay extras for flights and accommodation like I did!
MDNA TOUR, Yankee Stadium, New York City (2012). In 2012, before the MDNA tour was announced – after Madonna's stunning Super Bowl Half-Time Show in February – I had already planned a holiday to Orlando, Florida to celebrate my birthday at The Wizarding World Of Harry Potter at Universal Studios in Orlando and thankfully, the New York shows at Yankee Stadium fell in nicely after my Orlando trip.
Even though I have been to the Big Apple before, every time the Michigan native (yes, she is from Michigan, although she calls New York home) is there, she is usually more jovial. What was intriguing was discovering many fellow Singaporeans had also come to NYC to watch her. The only snag was the diva's very late starting time, but she once again mesmerised her fans with an incredible set that included a baton-twirling routine complete with marching band for Express Yourself. On the second night, with Yankee Stadium being an open-top arena, the uncovered half of the 79,000-strong audience were soaked to the bone in a torrential downpour. To express her gratitude to us for staying put, Mads sang an extra song, Holiday. Yay us.
REBEL HEART TOUR, O2 Arena, Prague (2015). I had already decided to see her in Prague at the 02 Arena, a unique circular-shaped indoor sports arena and concert hall (read: no weather worries) before her Singapore date was announced. It was a good choice as Madge adores the picturesque city and kept gushing about it being "mystical and mysterious". Not only is the Rebel Heart Tour one of her best shows put together, this was the happiest I've ever seen her on tour (this was before her son Rocco, 15, turned rebel - the irony – insisting to stay with his father Guy Ritchie in London).
While I am among those who think that at 57, Madonna should probably take things a tad slower, the iconic songstress obviously thinks otherwise. and she has shown that she is not only in top form, but she can still shake a tail feather or two rather impressively. Don't believe me? Just wait till next week.
***
The cost of watching the Queen Of Pop
Here's how much it cost to catch the Queen of Pop around the world
The Girlie Show tour 1993,
Tickets: A$200 (it was a gift) and A$75 (via classifieds)
Total Cost: S$2,220.70 for 10-day stay in Melbourne (inclusive of other expenses such as day tours)
Drowned World Tour 2001
M Tickets: Media ticket + S$154 (bought from tout)
Total Cost: S$4,800 (inclusive of 5-day stay each in Paris and London)
Sticky & Sweet Tour 2008
Ticket: US$286 (S$401 via MGM Grand website)
Total cost: About $5,000 (inclusive of 10-day stay in Las Vegas and a day trip to Arizona)
MDNA Tour 2012
Tickets: S$190 (through fan club priority) and S$151 (via ticket resale website)
Total Cost: About S$8,000 inclusive 4-day theme park stays at Disney World and Universal Studios Orlando, and 6-day stay in New York City
Rebel Heart Tour 2015
Tickets: S$195 (through fan club priority) and S$100 (direct from Czech Ticketportal)
Total Cost: S$4,440 (inclusive of 4-day stays each in Prague, Vienna and Budapest)