Sano Shimano sets up company linking musicians with artistes, corporate clients
SINGAPORE — Local music has been going from strength to strength in the last few years, with the rise in popularity of acts like The Sam Willows, Gentle Bones, Linying and 
Nathan Hartono.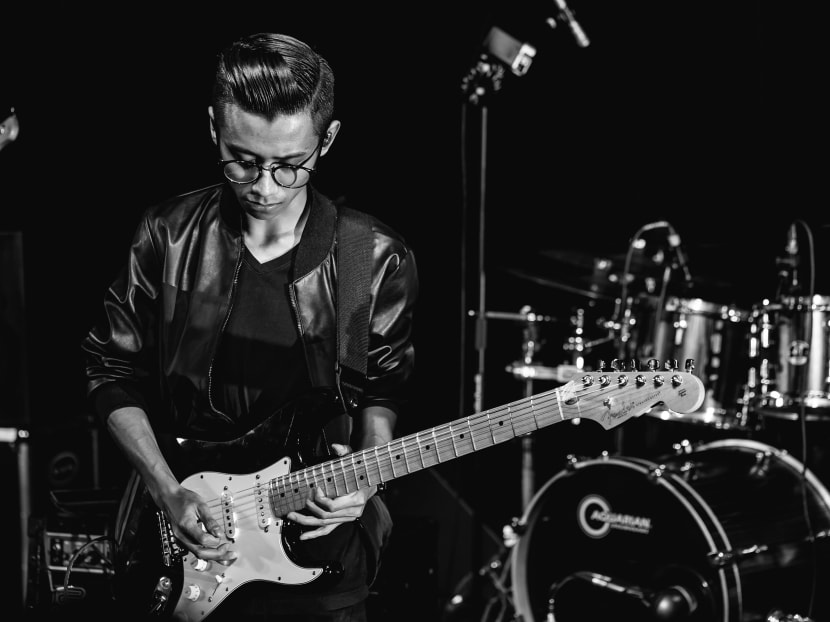 SINGAPORE — Local music has been going from strength to strength in the last few years, with the rise in popularity of acts like The Sam Willows, Gentle Bones, Linying and 
Nathan Hartono.
And as the Singaporean music scene grows, one man is already thinking about how the burgeoning industry can be better structured to serve artistes and corporate clients here.
Singaporean guitarist Sano Shimano, 25, recently set up music and events management company Hypesound Co, which represents session musicians, music directors, sound engineers and other production crew members. It helps to link them up with clients, such as corporate entities, to perform at live music events, and even record songs or jingles.
Sano said he was inspired by pioneers of the sharing economy like Uber and Airbnb, as well as the culture of session musicians in countries like the United States, where there are unions that promote standard working procedures for those in the music industry.
"If you hire someone as a session musician or a producer (here in Singapore) it is very much a 'I text you, you text me' kind of environment. It is very informal, which is of course, the bedrock of all good industries. However, in order for everything to step up, I feel that everyone who is doing this behind the scenes should have a standard way of working and standard rates," said Sano, whose real name is Muhammad Sanoccima Shaiful Bahari.
"For example, if someone comes up to me and says, 'can you do a four-show tour', that person would know how much it would cost, straight up. Conversely, if you are a solo artiste breaking out, and you want to go on tour but you don't know who to call (to play in your band), you can go through my agency."
Sano is himself an established session guitarist with six years of experience. He has played with rising star Linying at the Summer Sonic Festival in Japan and in Melbourne, and will play with her again in New York and at South by Southwest in Austin, Texas, later this month.
He has also worked with Gentle Bones, Sam Rui, Maricelle and Jawn, and plays guitar for local band The Good Life Project.
Sano currently has four musicians on his roster, and is in talks with 20 others. Hypesound was also booked to work on three corporate events, where Sano took care of everything to do with music.
"When a client comes up to me and tells me, 'I have a dinner and dance ... and I want a band', I show them my roster of musicians and tell them, 'this guy plays for Nathan Hartono, that guy plays for so-and-so. Pick your super group'," he said of corporate events. "It's been working very well."
Sano plans to help musicians new to the industry build a portfolio they can show clients, and also to discourage them from playing for free.
Undercutting pay in the industry is "still quite apparent", he said. "You just have to make people aware that the amount of money you pay is equivalent to the quality you get."
Sano believes the demand for session musicians will go up, as beginning acts here start to pay more attention to quality when they record their music or play at gigs.
"More local artistes are starting to think like international artistes," he said, adding that they realise they "can't have buddies and friends" play for them. An experienced session musician will know what to do "when things go wrong", he added.
"From my own experience playing so many shows, anything that can go wrong, will go wrong ... (a professional session musician) can handle it on stage with a straight face ... We cover you," Sano said. "Of course, on top of that, our unique abilities differ from person to person."
Clement Yang, co-owner of Hood Bar in Bugis+ and who is also a session musician, said any platform that promotes a musician's services 
is welcome.
Although Yang — who has played with acts like Jack & Rai — does not see a current need for someone else to represent him, he would join Hypesound "if fees are fair".
And, if Hypesound becomes successful, Sano hopes the company will provide him with a steady enough income so that he can pick and choose the gigs he plays at. He takes a cut of the booking fee for his artistes.
He also hopes the company will contribute to building a strong and healthy music industry in Singapore.
"Just looking at the statistics, you've got so many artistes breaking out and being commercially dominant now, as opposed to a decade ago. These artistes are working in a more professional setting — engaging producers, arrangers, music directors — which pushes me to believe that it is no longer just a scene, but the building stages of an industry," he said.
"And like all buildings, build it right at the foundation and you will have something good at the end."