Singapore "feels like home"
SINGAPORE — Ultimately, it is not the glitz and glamour or success in one's career that are important when it comes down to the end, but one's relationships and the love one has.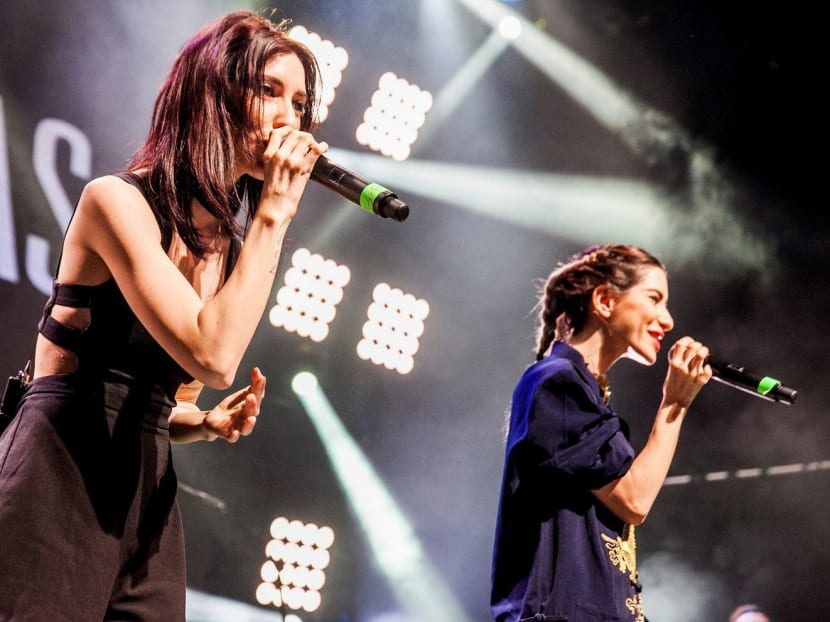 SINGAPORE — Ultimately, it is not the glitz and glamour or success in one's career that are important when it comes down to the end, but one's relationships and the love one has.
That was the revelation shared by Jess Origliasso, one half of the dynamic and hugely successful Aussie pop duo, The Veronicas, at the end of an interview conducted with her and her twin sister Lisa.
"What's really important is loving people, being kind and being generous and the people that you keep around you — whether it's family or family that you choose for yourself (friends) and those are the things, when you're lying on your death bed, the memories that you will be remembering. Mine will be of my parents' and one day, my children's faces — that human connection," she mused.
These statements somewhat belied the glamorous image, lifestyle and career of The Veronicas, which have seen them experience the highs of hit records, fame and fortune, and the lows of a serious dispute with their first record label, that delayed their third album for over two years and threatened the viability of their music career.
In Singapore for the All That Matters 2016 conference last week, The Veronicas wowed an enthusiastic audience at the conference's opening party held at Millian, a new club at St James Power Station.
In person, these Australian beauties of Italian descent share the same petite forms and distinctively sharp features. However, it would be a big mistake for anyone dealing with them to ignore their intelligence and passion for themselves and their work.
And of course, the fact is that Jess and Lisa, both 31, are charming, self-effacing, transparent and impossible not to fall in love with. These attributes were clearly apparent from our casual conversations with them about life as a pair of pop-star twins.
Q: What is the best part of being twins?
Jess: Getting to share so many experiences growing up together with your best friend, is the best thing about being a twin. Getting to walk through life, with someone who is ultimately your other half.
Q: The worst?
Lisa: I think growing up as a twin, in the way that people treat you as one person, it's a struggle to find your own independence and identity. We've managed to do that, it took us a while, we get into a lot of fights over boundaries and all that, but ultimately it's a very beautiful blessing. Couldn't imagine life any other way. And sometimes, she steals my clothes and doesn't ask!
Jess: And don't return them.
Q: Do you, as twin sisters, have some kind of telepathy? And does that help you in terms of music-making?
Both: YES!
Lisa: On a karmic and soul level, we are very connected obviously and sometimes think as one person. And that really does help creatively 'cos when you get into a room with someone else, you have to explain where you want to take a song, but we naturally feel it with each other.
Q: Have you ever taken advantage of the fact that you are identical twins to prank someone?
Jess: Of course we have!
Lisa: I used to get Jess to phone up boys that I liked as me, 'cos I'd be too nervous.
Jess: And I'd be overly confident — I wasn't me, I was her, so I'd go — hey it's Lisa ...
Lisa: So embarrassed.
Jess: And the person is thinking — why is she so confident? In school, a couple of times, we would take tests for each other and so on.
Q: Does being sisters make being work partners easier?
Jess: I think there are advantages and at times, disadvantages, but the advantages far outweigh the cons. It's only when we get really tired from travelling that there's really any friction. The experience of being creative and on stage together is the greatest experience. So it only really comes into play when we're overworked with a lot of deadlines in a short period of time, then we might get annoyed.
Lisa: And usually, we will take it out on each other 'cos we're the closest.
Jess: And we're not very passive people —
Lisa: — we don't walk away.
Jess: We fight to the death!
Q: What are your thoughts about Singapore?
Jess: We're in love with Singapore. The weather — the humid heat — it feels like Brisbane, Australia. It feels like home. The streets are so clean and the people are beautiful. So giving with their energy and friendly and considerate. Very respectful.
Lisa: It's an inspiring place to be — we're ready to move here.
The Veronicas' new single In My Blood is available now on all digital platforms.