Singer Gayle Nerva switches her music style with new single, Pretend
You might remember her as the fresh-faced 17-year-old who won over the hearts of Singaporeans with her bright and bubbly personality and the soulful charm of her voice in the second season of Singapore Idol. That was nine years ago.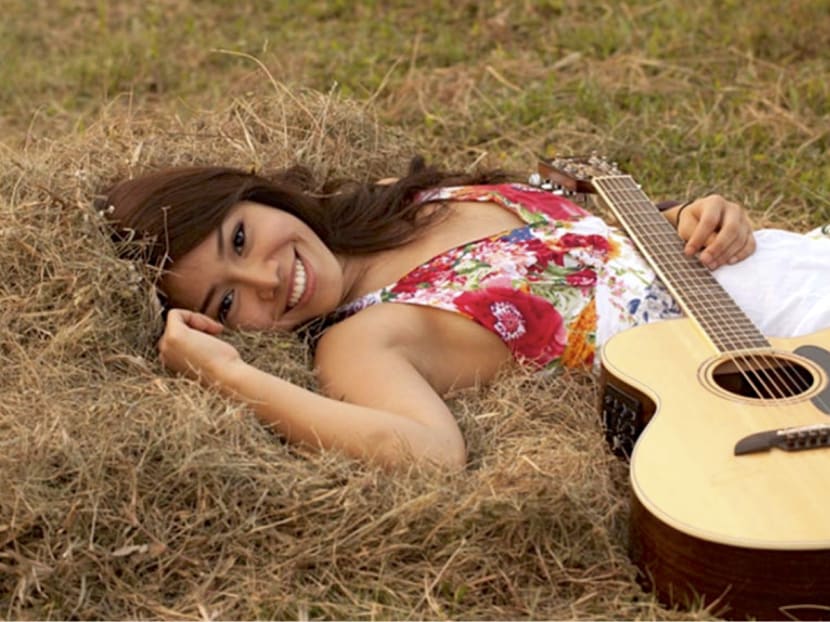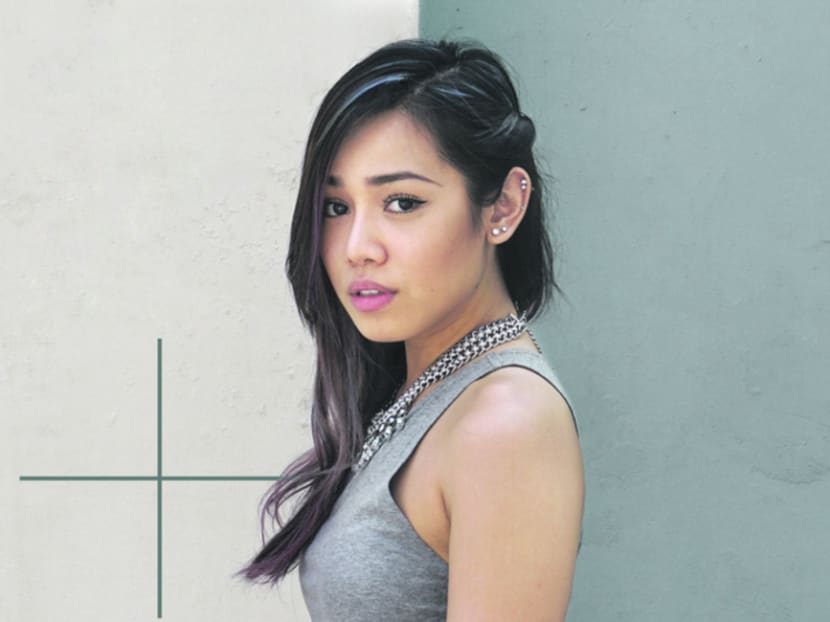 You might remember her as the fresh-faced 17-year-old who won over the hearts of Singaporeans with her bright and bubbly personality and the soulful charm of her voice in the second season of Singapore Idol. That was nine years ago.
Since then, Gayle Nerva has turned up on our television screens, not as a singer, but as the host of several variety programmes, such as okto's Spot On. She has also performed for the Youth Olympics, the Celebrate SG50 countdown concert and sung in not one, but two, of Singapore's National Day Parades. Add to that list a tour in Japan with electro-pop outfit I Hate This Place, starring in an award-winning all-singing, all-dancing television series The Kitchen Musical, appearing on the recent SEA Games album and undertaking her first long-form acting role in MediaCorp's Channel 5 drama, Tanglin.
But that is not all. Nerva also has a secret love for — and talent in — the fine arts. For example, in 2010, she made sequin portraits of Oprah Winfrey and Ellen DeGeneres. It took her two months to complete and she sent them to DeGeneres. Four years later, the former piece was featured on The Ellen Degeneres Show last year.
(Although she was not credited at the time, the American talk show host eventually thanked Nerva via the show's Instagram account. "I'd like to thank the very talented @gaylenerva who made this sequined portrait for @Oprah. She also made one for me! I haven't seen so many sequins since my days as a Solid Gold dancer," said DeGeneres.)
Yes, Nerva has done a lot; and now, she is finally ready to unleash her own music with her new single, the dark electro-pop number Pretend, which is produced by Marc Lian of the local hip-hop duo Trick. Lian also produced the accompanying music video, which has shots of Nerva along the streets of Singapore in the dead of night, although, for most parts, she is seen wandering around in a multi-storey car park.
Followers of Nerva's music would no doubt have noticed that Pretend is a marked change from the acoustic songs she is more known for. "Ah, yes, why the change? Why not? I enjoy many types of music — pop, R&B, hip hop, folk, country, rock, alternative, electronic — and I almost want to try it all if I can," explained the singer. "I wrote Pretend on the guitar, with very dark electronic sounds in my head. I really love this mix and how different it is to what I usually play on the guitar."
Nerva said she opted to work with Lian because they had previously worked together on a mash-up. "We've been friends for a while now and ... I've always loved his work and style, so I shared the song with him and he came up with this sick beat," she said, adding that the song itself is "inspired from personal experience and heartbreak".
The song, among others, will be featured in a concert the singer-songwriter will be holding at the Esplanade Recital Studio on Saturday. The performance, called An Intimate Evening With Gayle Nerva, is a part of the Singapore Street Festival's (SSF) Concert Of Ideas, and will also feature a guest performance by Gareth Fernandez (who, like Nerva, was also featured on a TV singing competition). Incidentally, the Concert Of Ideas, which takes place from Friday to Sunday, also features performances by classical pianist Bertrand Lee (Friday) and one of Singapore's top drummers, Tamagoh (Sunday); and is a musical platform that organisers said is meant to showcase "creative connections, playful explorations and personal synthesis".
"In 2003, I participated in the SSF and this was my first time performing outside of school on a public stage. It was just me and my guitar, very Michelle Branch style — I was totally trying to be her when I was that age," recalled Nerva. "This year, Annie Pek, the founder of Singapore Street Festival asked if I would like a stage to showcase my music and I gladly agreed!"
However, don't expect the singer to release an EP or album anytime soon. Although Nerva has several videos up on YouTube — featuring her solo performances as well as collaborations with other singers such as Dru Chen, singing covers as well as original compositions — she said she would only be releasing her music "single by single" instead of compiling her songs into an album. "It's a little bit hard to manage time (for music) when I work full-time on the set of Tanglin, so an album would probably take a while to come out," she said.
"Singing is, for sure, the thing I love most, but I like to wear many hats," added Nerva, who said that she enjoys acting, and continues to learn more every day. "I also enjoy songwriting very much, even though it is quite tricky to master, but I love that (aspect) about it. But, yes, singing would probably be number one (for me).
In light of all the achievements in her life so far, what does she consider to be her biggest strength? "Well, I think that perhaps it's my attitude towards life. I believe that we can all do anything if we set our minds to it. So, I'd say, positive attitude is key."
That attitude is also reflected in her hopes for the future. "The future is always full of possibilities. I hope to be recognised for my original music and perform on a world stage."
An Intimate Evening With Gayle Nerva is on Saturday, 8pm at the Esplanade Recital Studio. Tickets from SISTIC. The single, Pretend, is available from CD Baby (http://www.cdbaby.com/cd/gaylenerva). You can check out the music video on YouTube. (https://youtu.be/o5pWgrQwXjg)