S'pore music scene heating up again?
SINGAPORE – Concave Scream, Kick!, Humpback Oak, Serenaide and Gingerbread. Do any of these names ring a bell?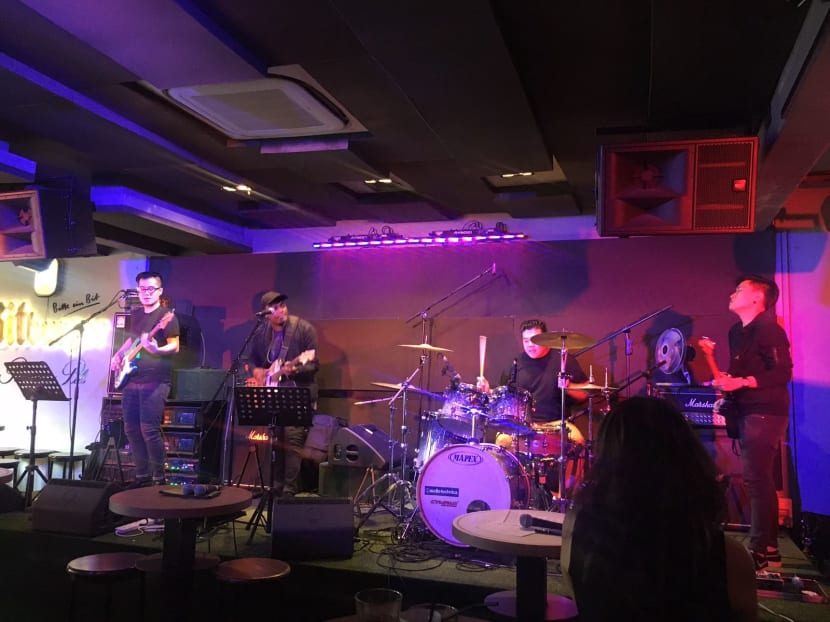 SINGAPORE – Concave Scream, Kick!, Humpback Oak, Serenaide and Gingerbread. Do any of these names ring a bell?
Songs from these Singapore bands that made waves from the 1960s through early 2000s are making a comeback at the Pop-Up Noise: The Great Singapore Replay concert on Sept 9 in an attempt to connect youths with popular tunes from the nation's past.
The songs that will be featured were voted by 16,000 members of the public over three weeks in June.
The event, organised by the National Arts Council (NAC) in collaboration with Temasek, hopes to "bring together people across generations through the rediscovery of 'made-in-Singapore' music, whilst providing a platform that inspires young creative talents to contribute to our rich local music heritage," said Robin Hu, head of sustainability and stewardship group at Temasek.
"Also, through the arts and these songs, we hear the story of Singapore over the years," said Kenneth Kwok, assistant chief executive of planning and engagement at the NAC.
Most of the songs to be featured are from bands who were popular in the 1980s and 1990s when a number of local bands were made popular.
After the heady days of the '90s, the music scene appeared to have suffered a dearth of local talent. That is, until the likes of Gentle Bones and The Sam Willows, among others, emerged in recent years.
With the bevy of popular bands from yesteryear, some may levy the critique that Singapore's music scene used to be more vibrant. But was it, really?
Leslie Low, 45, who used to front 1990s indie rock band Humpback Oak, said: "It was more vibrant, perhaps, because there were more labels pushing local music. For example, there were labels like Pony Canyon, BMG and Rock Records."
"There was a nice healthy record label scene and because of that, local bands had more visibility. That's compared to now where most are independent and don't have the same resources," said Low, who now fronts art rock band The Observatory and also performs solo gigs.
He added: "What is on the airways is now primarily from the UK or US and local music doesn't get as much play as before. We are like a footnote in a big publication."
Some of local music's younger blood agree as well, claiming it is harder for acts to garner attention. However, it is not necessarily due to foreign competition or the lack of exposure opportunities.
22 year-old singer song-writer Joie Tan said: "Now we have shows, festivals, bars and pop-ups everywhere which could be normalising it and making it perhaps not as exciting." 
The bar is also set a lot higher and people are being pickier with who they support, especially with social media making music easily accessible from everywhere, said the Lasalle graduate who specialised in Pop Vocals.
Low agreed: "It's getting a lot harder to be heard. Setting up a Youtube channel is easy but how do you draw the views? That's a different ballgame."
Others however, opine that local music has never had it as good as it is now.
Sean Lam, ex-frontman of 90's rock band Concave Scream, said: "We had a good time – it was exciting and what everyone felt in common was this: We could do music for ourselves. There was a camaraderie among bands but I wouldn't say it was a big great period.
"Now we have young bands filling up auditorium-sized crowds, which we never had. We only had Substation crowds of, at most, 100 or 200 and that was considered a really good sell-out show," said the 43 year-old who now runs a web design agency while performing solo part-time under the moniker, Hanging Up The Moon.
Sara Wee, the lead singer of 53A who performed last year's National Day song, Tomorrow's Here Today, and local musician Charlie Lim concurred. Both agreed that adding that tech savviness among youths today has also helped local musicians push their work.
"The younger generation are way more advanced in being able to record and produce themselves," she said.
Lim, 29, added that social media has enabled people to be a "more opportunistic" and "take things into their own hands". As such, Lim feels that there is "no better time to do music than now".
Concave Scream's former frontman Lam agreed, adding that the main advantage the current generation of musicians have is mainstream appeal.
"That's the big difference. Bands (like The Sam Willows) command such a big critical mass compared to what we did," he said.
Musicians like Lam and others from the earlier generations are optimistic that appreciation for Singapore music and musicians can only get better.
Lam said: "Nothing happens overnight. We have planted the seeds and the baton will continue to pass from generation to generation. As long as it's made locally and you have local ears listening, you should be proud."
In the meantime, Humpback Oak's Low said The Great Singapore Replay (TGSR) has been a good way to "keep the previous generation of bands and their music in everyone's consciousness, while providing some continuity".
Added Tan: "If we really want to believe in Singapore as an arts hub, then it's important that we give as much respect and importance to our own history. TGSR exposes the younger generation to that while giving the older generation a wave of nostalgia when they watch and listen."
The Great Singapore Replay showcase concert is jointly organised by National Arts Council and Temasek Holdings, and will be held on Sep 9 at 4pm at Clarke Quay Central. More information can be found at https://thegreatsingaporereplay.sg.