Off-track entertainment at S'pore Grand Prix
SINGAPORE — Next week, the 2013 Formula 1 SingTel Singapore Grand Prix kicks off. Or, as we like to call it, "F1 Weekend".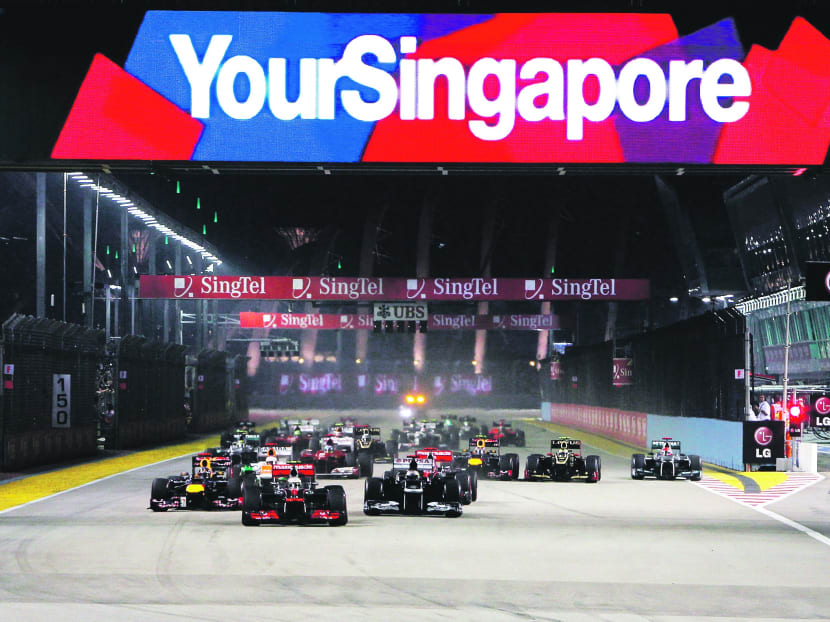 SINGAPORE — Next week, the 2013 Formula 1 SingTel Singapore Grand Prix kicks off. Or, as we like to call it, "F1 Weekend".
Yes, that annual occasion when about eight of our roads are turned into racetrack tarmac so that drivers such as Sebastian Vettel, Fernando Alonso or Lewis Hamilton can hope to add another night race trophy to their mantelpiece. (Assuming that they have mantlepieces, that is.)
There always seems to be a lot of pomp and a sense of occasion about the race — into its sixth year here — and it's probably because, as someone once said, it's like the circus has come to town.
And it really is a bit of a circus. You have the main event (the night race), but the carnival atmosphere is maintained by the entertainment and goings-on around the track, such as the concerts.
This year, the concerts will be headlined by The Killers, who are finally here after their previous plans a couple of years ago were scrapped almost at the last minute; Rihanna, whose previous concert here was marred by technical difficulties in the beginning; Tom Jones, who stopped his Singapore gig after three songs; Bob Geldof, who never had a gig here; and that Korean pop group Big Bang — probably the most successful of the lot when it comes to concerts held here.
Oh, and Justin Bieber, of course, which is an interesting inclusion.
The choice of Bieber at the F1 isn't the interesting bit (after all, we had Backstreet Boys before, didn't we?). It's that his gig is on the Monday after the event (along with Owl City), and tickets to that show are sold separately. Of course, punters are going to bite. But it will be interesting to see how it all pans out.
And since going to the races is thirsty work, many will want to head to the myriad of "lounges" set up. First, there's the Circuit Lounge, where they promise "high fashion, classic cocktails, and a stellar entertainment line-up" of musicians and international DJs, including Grammy-nominated violinist Ashanti Floyd, DJs Posso (US), Atran (Singapore) and Mel DeBarge (US).
There's also the Podium Lounge, where you can get your fill of eye candy with fashion shows and tub-thumping beats, and finally, Amber Lounge, where you can get the red carpet treatment.
What's interesting this year, though, is that the event will be flanked by two movies about the Formula 1.
The first, opening next Thursday, is a documentary called 1, which traces the history of the sport, particularly the "Killer Years" — the late '60s to the early '90s — when an accident on the racetrack could mean certain death or the end of a career.
It's chock-a-block with interviews from former and current F1 drivers, as well as footage of the various races, and award-winning actor Michael Fassbender does the narration. It's nicely shot, thoroughly engaging and a must-see if you want to impress your friends with your F1 knowledge come race day.
The other movie, Rush, opens the week after the F1. Starring Chris Hemsworth and Daniel Bruhl, it tells the story of the famous — or infamous — 1976 season (also highlighted in 1), and focusses on the title race between Austrian driver Niki Lauda (played by Bruhl) and Briton James Hunt (Hemsworth). Initial reviews have rated it highly ("fuel injected drama" gushed one reviewer), and it really looks good.
Good enough, perhaps, to say that all the excitement off the track could rival what's happening on the track.
But as someone mentioned, the entertainment side of F1 has made converts to the sport itself, and that's no bad thing, is it? Christopher Toh
WIN EXCLUSIVE ACCESS TO THE FORMULA 1 CIRCUIT LOUNGE!
For one exclusive night, let the Circuit Lounge take you to new levels of luxury with its indulgent surroundings, high fashion, classic cocktails from the extremely popular Flavour Lab, and a stellar entertainment line-up of musicians and international DJs including Posso (US), DJ Atran (SG) and DJ Mel DeBarge (US).
Visit our contest page online to win (http://tdy.sg/winf1access).