We never really stop, say the Foo Fighters
SINGAPORE — It has been more than 20 years since rock band Foo Fighters last performed in Singapore. Now, on the cusp of the release of their ninth album, Concrete And Stone, the band are set to play here on Aug 26 as part of their Asian tour that will also see them on a jaunt through Japan, South Korea and Thailand.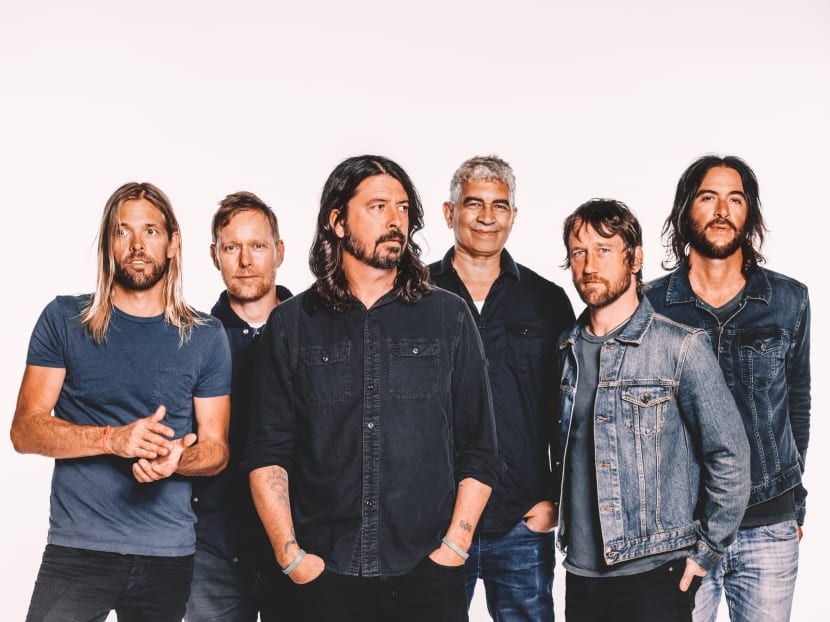 SINGAPORE — It has been more than 20 years since rock band Foo Fighters last performed in Singapore. Now, on the cusp of the release of their ninth album, Concrete And Stone, the band are set to play here on Aug 26 as part of their Asian tour that will also see them on a jaunt through Japan, South Korea and Thailand.
Guitarist Chris Shiflett, who joined the band in 1999, told TODAY: "We were doing a bunch of (new) songs over the course of the European tour that we just did, like La-Dee-Da, Run and Sky Is A Neighbourhood, maybe a couple more, so I think a few of them will work their way into the set (in Singapore). It's always tricky performing songs that nobody has heard, before the album is out. So there probably won't be a tonne of that, but a bit here and there."
The new album, which is expected to be released in September, is an interesting mix of styles. There is the familiar rock stance that the Foo Fighters are famous for in the form lead single Run and Sky Is A Neighbourhood, but the band ventures into more sonically diverse and dynamic territory with songs such as the harmony-filled Dirty Water, the acoustic guitar-led Happy Ever After (Zero Hour), the syncopated Arrows, with its time signature shifts, and the swampy Sunday Rain, which features drummer Hawkins on vocals.
A string of guest artistes on the album also helped shape the music. Most notably, Beatle Paul McCartney can be heard, not singing, but drumming, on one track; while other musicians include saxophonist Dave Koz, and singers Shawn Stockman (Boyz II Men), Alison Mosshart (of The Kills) and Inara George.
"McCartney is on the song that Taylor sang, Sunday Rain, but being at EastWest (Studios), there were all these people recording in the different studios there," explained Shiflett. "I don't think there was any master plan to have all the guests on the album. I think it was something that just unfolded as we were working. Maybe Dave planned it all, but I don't think he did!"
One familiar trait of the new Foo Fighters material is the music video for Run. Directed by frontman Dave Grohl, it incorporates the same sort of humour that has always been present in their music videos.
This time round, the band members are decked out in heavy make-up to make them look like geriatrics performing in an old folks' home, as their performance incites the senior citizens to rock out and take over the facility, complete with dance moves and a melee with the facility's staff.
"(Grohl has directed) a bunch of times over the years, so it's nothing new to us," said Shiflett. "Working for him (as a director), he's easy. But we do have some crazy make-up and once you put the makeup on, you don't have to do too much beyond that.
"We're a band that doesn't take itself too seriously, especially when it comes to making videos!"
(Before I get old: Foo Fighters in make-up for the Run music video. Photo: Brantley Gutierrez)
The album's title track itself is a dirty, slow burn of a number that closes the album.
According to Shiflett, this musical diversity is, in part, due to the fact the band had a new producer helping to helm the album.
Greg Kurstin was roped in by Grohl after he heard Kurstin's work with his band, The Bird And The Bee. Although Kurstin had worked with various other singers, including Adele, Sia and Halsey, he had never worked with a rock band before. Similarly, the band had never worked with a pop producer before.
But it was this venture into new territory that the band were interested in. "Working with Greg, switching it up to a new producer, and a different approach ... at the beginning, Dave told everybody: 'Don't bring any of your usual gear, bring a different guitar, a different amp', so I think he did have it in mind to mix it up and try something different this time," said Shiflett.
Grohl, who used to drum for rock icon Nirvana, formed Foo Fighters in 1995 and the group has had several changes before arriving at the familiar line-up of Grohl, bassist Nate Mendel, drummer Taylor Hawkins, and guitarists Chris Shiflett and Pat Smear (who was in the early incarnation of the band before he left and re-joined).
As of this year, the band formally made touring keyboards Rami Jaffee an official member.
Over the years, Foo Fighters have picked up 11 Grammys and sold millions worldwide.
Fans of Foo Fighters know that a splendid time is guaranteed at a show by the rockers.
For example, in 1997, they had former Nirvana bassist Krist Novoselic join them onstage at Seattle's Bumbershoot festival to perform, not Nirvana songs, but Prince's Purple Rain.
For the Live On Letterman series, they decked themselves out in suits reminiscent of The Beatles' first appearance on the Ed Sullivan Show in 1964, along with a stage set that can be seen on the Fab Four's American album, Something New.
While are there bands have lasted for just as long, few continually produce new music for their audience. Many of their contemporaries have come and gone. So what is the secret to their longevity?
"You can't exactly put your finger on it, but I think a big part of it is that we never really stopped," said Shiflett. "When you stop for too long, I think that tends to break bands up. I don't know! I wish I knew what it was, but it's an undefinable thing."
This, of course, is coming after the band actually announced "an indefinite hiatus" last year. There was so much talk of the band breaking up that Foo Fighters released an "official announcement" video saying that Grohl was going to be an electronic artiste, and the band were looking for new singers, with Nick Lachey auditioning for the role.
The video ended with the band saying: "For the millionth time, we're not breaking up. And nobody's going f***ing solo".
"We've (announced a hiatus) in the past," laughed Shiflett. "I think when you hear the Foo Fighters announce a hiatus, you can read between the lines ... that Dave is just tired of touring! That's usually where that stems from!"
Foo Fighters perform at the National Stadium on Aug 26.