Singapore writers on writing about race
SINGAPORE – About 100 people packed the room at the Pod at National Library on Thursday night to talk about racial stereotypes and the portrayal of races in Singapore.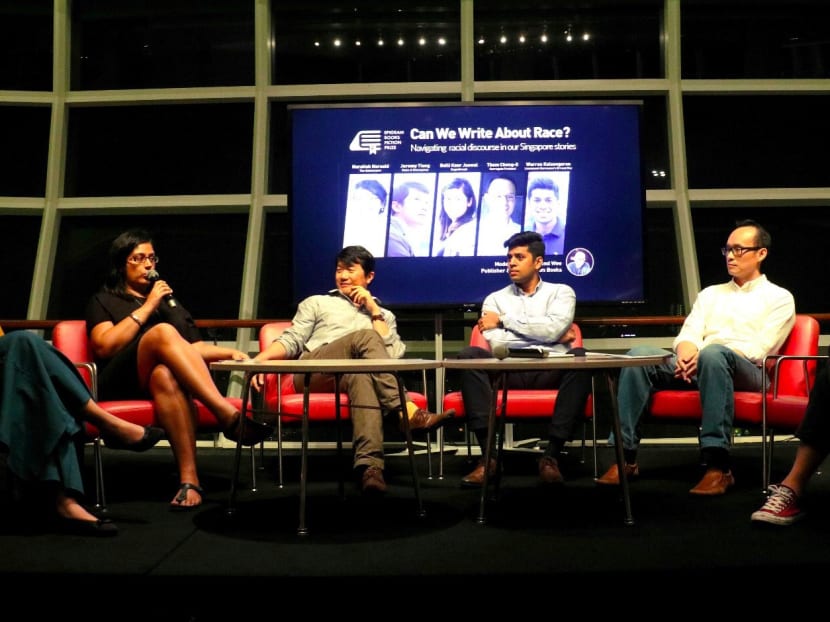 SINGAPORE – About 100 people packed the room at the Pod at National Library on Thursday night to talk about racial stereotypes and the portrayal of races in Singapore.
Organised and hosted by Epigram Books – whose publisher is also behind the children's series Understanding Singaporeans: Why Do We Ask These Questions – the discussion covered a wide range of topics, including whether books about racial issues should be targeted at children, and what it means to write about race in Singapore.
Titled Can We Write about Race, the forum was moderated by its publisher and CEO Edmund Wee, with five local authors on the panel: Nuraliah Norasid, who won the Epigram Books Fiction Prize last year for her debut novel The Gatekeeper; Balli Kaur Jaswal known for her bestselling novel Erotic Stories for Punjabi Widows; Jeremy Tiang, author of State of Emergency; and Warran Kalasegaran, who wrote Lieutenant Kurosawa's Errand Boy and Tham Cheng-E, author of fantasy fiction Surrogate Protocol.
Wee's recently published children's book series Understanding Singaporeans, which included titles Why do Malays avoid pork? And Why do Indians dot their foreheads? received a fair bit of discussion at the forum among participants.
One participant raised a question about whether it is appropriate for a non-minority race author to write about racial stereotypes associated with minorities. Perhaps if Wee had done so, she said, "it would not be so jarring and offensive".
Another added: "It's very different when you have a Chinese writer write characters of different races in their books versus a minority perspective. In the context of race relations in Singapore, we shouldn't believe we are all on this equal platform because we're not," she said.
"Producing knowledge about different minorities and stereotypes that you hold about them is damaging and it has an actual effect on minorities," said the participant during the Q&A session.
In response, Wee said: "I do not apologise for writing those books. Yes, it would be nice to get an Indian guy to write the Indian book but that's not what I was trying to do. I was trying to write the book, trying to imagine what a Chinese child would think about and the kind of questions they would ask their parents, that's why I wrote it."
Nevertheless, one of the minority authors on the forum panel agreed that books addressing race issues help contribute to more open discussion and understanding.
Kalasegaran said: "You might disagree with (such books), but they have also opened up the discourse, and that allows other people to contribute."
That said, due to the sensitive and somewhat emotional nature of the topic, Tiang said that "this is something that needs to be approached with care, particularly when one is from the majority race".
He added: "My personal (view) is to to listen, to hear from as many other people as possible and try and understand what's happening from these other points of view… While I'm not saying people from the majority should be silent, I think it's more important to elevate the minority and to hear from these groups of people."
Jaswal added that in light of recent controversies about accents, some comments that have arisen have to do with "minorities getting too sensitive" and "importing identity politics from the West" from people who are uncomfortable with speaking about racism.
"People may be uncomfortable about minorities speaking about racism, (but) the fact of the matter is minorities have been very aware of race," Jaswal said.