Cast of Fear the Walking Dead only know what's happening days in advance, says actress
SINGAPORE — The zombie genre is one that never seems to be in danger of fading, and Australian actress Alycia Debnam-Carey thinks this is because of what is going on around the world.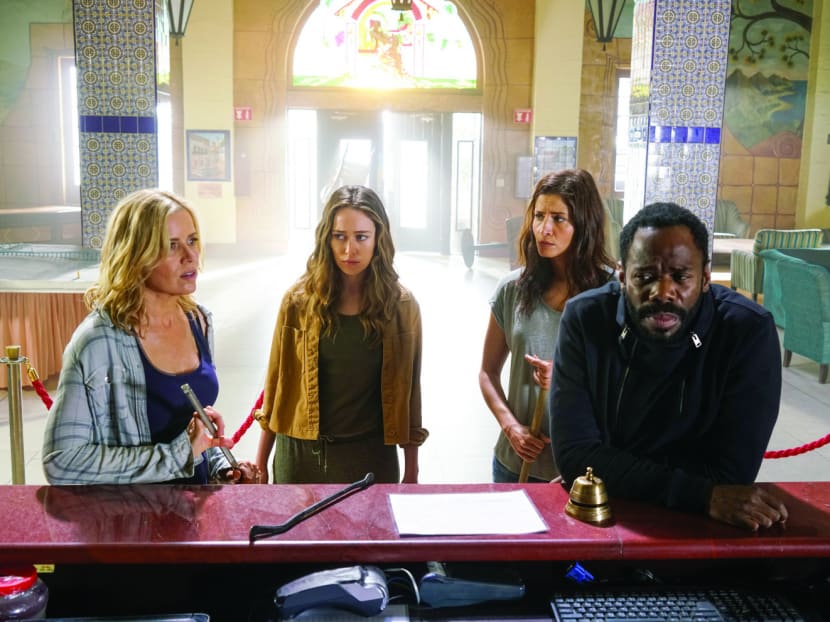 SINGAPORE — The zombie genre is one that never seems to be in danger of fading, and Australian actress Alycia Debnam-Carey thinks this is because of what is going on around the world.
"I'm a bit surprised that the zombie craze has gone on for so long, actually. But I guess it has a lot to do with what we see in the media all the time ... the environment, genetic engineering, poverty, diseases like Ebola. I guess it's all part of our collective consciousness and that's reflected in films and on TV," she said. "I think we're realising our place in the universe, that we're quite fragile and the more that science and technology takes the lead in our development as a species, the easier everything could be taken away from us."
Debnam-Carey, 23, is currently playing Alicia Clark on AMC series Fear the Walking Dead, an American horror drama which is a spin-off and prequel to the channel's uber-popular The Walking Dead. Her character is the overachieving teenage daughter of high school guidance counsellor Madison Clark, played by Kim Dickens.
Initially, the horror genre was not the actress' cup of tea. "I'm not really a horror person so I was a little apprehensive to read the scripts for Fear. But when I did, I thought it was so engaging and so well written," she admitted.
After she started watching The Walking Dead, she "quickly got into it". "It's nowhere near as much about the zombies as I thought it was. It's about the human beings and what they're willing to do to each other to survive. The manipulation, the power balance and the struggles ... that's what's so interesting about it," she shared.
Not only does the show cause viewers to be on tenterhooks, the cast, too, are left in the dark. Debnam-Carey says from episode to episode: "It's very much a case of working one work week to the next."
"So, we find out, perhaps five days in advance, what will be happening in the next episode ... And while we're filming, we really don't know the outcome of the season. You chat to people on set, speculate a bit! But everyone's really tight-lipped about the details."
Q: Without giving away any spoilers, will there be an especially dark moment or event in this half of the season? Will one of the main characters become infected, perhaps?
A: Without spoiling? I couldn't tell you something like that without it being a spoiler! (laughs). What I can say is that our characters are now being exposed to a lot more in this new world. They're fractured and they're separated which means they have less security. So, definitely, they're certainly at risk of coming into contact with the infected a lot more and that's definitely more of a threat. But, really, you'll have to watch and find out what happens!
Q: Your character has been forced to grow up very, very quickly. Do you feel that has also happened to you in real life?
A: I was always a pretty serious kid, to be honest. My mum always used to tell me that I was like a little grumpy old man with a grey cloud following me, because I was so driven and determined and serious! (laughs) I think me and my character are actually quite different. I think we've grown up very differently, as well. But yes, I guess growing up happened quickly for me, in terms of starting work and then for that work to be recognised so suddenly. But, a lot of the time, you do a job and there's a lot of time before it's released and it doesn't actually feel like a lot is happening. Being out on a press tour has actually helped me realise the impact of the work a bit more! But, no, growing up for me hasn't been such a severe transition as it has for Alicia.
Q: Your character was very much a teenager in Season One. Did you look to any inspiration to play that part?
A: No, not really. I was 21 when we started, so really being a teenager wasn't that far behind me. I actually think it's quite hard playing a teenager because you're the subject of a lot of predetermined characteristics. There's a stereotype, in a way. You know, people already have the idea that a teenager is obnoxious, or moody, or naive, or maybe sassy ... But as an actor, you're trying to make it more real. You want to find out about the essence of the character rather than the stereotype. What defines her? What does she want? TRANSCRIPT COURTESY OF AMC
The second part of Fear the Walking Dead Season 2 will air on Aug 22 at 9am on AMC channel (Singtel TV channel 322), with a repeat at 10pm.