Pan Ling Ling beats breast cancer
SINGAPORE – Speculation was rife in the past year about the condition of her health, but MediaCorp doyenne Pan Ling Ling kept the fact that she had breast cancer to herself.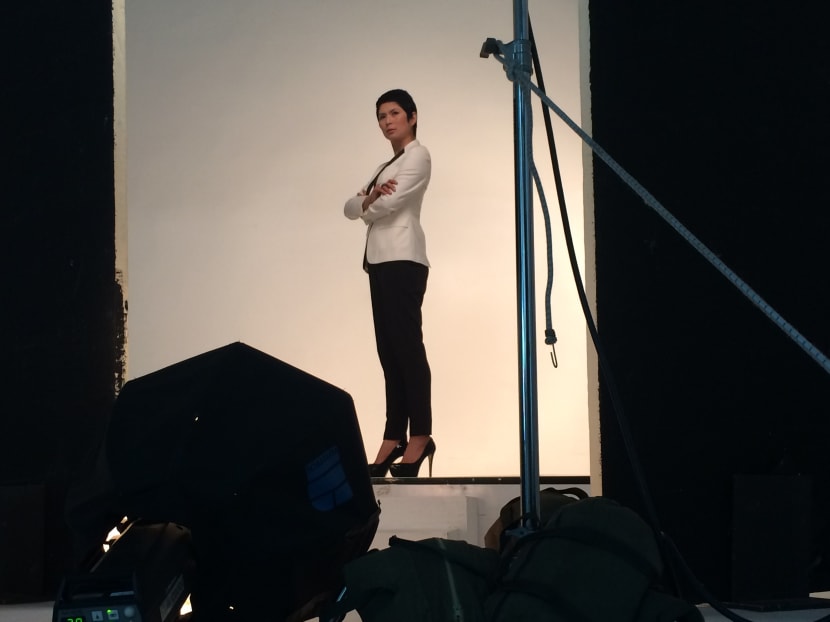 SINGAPORE – Speculation was rife in the past year about the condition of her health, but MediaCorp doyenne Pan Ling Ling kept the fact that she had breast cancer to herself.
During a routine annual checkup early last year, lumps were observed in her left breast. On March 8, 2013, she received a call from her doctor, who flagged a warning. After going through an operation, she told the media that she had had six cysts removed, but not that one of them turned out to be a cancerous lump.
"I didn't tell people because I wanted to have a peaceful recovery stage. I didn't want all the people who were concerned about me to get worried – once they started to ask me, 'How are you?' I think it would have become a burden because it would have made me feel like I was very sick," the 43-year-old revealed, in a telephone interview.
Because the tumour was large, Pan underwent chemotherapy as well as radiotherapy. "I wanted to experience the stages, so I waited for my hair to fall. The oncologist said I should shave it off but I said no – I wanted to experience how bad it could be," she told TODAY. "It was very bad: The floor is covered with your hair. You just pull it and it comes off in your hand. But I just wanted to at least know what was happening to me."
Eventually, "My eyebrows were all gone, and my eyelashes. I didn't look like me at all and I was very bloated."
When it rains, it pours – as she was battling breast cancer, she had to deal with the passing of her father in November from lung cancer.
"Receiving the news that my dad had lung cancer was more painful than what I went through… I told him, 'The reason I'm a warrior is that I inherited the genes from you'," Pan recalled. "Last year, to me, was so tough – cancer for myself and cancer for my dad."
POSITIVE AND STRONG
In spite of all of that, Pan said, there was never a point where she crumbled. "I am a very positive woman," she said. "I told myself, 'It's just a procedure. After that, it'll be all right. You just need to fight and go.' My husband said that after all these years, he has discovered a new wife – he never knew that I was so strong. He said, in Chinese: 'The cancer is in your body but the pain is in my heart.' He felt helpless and that the only thing he could do for me was to hold my hand and say, 'Be brave'."
The only time she wept, Pan said, was when her husband, former actor Huang Shi Nan, had a talk with her older son, who is 15 (her younger son is 12). "He told him, 'We must love Mummy more and pamper her. Don't make her angry.' After that, I went to my son's room and saw him crying. He hugged me and cried and cried and said, 'I'm sorry for being such a bad boy in the past.' Throughout the whole thing, I never shed a single tear, but when I heard that, I cried. I said, 'No – I am so fortunate to have you as my son.' I feel that maybe, what happened to me has made my son grow," she said.
"I was so touched, I told myself to be positive and strong for my family. Since they have been so supportive, I should be strong." Also, "I have a group of very good friends. They have been helping me to keep my secret since my operation, and they have been doing a lot of research for me, like cutting out recipes for boosting the immune system. When people ask, 'How come she hasn't appeared on TV in such a long time?', it's a tough job for my friends to say I am okay when actually, I'm not okay."
BACK TO NORMAL
Still, she refused to let cancer get her down. "I bought glasses and a hair wig. I still went to the market sometimes – wearing a mask, because after chemotherapy, your immune system is low. I still played golf, even though during the first cycle of chemo, I was quite tired and could only play nine holes."
And now, she said, her cancer is in remission. "I'm getting back to normal. I am not so breathless. I'm getting healthier – the only exception is that my weight is not down yet." But she is well enough now to resume work: She will be hosting an episode of My Star Guide, in which she will lead a tour group to Japan in April. And she is very excited about landing her first regular English-language role: As a majie and adoptive mother to Rebecca Lim's character in the MediaCorp TV Channel 5 drama, Mata Mata 2. Filming commences on Monday.
"I want to spend more time with my family," she said. And, "I want to convey this message to breast cancer patients: 'Don't give up.' The reason I'm stepping up to say all this is that breast cancer is becoming more common. In the future, one in three women might have breast cancer. I think I should stand up and tell all the ladies, 'If you find something wrong, don't be afraid. Just do it as swiftly as you can – if you discover it in the early stage, you can recover very quickly. Just go for regular checkups."
She repeated: "Please, convey my message to everyone."