Social media has helped change perceptions of me, says Chee Soon Juan
SINGAPORE — If the buzz on social media and the queues of people that have formed after the Singapore Democratic Party's (SDP) rallies to have their books signed are any indication, there is considerable interest in SDP chief Chee Soon Juan this General Election (GE).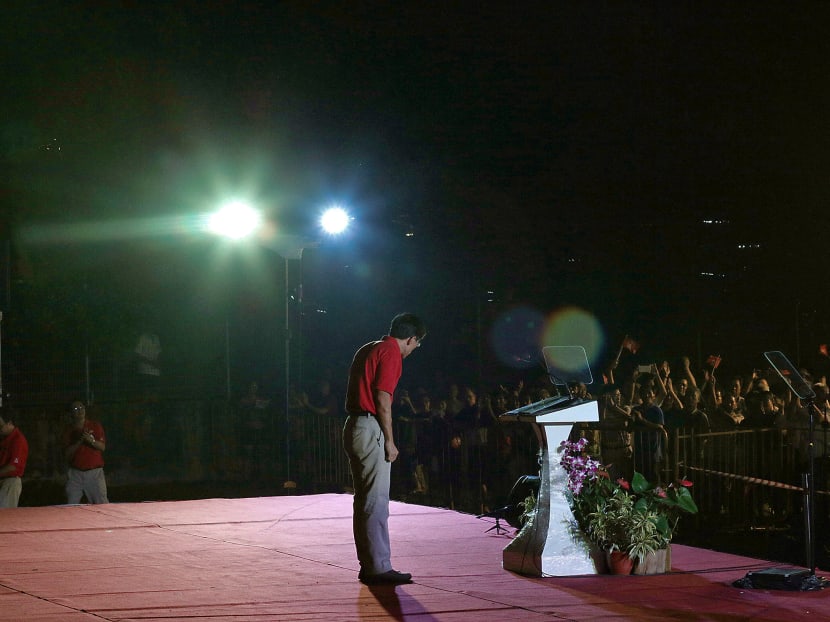 SINGAPORE — If the buzz on social media and the queues of people that have formed after the Singapore Democratic Party's (SDP) rallies to have their books signed are any indication, there is considerable interest in SDP chief Chee Soon Juan this General Election (GE).
In recent months, Dr Chee, 53, who is contesting in his first GE in 14 years after he was discharged from bankruptcy in 2012, has found himself fielding questions from journalists about whether he is a changed man. Gone is the more strident and adversarial style that has seen him being on the wrong side of the law and getting embroiled in defamation lawsuits.
Now, the father of three children has the demeanour of a family man who is eloquent and measured — quite a transformation for someone who once went on a hunger strike and whose name and party became synonymous with civil disobedience.
Dr Chee has a ready answer to those who feel he has changed: He has not. But perceptions of him have altered because of the advent of social media, which has made it possible to counter mainstream media reports.
"I've gotten a few more wrinkles. I don't know if I've mellowed. I think what I've done — and I'm trying to be as reflective and introspective as I can — I've never gone out and said, 'Let's kill the PAP (People's Action Party).' I've never used the words 'Down with the PAP'," Dr Chee told TODAY after signing books for two hours following the SDP's Raffles Place lunchtime rally yesterday (Sept 7).
"In the last two election cycles, 2006 and 2011, I never really had the chance to stand up and say, 'Look, everybody, if we're going to get into Parliament, Parliament necessitates some kind of us at least working together to pass legislation," he said. "I can't argue with (the change people have perceived) because they are the ones who've perceived it. But if you're asking me, I don't think I've changed that much."
The content of his speech for a human rights conference, for instance, would differ from a speech during the elections, he said.
"The occasion necessitates a different approach, a different perspective and different angle."
But surely there has been a material change, in his words and the SDP's shift to be more policy-driven in recent years?
Dr Chee maintains that the substance of what he has said in the past and now has not changed.
"The only thing right now is that it's election time. So people pay a lot more attention, and I've got access to the public right now in terms of rallies, and with live-streaming and so on and so forth," he said. "Whereas before ... that was not an election where you pitch to Singaporeans what you'll be doing in Parliament.
"The occasion necessitates us telling the people what we'll be doing in Parliament. And by that I mean both the PAP and the Opposition have to work together — that's a given. Let's educate and tell Singaporeans what we are about."
He pointed out that, as far back as 1992, when he was a political rookie, he had said to give credit where credit was due, and for the Government to also respect that the Opposition had something to contribute.
Without going into specifics, Dr Chee also suggested that his public persona in the past was shaped by circumstances. He said the Government came down hard on him from around 1994 when his book Dare to Change: An Alternative Vision for Singapore was published.
"Every little thing I did, I had to be fined, censured by Parliament and so on. And then things started going very wrong very quickly. And then these words started coming out," he said.
"So what I'm trying to say is that the bar was set for me very low in this election. I didn't have to do somersaults and everything just to show people how I've changed — I haven't."
Dr Chee was unable to stand in the 2006 and 2011 GE because he had become bankrupt after failing to pay damages for defaming then Senior Minister Lee Kuan Yew and then Prime Minister Goh Chok Tong during the 2001 GE. He had shouted at Mr Goh during the 2001 campaign about an alleged loan to former Indonesian President Suharto.
Incidents from the 1990s raised by the PAP during the hustings include his ouster of one-time mentor Chiam See Tong from the SDP. Another was being found in contempt of Parliament for providing false data to a parliamentary committee tasked to verify healthcare subsidies of polyclinics and public hospitals. Dr Chee, who declared early on in this campaign that he did not want to engage in personal attacks, has said he did not oust Mr Chiam. SDP's Marsiling-Yew Tee candidate Bryan Lim said at yesterday's rally that Dr Chee had been willing in 2011 to work with Mr Chiam to bring him back to the SDP.
Dr Chee has also unpeeled some layers of his personal life for the public in recent weeks. At rallies, he has spoken of "angels" in the form of compassionate Singaporeans who have supported him, of how he brings home the bacon for his family and of watching his budget at the supermarket by picking Wall's ice cream instead of Haagen Dazs for his children — and being advised by his wife to wait for a discount.
Then, there is the short film about his family called Behind The Man, by Mr Tay Bee Pin. It had been viewed over 260,000 times on YouTube as at 5.30pm today.
It was Mr Tay who approached him and who paid for the project, Dr Chee said at the rally on Monday. He had initial reservations as his life had become "an open book for ridicule and attack by the PAP", but eventually agreed.
"I've always used Facebook only to talk about SDP activities, policies. I've heard so many people say, 'Look, people want to see the personal side of you'," he told TODAY. Then, Mr Tay came along and he had to get the green light from his wife, Dr Huang Chih Mei, whom he jokingly called the "Home Affairs Minister".
He reiterated: "The only thing my wife was afraid of was, how much are we going to expose this whole thing to more ridicule attacks from the PAP. You're also very worried in a sense (about) how your kids are going to be portrayed (by the PAP)," he said, adding: "For what it's worth, it's out there right now."
He left it up to Mr Tay to put the film up when it was done, said Dr Chee, who added that he had always taken his three children along for his political activities, but there could be more attention due to the election period.
"I conjecture that after the election, people are going to lose interest," he said. "For me it's always to make sure you're authentic. If you're not, you get caught out so easily, especially in the Internet age."