If Singaporeans remain still so as not to 'rock the boat', country will sink: Chee Soon Juan
SINGAPORE — Singapore under the governance of the ruling People's Action Party (PAP) is a "sinking boat", Singapore Democratic Party (SDP) chief Chee Soon Juan said.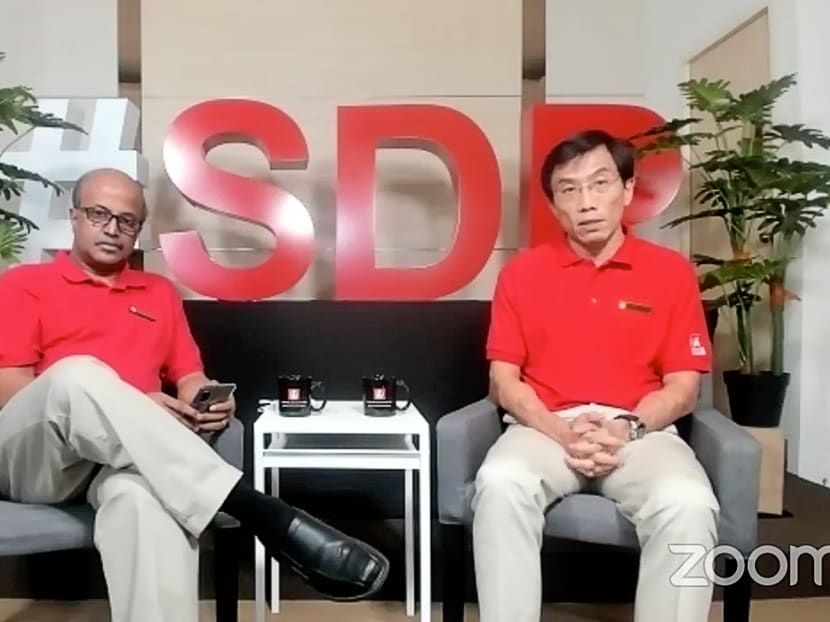 Dr Chee paints bleak outcome for Singaporeans if they don't vote for opposition
SDP criticises Covid-19 support measures as disproportionately benefiting businesses
Party proposes retrenchment benefits, zero GST until end-2021
 
SINGAPORE — Singapore under the governance of the ruling People's Action Party (PAP) is a "sinking boat", Singapore Democratic Party (SDP) chief Chee Soon Juan said.
And if Singaporeans "remain still" so that they do not "rock the boat", it is going to sink, he told the media during a virtual press conference on Wednesday (June 24).
Dr Chee was responding to a question at the party's meet-the-press event, on what he would say to voters who are afraid to "rock the boat" by voting for the opposition. 
"Your boat is sinking. You don't start paddling, you just remain still so that you don't rock the boat, it's going to sink."
SDP chairman Paul Tambyah, who was also the moderator of the event, then referred to the results of the 2011 General Election (GE), which saw the incumbent PAP win its lowest vote share of 60.14 per cent since Singapore's independence, and PAP went on to making substantive policy changes in education, transport and healthcare. 
"All of those things happened because the voters of Singapore in 2011 took the opportunity to send PAP a message and that is what we are really hoping is going to happen this time around," Dr Tambyah said.
Singapore will be heading to the polls on July 10 and political parties have to submit the names of the candidates they are fielding on June 30, which is Nomination Day. 
Observers have said that GE2020 will be an unprecedented one, being held in the midst of the Covid-19 pandemic with rules on what activities can and cannot take place, such as political parties not being allowed to campaign through mass rallies. 
Last year, when talk started on how Singapore has to hold its next GE before April 2021, SDP already announced that it will contest in Bukit Batok Single Member Constituency (SMC), Bukit Panjang SMC, Yuhua SMC, Holland-Bukit Timah Group Representation Constituency (GRC) and Marsiling-Yew Tee GRC. 
HAVE TO 'PADDLE VERY HARD'
Dr Chee said that Singapore has been sinking before the pandemic hit the country and the situation is only going to get worse. 
"We've got to paddle very hard right now, to make sure we get to shore. And this is the one thing that SDP is putting up and saying, 'Hey, look, you got this one vote. Let's cast it out to our land and let's pull ourselves in, otherwise we are going to sink."
During the online session, a large part was spent talking about SDP's election campaign dubbed "4Y1N", which stands for "Four Yes, One No". 
It refers to the party's proposals to say "yes" to retrenchment benefits, an income for retirees, putting people first and suspending the Goods and Services Tax (GST), while saying "no" to a population of 10 million. 
SDP criticised the Government's crisis support measures, unveiled over four national budgets this year by Finance Minister Heng Swee Keat, to help Singaporeans who are badly affected by the pandemic. 
Dr Tambyah said that the four budgets mainly support employers, with the hope that the benefits doled out to companies will eventually trickle down to their workers instead of helping people directly. 
Dr Chee also said that a large part of the Government spending, which is estimated to be at S$93 billion, goes into supporting corporations. 
He talked about SDP's proposal of a retrenchment benefits scheme, a programme the party has been lobbying for, where Singaporeans who have been retrenched during this crisis receive a payout for 18 months, thus putting cash back into people's pockets. 
These extra cash on hand would then stimulate the economy as consumer spending would increase and businesses would thrive.
In the latest extension of this scheme that the party disclosed on Wednesday, if 10 individuals receiving the benefits can come together and produce a viable business proposal, they can receive their payouts in one lump sum instead of over 18 months to start the business. 
On top of creating jobs, Dr Chee said that this will help stimulate innovation and creativity in the economy. 
And on that topic, he criticised PAP for not spelling out clear ideas of how it intends to create jobs, even though the Government has created a National Jobs Council which is led by Senior Minister Tharman Shanmugaratnam. 
Among other proposals, SDP is advocating for the Government to suspend GST until the end of 2021. This would also give Singaporeans more confidence to spend, and at the end of 2021, they can debate again as to whether to reinstate the tax, which is now at 7 per cent. 
A planned hike in GST to 9 per cent has been deferred until at least 2022, Mr Heng said in his Budget speech in February this year. 
If SDP, who would be fielding 11 candidates in the coming GE, gets elected, Dr Chee said that the party is going to send the "loudest and clearest" message to PAP during parliamentary debates that their proposals are what the voters want. 
The party has not officially announced its line-up of candidates for this coming GE but it has introduced new party members to the media on walkabouts since the second half of last year.