Gen Y Speaks: After a long slog I made it to the national basketball team. But I gave it up to become a coach
Growing up, I always towered over my peers due to my impressive height of 1.98m. Naturally, I gravitated towards basketball, and I quickly developed a deep passion for the sport.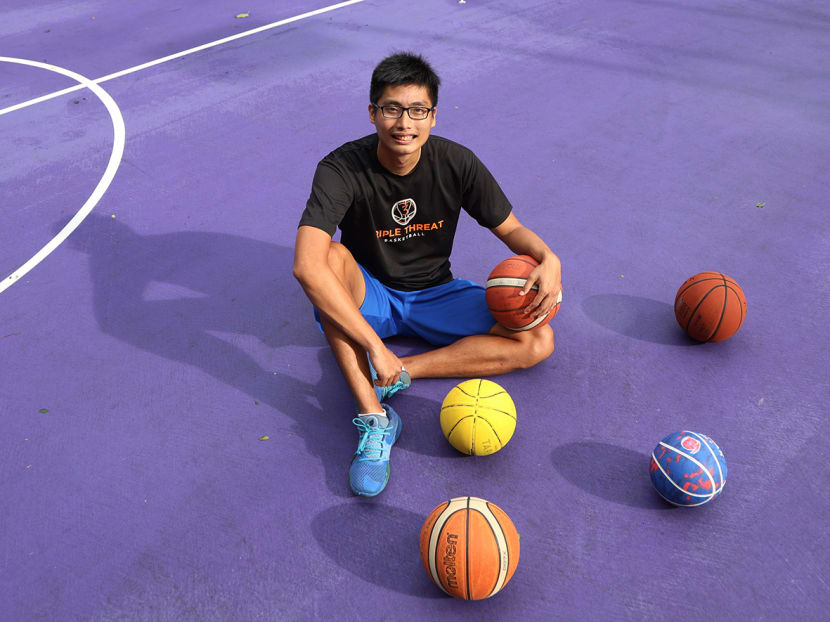 Growing up, I always towered over my peers due to my impressive height of 1.98m. Naturally, I gravitated towards basketball, and I quickly developed a deep passion for the sport.
One might think that these two elements placed me in a prime position to succeed in basketball. All I needed was a bit of training and polish, and perhaps I could make it on the big stages.
As I tried my hand at the sport, I also slowly realised that I was clumsy and lacked coordination on the court. I was not a natural talent, as much as it pains me to admit it.
I remember how my late start in the sport of basketball contributed to my noticeable lack of skill on the court. While many of my peers had been playing and refining their abilities for years, I found myself playing catch-up right from the beginning.
Basic basketball fundamentals, such as dribbling and shooting, felt foreign to me. During the drills, I struggled to maintain control of the ball, which seemed to have a mind of its own. 
It was disheartening to witness my peers effortlessly manoeuvring the ball while I grappled with the most basic dribbling techniques.
Moreover, my overall understanding of the game was limited. I had not been exposed to the intricacies of basketball strategy and positioning that my peers had absorbed over time. 
This lack of knowledge put me at a disadvantage, as I struggled to make quick decisions and react appropriately in game situations.
However, my determination to be part of the national team never wavered.
When I turned 18, I jumped on the opportunity to train with my school's basketball team at Ngee Ann Polytechnic. 
It seemed like the huge breakthrough that I needed, and I was thrilled at the prospect of being able to hone my skills and potentially make a name for myself in the sport.
Nevertheless, my excitement and joy quickly fizzled out as soon as the first training session ended. I realised just how much work I had to put in to even be on par with my teammates. 
Most of them already had years of experience under their belts and the gulf in skills between them and me was evident. 
They were intimidating and overwhelming, despite my height advantage. I struggled to keep up and was always one step behind everyone else. 
I was downcast. After years of arduous training on street basketball courts and imagining myself in the big leagues, I wondered to myself if this was the end of the line for my dream and if I should just hang up my basketball shoes. 
MY SAVING GRACE
In that challenging period, my coach turned out to be my saving grace. 
It was he who saw my potential and took me under his wing, tirelessly working to correct my mistakes and improve my game.
My coach is someone who was unwaveringly committed to the team, reminding me that while coaches may have numerous opportunities to guide and instruct, learners have this one chance to learn and grow.
By recognising the limited window of opportunity for students to absorb knowledge and skills, my coach instilled in me a sense of urgency and importance. 
As a basketball player, this was the push that I needed. With my coach's guidance and teammates' encouragement, I slowly improved and became more agile on the court. 
Once again, thanks to Mr Kendy Lee, my dream became possible again and I had something to persevere towards despite still facing challenges and feeling like giving up countless times.
My hard work paid off when I earned a spot on the team during my final year of polytechnic.
By that time, I was living my dream, participating in school competitions and winning medals at a junior level. 
Basketball became second nature to me, but even then I would still constantly turn to my coach for advice and feedback.
SHOOTING FOR A DIFFERENT GOAL
Soon after graduation, I was scouted and later joined the national team — a moment I had been eagerly waiting for all these years.
In 2016, I was given the opportunity to train with the national team in the lead-up to the Southeast Asia Basketball Association (Seaba) championship.
Putting on the national team jersey has always been my dream. But despite reaching my goal, I kept thinking about Mr Lee's words.
As ludicrous as this might sound, I made the tough decision to give up my spot in the training slot.
The reason? I was coaching a primary school team, and attending the training would have meant missing crucial coaching sessions with them.
My team, as well as my friends and family, were expectedly concerned. 
To them, the choice is obvious: prioritise the national team. After all, it was my life-long dream to be a professional athlete, and it would have been a shame to let it slip away. However, I had grown to love coaching and spending time with my students.
But remembering what my coach said to me previously, I know I have a unique responsibility to nurture and develop the potential of my students. 
Their time as athletes is fleeting. It is crucial for me to provide them with the best possible guidance and support during their formative years.
And that's when it hit me. If only such an opportunity had come earlier when I was younger. I couldn't help but think how much more I could have achieved if I had more time to realise my dreams.
So, I made it my mission to help them realise their full potential and achieve their dreams, even if it meant sacrificing my own.
GIVING MY ALL TO THE KIDS
After much contemplation, I realised that my primary school students only had one shot at the National School Games, and I couldn't let them down. 
I wanted to give my all to the kids. 
In the end, the two teams I coached achieved an impressive fourth and eighth place in the national competition, and I couldn't be prouder of our accomplishments. 
This is despite it coming at the cost of my personal aspirations. But I have never looked back with regret.
I started the Triple Threat Basketball Academy with my secondary school teammates in 2022, aiming to help young players, regardless of their skill levels or backgrounds, reach their full potential. 
I use a game-based learning approach that incorporates coordination and footwork exercises tailored to each student's learning pace and skill level, rather than monotonous drills and routines. 
Not only is it more enjoyable for my students, but it also allows for more effective and engaging learning.
My role is also to provide hands-on training to my coaching staff and organise monthly training sessions to ensure their ongoing development. It's crucial that my coaches are knowledgeable and skilled to help young athletes reach their full potential.
Ultimately, we wanted everyone to have access to good basketball coaching and training. Since 2021, we have achieved remarkable growth, with over 200 students currently enrolled under our roster. 
It has been two years since then, but I have learnt something new about myself — that nothing brings me more joy than seeing my students grow and find happiness in playing basketball.
Winning accolades for myself meant less to me than seeing a single student reach their potential and achieve their dreams, because I remember how hard I tried to reach mine.
I gave up my own dreams of becoming a national basketball player, because I want to help and nurture the younger generation to pursue theirs.
ABOUT THE AUTHOR
Ow Yu Jie, 32, is the head coach of the Triple Threat Basketball Academy