Gen Y Speaks: At age 21, I had kidney failure. It will not weigh me down
It was sometime in 2016 while serving my National Service (NS) that I had an inkling that something was not right. My blood pressure was always high, and I often felt dizzy.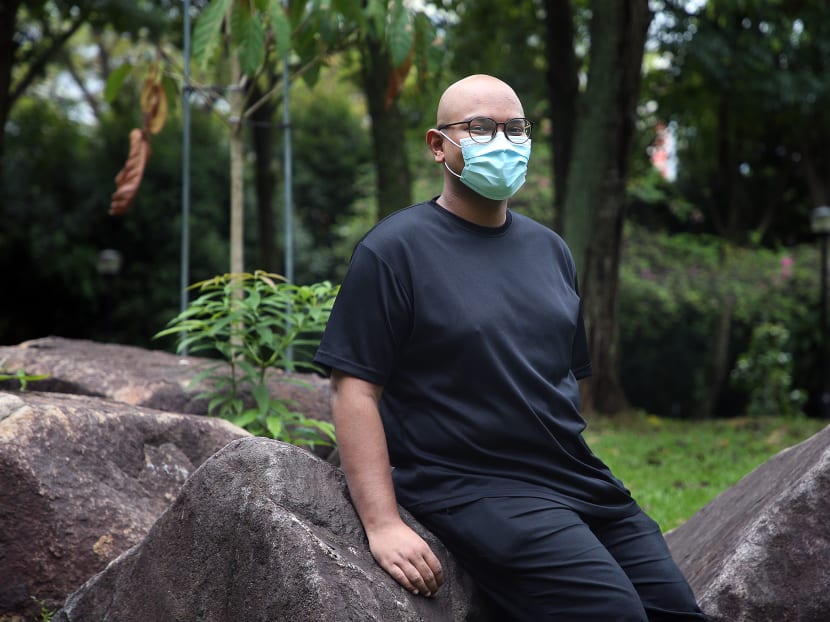 It was sometime in 2016 while serving my National Service (NS) that I had an inkling that something was not right. My blood pressure was always high, and I often felt dizzy.
I dismissed it as something genetic as I was at the fittest that I had ever been. Unfortunately, it might have been something far more insidious, and far more life changing — kidney failure.
While at a polyclinic for a routine heart scan, I suddenly felt giddy when standing for too long — my blood pressure dropped there and then.
What was supposed to be a simple electrocardiogram became a visit to the doctor.
A blood test that followed meant that for the first time, I knew for sure that something was amiss, as it showed that my creatinine levels were extremely high. 
About a month later, I underwent a biopsy and was subsequently diagnosed with IgA nephropathy, a kidney disease where my kidney cells were inflamed and would die out.
I started medication in hopes of slowing the degeneration of my condition.
Despite my health issues, I managed to complete my NS and enrolled at the National University of Singapore in 2018 to pursue a degree in social work and sociology. 
I considered withdrawing from university as I felt my mental health and ability to focus was suboptimal during my initial hospital admissions. 
But I told myself I should try to do everything the "normal" and "healthy" me would have done.
My first year in university was tough, due to the hectic schedule and my poor health.  
I constantly experienced fatigue and nausea from the medication.
However, I pressed on and remained focused on my studies. 
In line with my promise to myself, in my first year, I joined the school's jazz band as a singer, and in my second year served in the Society of Social Work Students as the secretary.
These activities gave me an abundance of friends and many happy memories.
MY TREATMENT JOURNEY
I initially thought that I would be alright with the strong medications prescribed by the doctor.
One of these was an immunosuppressant drug, which was similar to the medication used for chemotherapy. The other was steroids, and I was given a high dose to slow the progress of my auto-immune disease. 
However, these medications took an enormous toll on me and my family. I was always in a sad mood.
My face shape started changing, and I gained a lot of weight and stretch marks. For one to two months after I started my medication, I did not leave home unless it was necessary. 
What hurt me the most was when my friends could not recognise me at first during Friday prayers. All this was within a few months of my diagnosis. 
It took me months to slowly rebuild my confidence, and I still have body image issues today.
Although I did everything my doctors advised me to do then, my condition continued to deteriorate steadily and in June 2019, I was diagnosed with kidney failure and had to start dialysis. 
I remember not feeling shocked. My mind just went numb.
My family was more worried about it than I was; it was probably news they did not expect to get this quickly. My parents insisted on joining me for the subsequent appointments, as they were understandably worried.
To better understand my condition and treatment options, I did some research online and joined a few dialysis/kidney failure support groups on Facebook.
My doctor also comprehensively explained the benefits and difficulties of both types of dialysis, and I decided on peritoneal dialysis (PD), a home-based treatment instead of doing haemodialysis (HD) at a community-based centre.
I chose PD because it is gentler on the heart. Plus, I am still young and it is easier to be self-reliant in carrying out the treatment.
For PD, a catheter is surgically attached to my abdomen into my peritoneum. The dialysis machine is attached to the catheter, where a dialysate solution (dextrose) is cyclically pumped in and drained out overnight in five cycles over 10 hours.
This process drains out waste products through diffusion and does not require needles or a professional to conduct the dialysis like HD typically does.
The only tough part is carrying boxes of my dialysate solution from one part of my room to the other, while setting up my machine for dialysis. 
In my case, I require 12kg of dialysate solution for my dialysis every night.  
Space can also be an issue, as I have to store up to 30 boxes at home every month.
However, I am able to do my dialysis at home each night while I sleep, and I do not have to spend time going for thrice-weekly sessions at a dialysis centre. 
This frees up my time to lead a relatively "normal" life. There are also fewer diet restrictions while on PD as opposed to HD. For instance, I am able to consume potassium rich foods like fruits. 
I have grown accustomed to needles after years of going through an auto-immune disease, but since PD is done through a catheter in my abdomen, I get pierced less than an HD patient.
I am grateful to the National Kidney Foundation (NKF) as it has provided useful support to me, especially when I was starting out on PD. 
A PD nurse from NKF visited my home monthly in the first six months. She gave me useful advice and helped me feel more confident about carrying out PD independently. 
Also, the PD nurses at the National University Hospital (NUH), where I regularly consult a doctor for my kidney failure, have been doing a wonderful job.
My treatment cost before subsidies is estimated to be around S$1,600-$1,800 per month. But thanks to subsidies from the Government and NKF, I pay about S$50 monthly for the dialysis.
I have found comfort and support in sharing my feelings with close friends and family.
By talking openly about my condition, I hope to destigmatise illness in my own little ways. 
Even if I were to dislike the fact that I have an illness, it is still part of me, but it does not own me. It would not stop me from doing most of the things that I wanted to do.  
I recently joined a PD support group for two of their sessions — it was an open group and I was the youngest attendee. I picked up some useful skills on reading food labels from the others. 
I also found out that while we all share a common illness and struggle, the older participants face different issues from me as we are at different milestones in life.
As such, I have been thinking of forming a therapeutic group for younger patients as we face different challenges such as coping in school or in the workplace.
I think younger people may go through different stresses from kidney failure because the vast majority of our peers are able-bodied and free of chronic illnesses.
All said, I will not let kidney failure weigh me down. It does not determine who I am, and who I aspire to be. 
I want to finish my studies in social work and become a competent social worker.
During my NS, I saw campmates who went through a lot of hardship — some had been jailed, others struggled with drug use, came from broken and abusive families or were extremely sick. 
It made me determined to help the vulnerable, and those who might not be able to speak up for themselves.
I think ultimately, having a chronic illness has made me more empathetic of others.
Life is short, and I want to support people to live fulfilling lives regardless of who they are and their situation.
ABOUT THE AUTHOR:  
Abu Ubaidah, 23, is a third-year Bachelor of Arts (Social Work and Sociology) student at the National University of Singapore.