Gen Y Speaks: I live with 'most excruciating pain known to humanity'. Love makes it a bit easier
When I was 18 years old, I suddenly started getting severe facial and jaw pains.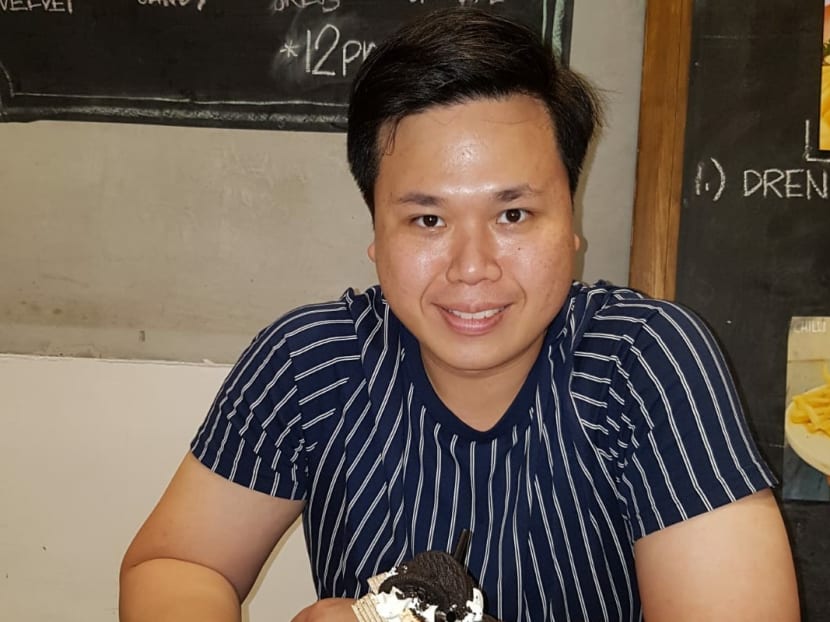 When I was 18 years old, I suddenly started getting severe facial and jaw pains.
At first, the doctor thought it was an orthodontic problem and I underwent minor surgery. That did not help and it was only later that I was diagnosed with a form of trigeminal neuralgia.
In layman's terms, this means facial pain caused by an irritation or compression of the fifth cranial (trigeminal) nerve responsible for providing facial sensation.
This is how SingHealth describes the condition on its website:
"Trigeminal neuralgia is characterised by brief episodes of intense, stabbing, electric shock-like pain on the face. These episodes occur spontaneously or can be triggered by light touch, chewing, or changes in temperature. The pain is so intense as to be completely disabling."
If that sounds bad, check out what the American Association of Neurological Surgeons says: "Trigeminal neuralgia sometimes is described as the most excruciating pain known to humanity".
That's what I feel on the left side of my face — with electric shocks, aching and/or burning sensations that come and go throughout the day.
The intensity of the painful sensations can increase for no clear reason. Episodes where the pain magnifies to a heavy stabbing and burning sensation accompanied by a migraine can last for more than three hours before easing.
I was traumatised by the diagnosis in 2009 and withdrew socially for several years.
I have undergone various treatments such as medications and acupuncture over the years, with no cure in sight.
While there are surgical options, doctors have advised me against them due to risks associated with my atypical conditions. So pain management has been my main treatment. 
While I still have trigeminal neuralgia, it no longer keeps me captive. I credit this to the collective strength I have drawn from my loved ones.
I learned the strength of will and purpose from my mom, a dedicated homemaker and caregiver to my late bedridden grandmother.
I learned kindness from my generous late dad who worked hard as a driver to support us.
I learned tenacity from my sister who has done well in life.
Beyond my immediate family, I drew strength from my close friends.
When I was a bitter hermit, my best friends came repeatedly to meet me at my home or in my neighbourhood, and cajoled me to hang out with them.
One day they dragged me out for breakfast at Sentosa, followed by a visit to Universal Studios Singapore, with express passes so we never had to queue for long.
This would become a regular outing, one which offered me a respite and a chance to soak in some fun.
The author celebrating one of his close friend's birthday early this year before the Covid-19 crisis.   Photo courtesy of Faris Ridzuan 
To cope with the constant pain, I found comfort in food. The medications slowed down my metabolism and increased my appetite. 
By 2019, I had gained 20 kg over three years. As a result, I got high blood pressure, gout symptoms and high levels of cholesterol.  
A close friend urged me to lose weight healthily and I did, with my loved ones supporting me.
One of them brought me to the gym daily after work for some months, scolding me whenever I ate unhealthily. After losing 10 kg, I no longer have high blood pressure and gout symptoms.
Early this year, I suffered an emotional breakdown and was at the brink of giving up.
My closest friends cancelled their plans and held an emergency meeting with me. They helpfully offered solutions and in doing so, assured me of their unconditional love. 
Over the years, I have tried to return as much love and compassion as I can beyond my loved ones.
I give back through civil society and the social service sector. For example, I volunteer at a family service centre and I am active in promoting social cohesion and interfaith relations as well as mental health.
I believe that social support grounded in love and compassion drives excellence and growth.
I know this from personal experience. Despite my challenges, I managed to achieve a First Class Honours in Social Sciences from the National University of Singapore because of the unconditional love and support of my loved ones.
The author with some of his best friends before the circuit breaker.  Photo courtesy of Faris Ridzuan
So whoever I meet in life, whether it be at work, or through my volunteerism or social life, I try my best to provide understanding and support, in the hope that I can help them achieve their goals or soothe their pain. 
During this circuit breaker, someone reached out to me to talk about his suicidal thoughts.
I could not physically be with him but I stayed connected with him virtually and emotionally. I also linked him up with professional help.
I had to practise deep listening and compassion to help him, but luckily, I had some experience helping out in such cases. I am glad he is doing much better now.
It is not always smooth sailing of course.
Occasionally, the strategy I use to reach out and help does not result in good outcomes. Other times, I find myself questioning my optimism and idealism in helping others and myself.
The Covid-19 pandemic and the circuit breaker make me feel more lonely. But I try to fight it by reminding myself of my loved ones.
The electric shocks on my lips remind me of their smiles and laughter.
The burning sensations remind me of our deep as well as light-hearted conversations.
The throbbing pain reminds me of the challenges that we face together as one big family.
I still talk to them online, through messages, and voice and video calls, though it is not the same as meeting them in person. 
I try to draw strength from the connections we have built. In my bleakest moments, I say to myself: "Come, my family and all my loved ones; stay with me."
My pain is a metaphor for life — difficult, constant, fluctuating yet so full of meaning.
To all who have pain, try reaching out to others to give them a chance to soothe it with love.
Go forth and ease their pain too. Find out how they are doing, listen to their stories with compassion and love, and write new meaningful stories together.
Living with any kind of pain in this Covid-19 pandemic can be difficult, whether it is caused by loneliness, financial difficulties, mental or physical illnesses or relationship problems.
But when we soothe each other's pain with love and kindness, we can thrive.
Love can and should be something more infectious than any virus. We always emerge stronger and better from "catching" and spreading love.
ABOUT THE AUTHOR:
Faris Ridzuan works in the field of educational research and policy. He will be pursuing a Masters of Arts at the National University of Singapore later this year.