Gen Y Speaks: Like a fly always buzzing in my brain — how I battled OCD and emerged stronger
Growing up, I have always tried to be meticulous and diligent in my studies — a perfectionist of sorts.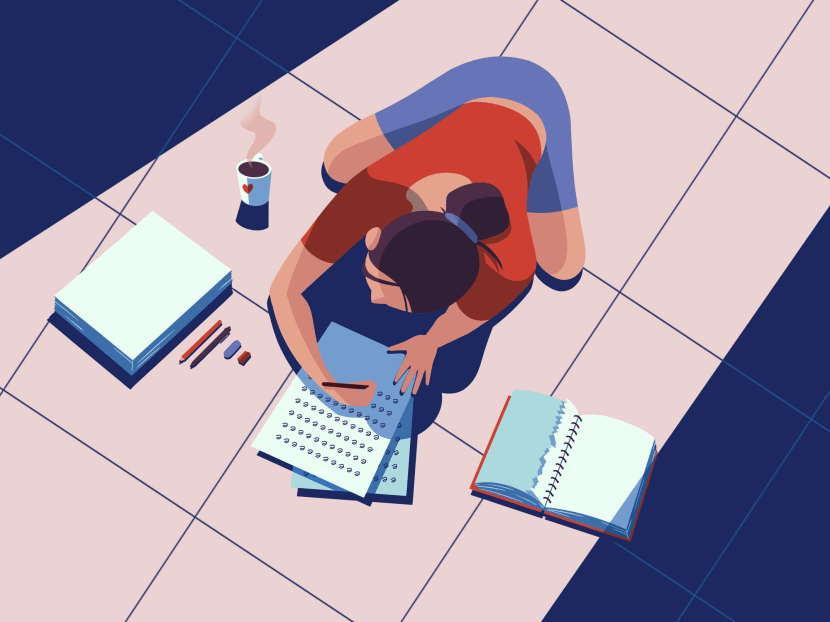 Growing up, I have always tried to be meticulous and diligent in my studies — a perfectionist of sorts. 
But in 2017, when I entered first year of junior college (JC) and had difficulties adjusting to a new environment and schoolwork, my perfectionist streak took a turn for the worse.
I am not sure how it started, but I became extremely bothered by the untidiness of my handwriting.
Every letter had to be written perfectly — the proper looping of "e", the smooth curve of "s", the straight strokes of "t" — and every sentence had to be properly aligned.
I devoted so much effort to rewriting that it exhausted me physically, emotionally and mentally. It was like a fly buzzing incessantly in my brain, refusing to let me forget about it.
Once, I fretted about how one sentence in my notes looked "off" — for four hours. The worry was so draining I was ready to break down when I reached home, but not before rewriting that sentence.
On another occasion, I rewrote my notes until 2am, and frantically resumed when I woke up four hours later.
All these obsessions caused my mental strength to deteriorate over time. By the time I entered my second year in JC, I was no longer able to handle the distress caused by my "untidy" work.
I sought help from the Institute of Mental Health, where I was diagnosed with obsessive compulsive disorder (OCD).
The first thing I felt upon hearing the diagnosis was relief, because I knew there was treatment for OCD. It meant there was hope for me to get better.
My therapist explained to me the vicious circle of OCD — how obsessive thoughts generate anxiety and distress, which in turn leads to compulsive behaviour.
I went through cognitive behaviour therapy, where I had to deliberately expose myself to my triggers to learn how to curb the urge to carry out the compulsions.
This meant doing my schoolwork in front of my therapist so she could guide me on how to resist the need to write perfectly.
With an understanding professional by my side, my battle against my obsession with tidying up my writing became a less lonely and painful one.
Within a few weeks, I was able to resist the compulsion during my therapy sessions. Trying to do so on my own at home proved to be harder.
I found it very draining to force myself to continue my schoolwork without correcting my handwriting, and broke down a few times.
My mother, who had been a pillar of support through my struggle with OCD, was so upset and heartbroken at how much I was struggling that she suggested that I pull out of school.
But I decided otherwise. Eventually I got a better hang of how to manage my urges and it became less painful.
Seeing my progress, my therapist assessed that I was able to get a handle on my OCD independently.
I finally stopped my therapy after seven months, and count myself lucky as those with OCD could take years to be cured.  
The World Health Organization ranks OCD as one of the top 10 most disabling illnesses, due to factors such as lost income and reduced quality of life.
In Singapore, one in 28 people suffer from OCD, making it the third most common mental health issue here.
Support from loved ones is crucial in battling OCD, as I discovered.
Throughout my OCD journey, I could always turn to my mum when I needed a listening ear. It was not easy for her.
When my therapist explained the OCD cycle to her, my mum admitted to me that being a practical person, she didn't understand why I struggled so much to resist my compulsions.
Similarly, of the few friends whom I disclosed my condition to, most were sympathetic but did not probe too much. I surmised that it was not easy for them to talk to me about it due to their lack of understanding of the condition and because mental health is still seen as a sensitive issue.
Indeed, it can be said that those who don't suffer from mental health issues will never understand the struggle faced by patients, however supportive they are.
This is why I know that even with my mum by my side, my OCD will always be something that I have to deal with myself.
As much as others try to be helpful, I am the one who has to fight the compulsions.
I can now better anticipate my triggers and keep any obsessive thought in check. 
For instance, I will use my computer rather than do written work if I am in a super cold room, because my hands freeze easily which makes my handwriting terrible. (I actually failed an essay because of that in Secondary 4.)
Through my OCD journey, I have learnt more about myself.
My obsession with the neatness of my written work was linked to my fear of teachers not being able to read my answers. 
I was afraid they would mark my work as a failure and because of that, my future would be ruined.
My therapist had posed me this question: What does a perfect life mean to me? 
I answered it easily. I actually just want a simple life — to be able to look after my parents, and perhaps, to have a dog.
I realised my old idea of perfection was shaped by peer pressure which made me lose sight of what I desire for myself and my happiness. Once I realised this, my battle with OCD became easier to manage. 
Nevertheless, OCD has become a part of my identity and will never truly go away. Neat handwriting still matters to me. 
I also still value good grades and I occasionally feel anxious about my future. But at least I can now pull myself out of it.
I would never want to experience the despair I felt during my JC years again.
My battle against OCD has taught me that it is okay to be in constant struggle with myself, to be imperfect, and to live life on my own terms.
While I do not think of myself as mentally strong, I believe that OCD has strengthened my mental resilience, making me more ready to face whatever life throws at me.
ABOUT THE AUTHOR:
Vera Sim is a first-year student at National University of Singapore's Faculty of Science, majoring in environmental studies.