Gen Y Speaks: Having lupus did not stop me from proposing to the man of my dreams
Proposing to my then-boyfriend three years ago is one of the best decisions I have ever made in my life.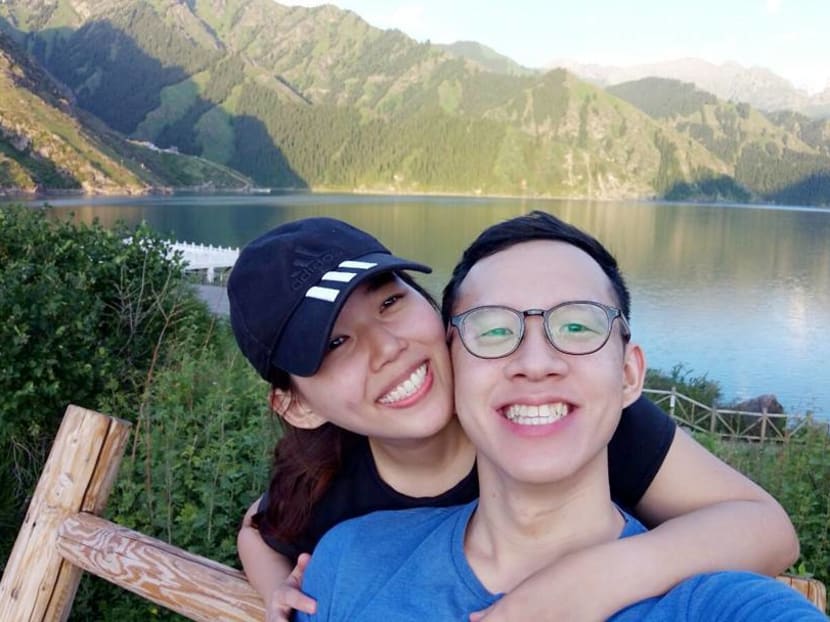 Proposing to my then-boyfriend three years ago is one of the best decisions I have ever made in my life.
Shortly after we started dating in 2014, I told him that I would propose to him one day. He thought that I was joking because it is not the norm for women to propose.
But I always felt that he is worthy of a proposal. So why couldn't I take the initiative and ask: "I want to spend the rest of my life with you. Will you be my husband?"
My only concern was, will anyone agree to spend the rest of his life with a chronically ill woman?
At 20, I was diagnosed with Systemic Lupus Erythematosus, an autoimmune disease more commonly known as lupus which causes the immune system of the body to attack healthy tissue.
Since then, it has affected my heart, lungs and kidneys.
There is no cure for lupus. I get fever and random flares every month, as well as arthritis so severe that sometimes I cannot even hold a pen or dress myself.
My better half and I were course mates from different batches in polytechnic and we hung out only after our graduation.
Despite my condition, he courted me. Having lupus means I often look bloated like a balloon, but he always assures me that I am beautiful in my own ways.
During our courtship, I fell sick frequently. Yet he was always by my side.
We also agreed to work on our future together, by pursuing a degree in social work at the Singapore University of Social Sciences.
While still in university, I decided that it was time to propose to him. He was 22 years old and I was 24.
One day, when he was asleep, I measured his finger size with a piece of paper. I later bought a ring without his knowledge.
For the second anniversary of our first date, I prepared a sketchbook that documented our time together to help us relive some of our memories. When we reached the last page, he saw the ring and I popped the question.
He looked shocked but delighted, and said yes on the spot. I felt the most profound happiness and gratitude at that moment.
The author says she her husband is matured beyond his 25 years of age.   Photo courtesy of Rebecca Lim Qin Rong
Many people have asked why we decided to get hitched at such a young age, thinking it was a shotgun marriage.
When they found out that I was not pregnant, some friends commented that I was "too desperate" for a woman.
But my husband gave me the courage to pursue what I believed in and ignore these negative comments.
A few months later, he proposed to me after a movie marathon at home. He said that I had stolen his opportunity to propose, so he would propose to me whenever he got the chance.
Every now and then, whenever I misplace my wedding ring, he will search for it and then kneel down and ask me to marry him again.
Some people said that marriage proposal is a once-in-a-lifetime experience, and I have lost the opportunity to receive one.
But proposing to a man is also a once-in-a-lifetime experience, and in that way, I have experienced something not many women have.
A year later, we got married in a simple do. I had bought a white dress online, and our families went to a studio for a photo shoot. We held a wedding banquet for 30 of our closest relatives and friends. 
There was no gown, fancy reception or fairytale-like wedding shoot. For us, what is more important is finding meaning in things that we do in life, rather than just follow others blindly.
Our marriage of two years has been blissful so far and we are lucky to be able to live in a brand new flat we got on our first try under the Sale of Balance Flats Scheme. With our simple lifestyle, we are contented with what we have and we love our fledgling careers in social work.
My husband is exceptionally good-tempered and probably gets angry only once or twice a year. He has never raised his voice at me. He respects me and is never stingy with his compliments. Although I was the one who proposed, he has never made me feel any the less for that.
He knows my family means a lot to me, so he never fails to attend family gatherings with me. My family loves him like their own child and sibling, so much so that my parents will prepare his favourite dishes during our visits.
He is not perfect of course. My pet peeves: He removes his hand before the shampoo pump finishes dispensing and he likes to drink my bubble tea even before I have taken two sips.
But I don't know how I would cope without his quiet strength and support.
During the last semester of his degree programme early this year, I suffered a severe lupus flare. The disease attacked my kidneys and I was in and out of the hospital. The doctor recommended that I go for chemotherapy to suppress the immune system so that I will not suffer kidney failure.
We were married for only just over a year then, and that was the first time I saw him cry. I can imagine how hard it is for him having to juggle work, studies and caring for his sick wife.
He would rush down to the hospital after work and was always the last visitor to leave. In between, he would catch 40 winks, do his assignments or sneak a peek through my bed screen curtains whenever he heard my cries during the endless blood draws.
Often, I would feel an immense sense of guilt. Shouldn't taking care of your chronically ill spouse only begin when you are in old age and not at 24 years old? His answer to me is always the same: "Because I love you".
His maturity and patience are beyond his age, and he makes me believe that we can have a happy future together, regardless of how tough things may get in our lives.
After all that we have been through, I know that I will always choose to propose to him again and that I will love him for as long as I can.
ABOUT THE AUTHOR:
Rebecca Lim Qin Rong, 27, is a social worker in a family violence specialist centre. Her husband, Goei Wen Yang, 25, is a medical social worker in a hospital. They graduated from the Singapore University of Social Sciences this year with a degree in social work.