Gen Y Speaks: How I learn empathy out of a box
​As a healthcare provider, the word empathy has been emphasised to me so many times in medical school and even at work that it almost runs the risk of sounding like a cliché. Yet, the focus on empathy is for a good reason.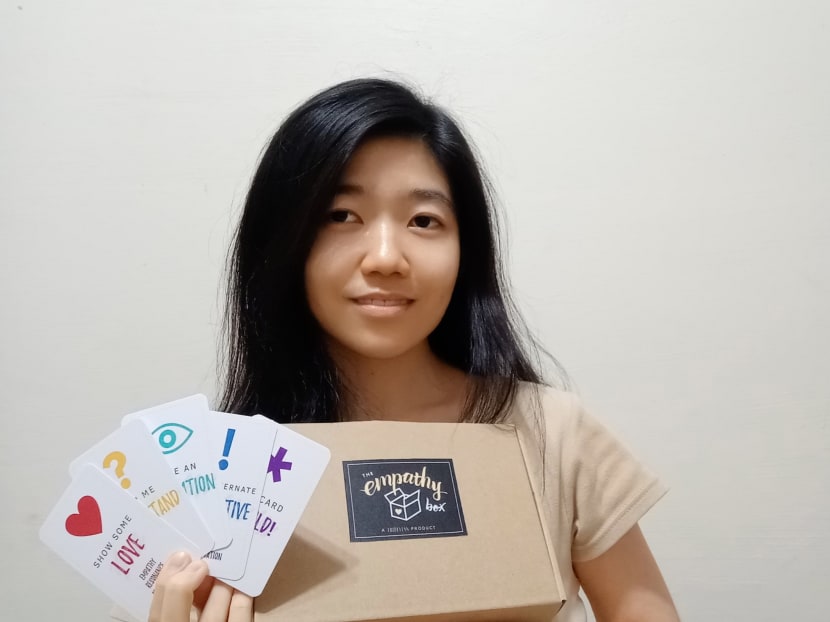 As a healthcare provider, the word empathy has been emphasised to me so many times in medical school and even at work that it almost runs the risk of sounding like a cliché.
Yet, the focus on empathy is for a good reason.
Research has shown that patients whose doctors demonstrate empathy are more satisfied with treatment and enjoy better health.
Put simply, empathy is the ability to step into someone else's shoes and understand how they feel.
This is essential when one wants to convince another to do something, such as taking medications on time or doing a blood test, because we cannot persuade someone whom we do not understand.
But how does one become more empathetic? 
When I was a child, I thought empathy was a gift from nature. Either you are born with it or you are not.
It was only into adulthood that I experienced it for myself as a skill that can be taught and learnt.
I literally learned empathy out of a box.
I am referring to the Empathy Box created by a virtual training company called Tribeless that is full of cards to be used as cues in discussion.
I first came across the Empathy Box this year, when it was posted to me as part of a leadership workshop connecting youths in Southeast Asia.
At first glance, it was simply a box made of brown cardboard.
Open it and you will see the tagline "see the human first"  everywhere, along with a stack of cards, with cue words such as "faith", "relationships", "fear" and "change" for one to choose as a discussion topic. 
My use of the Empathy Box and its cards over a Zoom session in July this year left a deep impression on me.
As part of a leadership workshop for young leaders in Southeast Asia, I was interacting with strangers from different parts of the world about our different lives and experiences when I met a woman named Raissa Laurel who worked as a city councillor in the Philippines.
A perfectly eloquent lawyer with a bubbly personality, she was also a mother and a motivational speaker.
On the video conference app, she appeared poised in light makeup. Nothing seemed out of the ordinary.
Yet, when we started our focused group discussion on resilience, she opened up and revealed something that I had never expected: She lost her legs  to a grenade explosion outside the De La Salle University campus in Manila on the last day of her bar exams when she was only 23 years old.
Did she find the culprit? Was she angry at what fate did to her? Was she devastated and grieving at the news of never being able to walk again? Millions of unanswered questions came to my mind.
Her response was far from what I had expected.
Not only was she accepting of what had happened to her, she was more relieved to be alive after the bombing rather than mourning the loss of her legs.
Instead of blaming fate for what had happened, she forgave the culprit so that she could move on with her life to motivate others.
What I had assumed would be her normal reaction turned out to be far from what she felt about her situation.
I learnt the importance of responding with more curiosity and allowing others to open up about themselves, rather than to imagine how I would respond if I were in their position, for people have different beliefs and responses.
With the Empathy Box, those who were listening in the audience could use response cards like "show some love" and "help me understand" to ask questions to the person sharing more about his or her life.
These cards helped us ask questions that we may not have dared to ask at first, given how what she went through may be difficult and understandably traumatic.
I asked questions such as: Was she worried that her dreams would be dashed forever: Did she feel indignant that such a terrible thing happened to her, out of so many others who were also at the scene?
Yet, Raissa was unafraid, and in fact happy that we took more interest in her story, which she narrated to us with zest and optimism.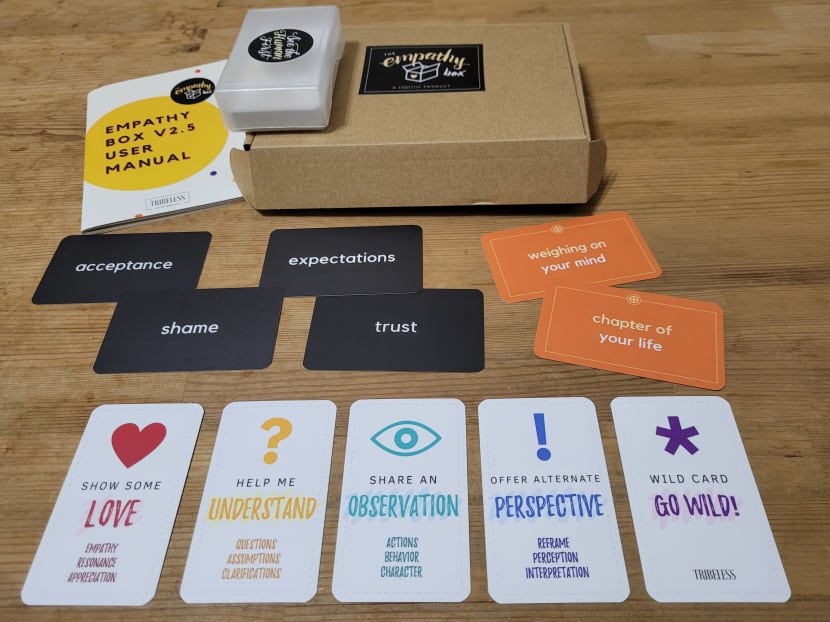 SHOWING EMPATHY
For my part, I have been actively trying to show empathy to people around me, whether  through showing more care or listening more deeply to people with diverse experiences.
For instance, one of my friends who is a permanent resident in Singapore but whose family members are back in China, confided in me about how she had been able to speak to her loved ones only through video calls due to travel restrictions for close to two years.
Although she did not say it explicitly, I sensed that she missed her family very much.
After gentle probing, she revealed that her grandparents in their 80s had told her in a video call that they may never see her again.
This made my friend miss them terribly.
After our conversation, she wept. She told me that it was hard for her to put up a strong front before her family, colleagues and flatmates, and her other close friends found her bothersome when she spoke about how sad she felt as they had troubles of their own.
I was glad that she chose to share her worries and vulnerability with me, so that I could check in on her from time to time.
Even though I have no family abroad, I could empathise with how she misses her family, as it is similar to how I miss some of my close childhood friends who have migrated overseas.
This incident also reminded me not to make the mistake of losing patience with someone, as they might never seek me out again to share their troubles and instead look for someone else who is more understanding.
I am mindful that one can probably never be perfect at showing empathy and I have been guilty of not showing empathy to those around me on occasions.
There is still much for me to learn on this topic.
 One person I look up to in this regard is Harvard Medical School psychiatry professor Helen Riess, whose empathy training curriculum has beens implemented internationally in healthcare as well as in business.
As a healthcare provider, I believe that a person's level of empathy can never be sufficient, and one should always strive to have more of it.
It is my goal to attend one of the empathy training workshops by Dr Riess one day to become an even more empathetic individual, to persons of all colours, genders and ages.
ABOUT THE AUTHOR:
Alvona Loh Zi Hui is a junior doctor who works at a public hospital in Singapore.