Gen Y Speaks: I used to lament my mum's cooking but now I dine mostly at home
"I'll be eating dinner at home tonight." That is a phrase I had never imagined I would be saying to my mum so often these days.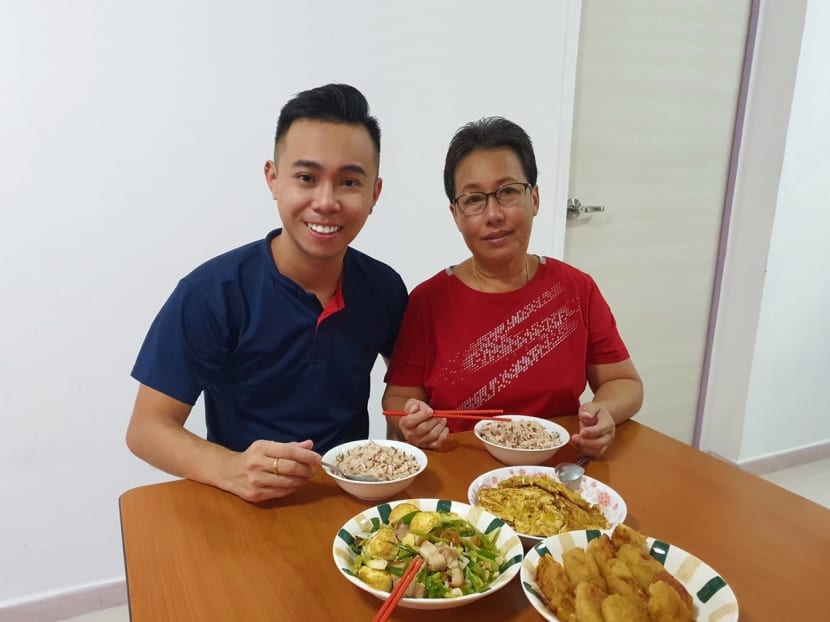 "I'll be eating dinner at home tonight." That is a phrase I had never imagined I would be saying to my mum so often these days.
I recall when I was younger, I would eat out three to four evenings a week — mainly because I was free to choose what I ate.
This meant tasty yet unhealthy foods such as my favourite deep-fried calamari dipped in garlic-lemon mayonnaise sauce.
On days I ate at home, there were many occasions when I lamented my mum's cooking.
"Too bland", "not tasty", "doesn't look appetising at all" — these were some of the nasty comments I would make as an unappreciative teenager back then.
I almost went too far one day.
After eating a few mouthfuls of the dishes prepared by her, I let out: "These are not nice at all. I shouldn't have come back for dinner tonight!"
In a fit of anger, she snatched my plate away, and told me off: "Then get out there and eat whatever you want!"
Perhaps my mum had had a bad day; I had never seen her so angry before.
Feeling scared, I immediately went to the living room to avoid further conversation with her.
An hour or so later, she walked over to me with a plate of reheated food, and reluctantly asked me: "Do you still want it or not?"
Embarrassed, famished yet relieved at the same time, I grabbed the food and gobbled it down within minutes.
As she watched me eat clumsily, she said: "One day, I will grow too old to be able to cook. By then, even if you want me to cook for you, it will be too late."
That statement struck me hard; and I thought to myself: "It is time to act and behave like an adult, and to be thankful for everything in life."
Since then, I have stopped being so self-entitled. Instead, I began to count my blessings and thank my mum every time she cooks for us at home.
It is easy to underestimate the value of home-cooked meals.
First, home-cooked meals tend to be healthier. Whenever I eat out, I am guilty of choosing the most appealing food on the menu.
I rarely pause to think more about my order — for instance, the type and freshness of the ingredients used, the cooking method, and the amount of calorie intake. I simply just eat (and often regret thereafter).
I am fortunate that my mum loves to cook — which is also great for my dad, who loves to eat at home with her.
Every weekday morning, my mum would wake up early for her grocery shopping at the market.
So, whenever I eat at home, I know that I am in "safe" hands because she would always prepare well-balanced nutritious meals using the freshest ingredients bought on the same day.
And this is often true — when we cook and eat at home, we tend to be more conscious about what goes into our meals and how we prepare them.
For example, I observe that my mum would use olive oil (and in small quantity) to fry prawn fritters, a dish that is commonly prepared with lots of cooking oil.
It is through such observations that I grew to understand how tedious preparing home-cooked meals can be, especially on occasions when there are more people to cater for.
Like many others, I picked up home cooking as a hobby during the circuit breaker in April and May last year.
Over time, I found myself becoming more attentive to fine details.
I learned that a lot of thought needs to be put into cooking. It is not just about deciding what to cook and what ingredients to buy; it is also about factoring in the small details.
For instance, my dad and I have a mild allergy to peanuts and onion, so we need to ensure that our ingredients do not contain that.
Both my parents prefer their rice to have a softer texture, so I must remember to shorten the cooking timer by a few minutes.
Whenever I help my mum to cook, she would always remind me how important it is to pay attention to these small details — because being oblivious to them can have an undesirable outcome, such as an allergic reaction.
Eating meals cooked at home is also a good opportunity for us to bond as a family.
When eating out, we often experience long queues and long serving time. Being surrounded by strangers talking loudly in a crowded and noisy environment can hamper our dining experience, too.
On the other hand, we do not have to stand in a queue or rush our meals when we eat at home. The homely and relaxing atmosphere makes it easy to have a conversation.
While my preference for home-cooked food is well-received by many friends, I do have a few friends who share different sentiments as I do.
They would ask: "Why don't you just order food delivery? You can still bond together without going through the hassle of preparing these home-cooked meals."
Somehow, it is different.
Home-cooked meals often carry a unique taste and feeling.
Yes, there are many delicious cuisines all over the world, but none of them can come close to my mum's home-cooked dishes.
They may not be the tastiest or the most beautifully presented — but there is this special bond between me and the food prepared by my mum.
I recall a time when I travelled for almost a month — I was eating out all the time and I was craving badly for home-cooked food.
Even when I tried to whip up my favourite home-cooked food — mee tai mak (silver needle noodles) — that my mum has taught me, I still could not achieve that taste.
Perhaps it is a feeling of a mum's love for her family, and the familiar taste that brings a lot of warmth to the meal.
So I try to offer help whenever my mum cooks.
These days, I make it a point to eat dinner at home four to five times a week — more than most of my friends.
I do so without compromising my social gatherings and my friends know that I prefer to schedule my catch-up with them over a weekend lunch or coffee.
To me, there is no better place than home, and no better food than home-cooked meals.
ABOUT THE AUTHOR:
Ong Shen Kwang works as a senior project manager in a financial technology firm.