Gen Y Speaks: I found my calling as a dentist, after a detour as an SIA flight stewardess
I am starting work as a dentist in July after graduating from the National University of Singapore (NUS) Faculty of Dentistry this month. Unlike my female classmates, I did not enter NUS after completing my A-Level examinations in 2013.
I am starting work as a dentist in July after graduating from the National University of Singapore (NUS) Faculty of Dentistry this month.
Unlike my female classmates, I did not enter NUS after completing my A-Level examinations in 2013.
I had scored five As and two Bs — results that were good enough to qualify for most university courses — but I did not know what I wanted to study in university.
I had heard of students who had applied for courses without much consideration and ended up regretting their decisions mid-way through their studies, and I did not wish to find myself in a similar situation.
Hence, I decided to pursue a career as a flight stewardess with Singapore Airlines (SIA), with the intention of entering university two or three years later.
This decision was driven by three main factors.
First, being a cabin crew member had been my childhood ambition since I was seven years old and caught the movie View From The Top, in which Gwyneth Paltrow played a young woman from a small town who fulfilled her dream of becoming a flight attendant. I was most inspired by her character.
Secondly, I believed I would have a better sense of what I wanted to study after working for a while.
Thirdly, I wanted to save up for my future expenses in university.
Securing employment with my dream airline through its walk-in interviews was no walk in the park.
I succeeded in July 2014, on my third try in seven months, even turning down a chance to fly for another airline during the period.
I was so determined to do well as a Singapore Girl, I emerged as the "Best Trainee" in the four-month training course.
Having earned my wings, I had to adapt quickly to a unique and dynamic working environment. Many of my colleagues and superiors were 10 to 30 years older than me, and being the youngest crew member on every flight did not come without challenges. 
As I was new to the team, I was inexperienced and made various mistakes. However, I soon came to realise that this was all part and parcel of the learning process.
I initially dreaded reporting for my flights, but eventually overcame my fears with extensive preparation before each flight. I made sure to know my service procedures and safety protocols by heart.
I particularly enjoyed travelling the world and interacting with passengers from all walks of life. But little did I know that a chance encounter with one of them would change my life.
In October 2015, on a flight from Singapore to Perth, I was assigned to assist a passenger for disembarkation as her leg was in a cast.
This passenger turned out to be a retired paediatric dentist, and through our various interactions, she shared her clinical experiences with me.
Even though we spoke for only about two hours, Dr Shirley Lim inspired me with her stories and made me want to explore dentistry as not only a course of study in university but also as a career.
My keen interest in handicraft, baking and other tasks that involved me to work with my hands were also factors that made me realise that dentistry might be a conceivable option to consider.
As dentistry had piqued my interest, I attended a job shadowing programme conducted by the NUS' Faculty of Dentistry in February 2016.
The author (left) with her best friend and coursemate Nadya.   Photo courtesy of Natalie Lam
I observed how a dental officer by the name of Dr Lee rendered dental treatment to various walk-in patients, including performing an extraction.
He was patient, professional and proficient. All his patients left his room with a smile on their faces and one of them even thanked Dr Lee profusely for resolving his chronic pain caused by a toothache.
It was heart-warming to see how a dentist could help patients and even change their lives by giving them a beautiful smile. It was that very instant I knew that I wanted to become a dentist — to touch lives the way that Dr Lee had.
I applied to study dentistry at NUS the following month, and thankfully, was one of the 54 students selected for the course starting in June 2016.
Due to my humble family background, I had to apply for a six-figure bank loan to cover my tuition fees. Fortunately, I also secured some bursaries that were of great help financially to supplement my savings from my SIA stint.
Because I was two years older than the rest of the girls in my cohort, my classmates soon learned about my previous job and I became known as the "stewardess" in school.
It was not necessarily a bad thing as it made for an excellent conversation starter when meeting people for the very first time.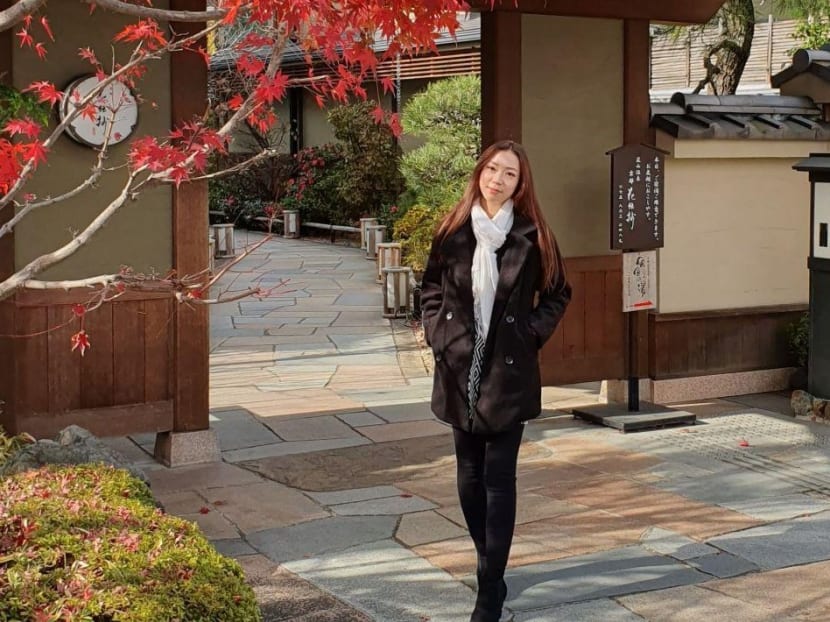 In my first year of dental school, a senior quipped that "getting into NUS Dentistry was only the easy part", and that greater challenges lied ahead. This proved true as I struggled with the academic rigour of the course.
I hit rock bottom at the end of my second academic year, where I failed two modules as they were both factual subjects. Alas, memorising cold hard facts happens to be my Achilles' heel.
I had one opportunity to redeem myself — passing the supplementary papers. Failure to do so would mean retaining for a year.
In the weeks leading up to the exams, I was under tremendous stress as a lot was at stake, but I persevered and managed to score a B for both the papers.
The experience spurred me to work doubly hard for the remainder of my dental course, which included training opportunities to treat patients with various dental conditions.
Many of the training sessions were highly stressful for us novices, especially if we were performing certain procedures for the very first time.
What kept me going was the unwavering support and encouragement from my lab partner and best friend, Nadya, throughout dental school.
With time, I became more confident and enjoyed the hands-on training, especially when my patients thanked me for helping them achieve a better looking smile or when the dentures I had fabricated for them now enabled them to chew better to savour their food.
This brought me great joy and served as a constant reminder of why I had chosen to study dentistry.
I am grateful to my lecturers and instructors for their belief and guidance and am excited to embark on the next stage of my career as a dental officer.
I also look back at the time I had spent in SIA with deep gratitude, particularly in how it has shaped me positively in many ways.
I now possess better interpersonal skills and can speak comfortably and confidently to strangers.
Flying with SIA has also equipped me with various invaluable soft skills which I would not have acquired had I attended university immediately after my A-Levels.
I therefore have absolutely no regrets deferring my university education.
I hope my story will inspire those who may be hesitant about pursuing a dream because it is not a typical route shared by their peers.
Sometimes, taking a detour may just actually be what you need to arrive at your final destination.
ABOUT THE AUTHOR:
Natalie Lam, 25, just completed her dentistry degree course at the National University of Singapore and will be starting work in July as a dental officer.