Gen Y Speaks: I turned my back on a cushy job with the family business, as I preferred to get my hands dirty
Since primary school, I have always felt like I was an underperformer relative to my peers. 
I've tried hard to become a better student, but academic excellence simply eluded me.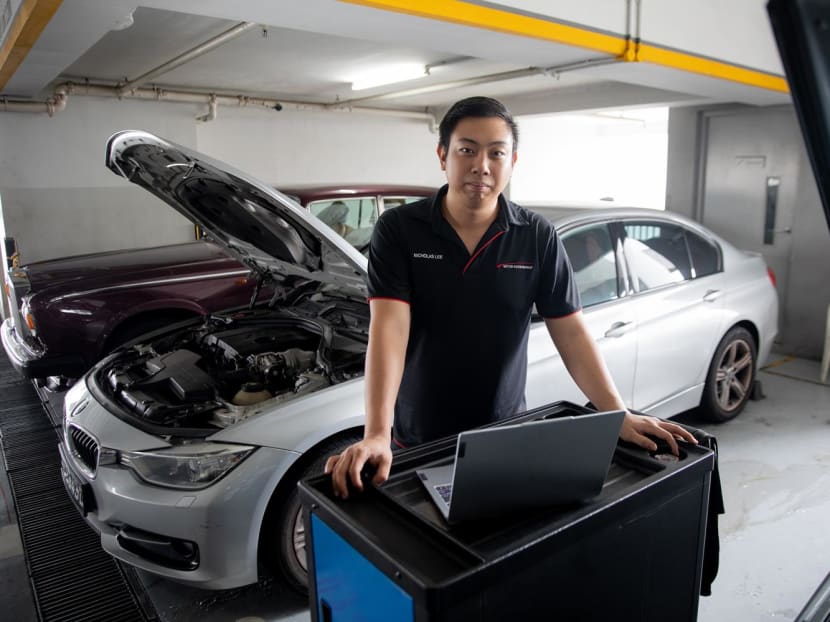 Since primary school, I have always felt like I was an underperformer relative to my peers. 
I've tried hard to become a better student, but academic excellence simply eluded me.
The struggles got worse in secondary school. Owing to my poor results in Secondary Two and Three, I suffered the ignominy of having to be retained for two consecutive years. 
As everyone else moved ahead in life, I was stuck playing catch up. It was extremely demoralising watching my classmates and friends progress while I stayed behind.
In the end, I did manage to earn my N-Level certification. However, I had reached a point where I was no longer motivated to continue pursuing the academic route.
It goes without saying that my parents were worried about my future, but at least there was a safety net for me.
After all, we have a thriving family business in the shipping industry, and as the only child, my parents expected that the business would be passed to me at some point in time.
But I had other ambitions.
During my National Service in the Singapore Police Force, I did a serious soul-searching on what I was truly passionate about and what I was going to do with my life.
I was, and still am, a big fan of everything to do with cars. There's something about the combination of engineering, design, and performance packaged within a vehicle which has always fascinated me.
So, the idea of joining the automotive industry and becoming a car mechanic kept recurring to me. 
For someone who isn't academically inclined, a hands-on job working on car repair, maintenance, modification and diagnosis carried plenty of appeal.
With my academic grades, I know I will never have the chance to become a doctor and save lives, but perhaps I could learn how to cure a "sick" car instead and give it a new lease of life.
GETTING MY HANDS DIRTY
Once my National Service was over in 2017, it was time to make a decision about what career path I would embark on. 
There was certainly plenty to think about as I still had many lingering doubts. For one, my parents reminded me that I had a duty to continue the family business. 
Did I really want to pursue a career that others still typecast as "grease monkeys", or thought of as a dead-end job?
In the end, I decided to follow my heart. I went ahead to submit an application to enrol in the Nitec Automotive Technology Traineeship Programme by Institute of Technical Education (ITE). 
While waiting for the application result, I felt like if I was going to be working with cars my whole life, I should start getting acquainted with them.
I signed up to become a private hire vehicle (PHV) driver. It gave me the flexibility and autonomy that I sought for in a job, plus the fact that I get to operate and control a car for hours on the road, which I enjoyed.
It also helped that the money wasn't too bad either. But I was determined not to remain stuck in gig work as a PHV driver. 
I was surprised to read how a study by the Institute of Policy Studies last year found that a third of food delivery riders do not want to move out of delivery work at all, a sign that some people are entrenched in gig work.
While this study was about food delivery, I can see how PHV drivers could become similarly stuck.
To me, I wasn't content for long as a PHV driver as I did not feel enriched by the experience. 
I really wasn't learning any intricate skills and knowledge on vehicle design, performance and modifications. 
But the earnings allowed me to purchase my first car, a Renault Megane Red Bull Edition, which led me towards a semi-obsession of learning how to improve and maintain cars.
My entire day would be spent obsessing over wheels, suspension arms, coilovers, exhaust and gearbox tuning improvements. That was when I found my moment of clarity and decided to commit to a car mechanic career.
The reaction from my family and friends was predictably negative. 
They had always considered my desire to become a car mechanic as a form of youthful recklessness, which would eventually go away and I would conform to their expectations of becoming a second generation business owner. 
Some couldn't imagine me turning my back on a nice, comfortable job. 
Friends were incredulous that I was giving up the chance to run the family business to do physical work and get my hands dirty.
It was up to me to prove that I had made the correct choice. I signed up to be part of the ITE Traineeship Programme.
NO LOOKING BACK
Truth be told, the initial stages were tougher than I expected. 
As a trainee starting from scratch in 2018 at Motor Edgevantage, my wages were mediocre when compared with what I earned during my PHV days. I also had to spend long hours on my feet at the workshop, while also having to attend my other ITE classes.
I also struggled to understand my colleagues speaking in Chinese dialects, which I did not know.
But I was driven by my passion. Despite these obstacles, I was finally happy to be doing something that I relished.
Hearing the raw powerful musical notes that the internal combustion engine makes after I've completed servicing a vehicle makes me truly happy, and I think it is an experience that every true car enthusiast would love. 
My hard work paid off when I received the SR Nathan Book Prize Award, which is awarded annually to the top 25 performing trainees from ITE. 
It was a key turning point for me, because my family saw this as an official recognition that I had put in effort in my chosen career path and that it wasn't just a youthful pursuit. I am thankful that they are more supportive of my choice today.
At the same time, they also realise that my job isn't a dead-end, because there are many ways I can develop myself in the automotive industry.
At Motor Edgevantage, the Sin Ming Drive car workshop where I now work at, I am put on a structured career development plan in which my career progression is clearly mapped out, and had the opportunity to spend a week in Germany for training at Motoren Technik Mayer, a car tuning company.
After all, nothing stays stagnant in an industry on the move. With the reality of electric cars now upon us and autonomous driving arriving in the near future, servicing cars will require a high level of technical expertise and usage of diagnostic software. 
I hope that perhaps then, the job will be seen as a well-respected career choice.
In addition to my daily duties as a tuning specialist, I also help mentor the new trainees in the company, who remind me a lot of myself: Full of enthusiasm but also uncertain about whether their career choice was the right one.
I often tell them we have no control over people choosing to stereotype us as lowly educated grease monkeys. What we can control is our own commitment to this journey. Put in maximum effort, never stop learning and enjoy the process.
It makes me happy to have the opportunity to walk this path with them, overcoming challenges and celebrating success together.
I still get asked if I have any regrets over my career choice but I don't dwell on the past. 
Keep your eyes on the road ahead and don't ever look back, as the saying goes. That's how I'll continue to approach life.
ABOUT THE AUTHOR:
Nicholas Lee, 27, is a tuning specialist at car workshop Motor Edgevantage.