Gen Y Speaks: A love letter to my 18-year-old self
What will the next decade bring? I remember that you, the 18-year-old version of me who was about to venture into the world, often mused over this question, excited but nervous over what you would be like 10 years down the road.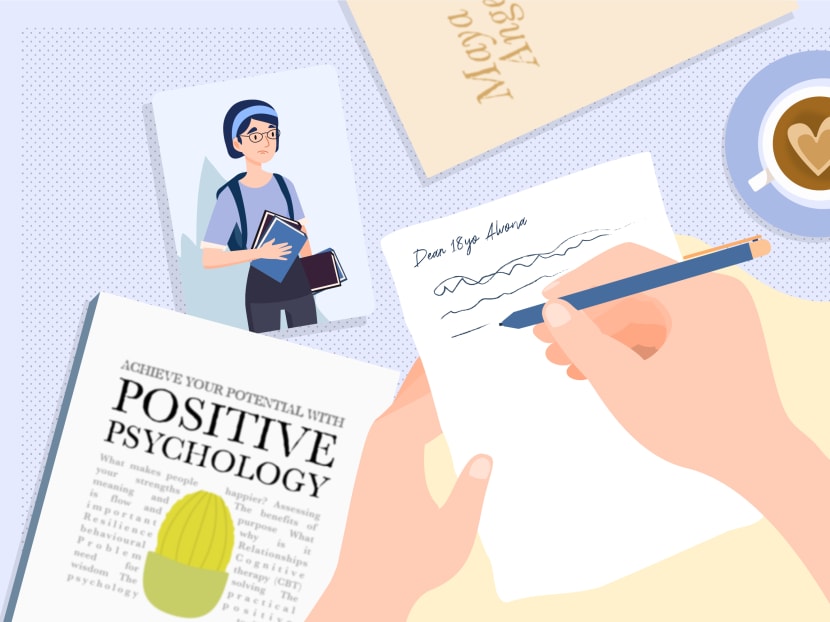 What will the next decade bring?
I remember that you, the 18-year-old version of me who was about to venture into the world, often mused over this question, excited but nervous over what you would be like 10 years down the road.
Your inner Pocahontas was singing "Where do I go from here?" every day, uncertain about the future and what would become of you.
I have written love letters to my family, my crushes but never to you — myself, although you are so important that I literally cannot exist without you.
Here is my love letter from me to you: Myself at a younger age, in the spirit of self-love, reflection, and shared renewal.
KNOW THYSELF
Self-awareness is something less often talked about, as we are often preoccupied with getting to know others and keeping up with the issues of the world.
Do you remember how you were preoccupied with knowing more people to establish a strong and lasting network of peers, as well as learning the latest happenings globally to ace your General Paper exam at the A-Levels?
It is easy to be interested in conversations with anyone but yourself. It is easy to be caught up with the busy and mundane realities of life, and tick off your to-do list.
It is very hard to be still and quiet for a moment, to ponder: Who am I? What fuels me?
"Know thyself", the oft-quoted axim, is something that you and many others would forget over the years.
Yet, you would discover that "your being fuels your doing" through a video of Oprah Winfrey sharing with a group of university students at Stanford Business School on her success.
How Oprah described her inner life as being intact and how she "lives from the inside out" would influence you so much that you started to pay more attention to yourself and your inner growth, which would prove transformational.
To your surprise, you become generous enough to spend 10 to 15 minutes of your time to keep a gratitude and meditation journal.
You would also discover a book, "Achieve Your Potential with Positive Psychology" by psychotherapist Tim Lebon, that would lead you to a VIA (Values in Action) questionnaire that unveils your top strengths: Love, curiosity and love of learning.
Your lesser strengths include humour.
The earlier you recognise your strengths, the better you would utilise them and reinforce your weaknesses as you go through your school life, your relationships and your calling.
Living with that greater self-awareness and consciousness would help you develop your core and create a great relationship with yourself over the decade.
HAVE SELF COMPASSION
You were a girl who set high expectations, even if you don't realise it or like to admit it.
Worse still, you would beat yourself up over little errors and blips in your life, becoming your biggest critic instead of your biggest cheerleader.
At age 12, you fretted over the B grade in Math, like it was a terrible scar over the cheek. 
In secondary school, you worried when you could not "fit in" with the trendier girls in school, which you never succeeded in doing despite your best efforts.  
In junior college, you faulted yourself when you fell short for numerous extra-curricular talent programmes, while watching your high-flying peers gain admission into many of them. 
Do you recall how that rejected manuscript, that dysfunctional friendship and those poor grades would cast grey clouds over you for days, even weeks thereafter?
Over the years, many of your close friends would try to correct your "all-or-nothing" thinking, and attempt to adjust your distorted views on the impact of failure.
It would take some time before you realised that one or two slip-ups would not and should not define your whole being or even your whole life.
We are all flawed individuals. Romanticising perfection was something that would only paralyse you, and keep you from even trying.
Like what Sheryl Sandberg, the chief operating officer of Facebook keeps as a motto and even displayed over the walls of the Facebook office, tasks at hand are "better done than perfect".
Failures and mistakes would form part of you, and indeed become a huge lesson in life that may spark wisdom.
However they do not become a permanent tattoo branded on your face that anyone including yourself, should be overly conscious about.
There is beauty in what we are. The day you accept yourself, flaws and all, is the day you restore inner peace.
YOU ARE NOT ALONE
Life is a rocky road, and there are moments when you will meet with huge challenges.
You would one day have to find the courage to face various situations: Dealing with the diagnosis of your grandfather's cancer, taking exams you don't feel prepared for, going to the frontlines of a sudden pandemic, and supporting your friends with various issues of their own.
In these times, you would feel vulnerable and alone, fearful or disheartened of what is to come.
A line from a poem by Maya Angelou would spur you forward in these times when you are battling the difficulties of life: "I go forth alone, and stand as ten thousand".
You have in you the blood of the longest continuous history of any civilisation: 3,500 years of written history of the Chinese and its culture, which you have accepted as part of your cultural identity.
When facing intimidating situations, the Chinese values of benevolence, integrity and wisdom, and all the shared stories of all your ancestors before you, are with you. 
You also have in you the spirit of all the women who have come before you, along with their tenacity and passions.
Some of these women, such as Elizabeth Blackwell, Jane Goodall and Eglantyne Jebb, would inspire you with their ardent love of medicine, wildlife and philanthropy. 
Never lose yourself or miss that important positive self-talk.
Remember that I will always love you, no matter what becomes of you, my precious and younger self.
I wish you not just a fulfilling decade, but a great lifetime to come.
ABOUT THE AUTHOR:
Alvona Loh Zi Hui is a junior doctor who works at a public hospital in Singapore.