Gen Y Speaks: Moving from job to job to earn a living, I've found my way to a purpose-filled career
Ever since I started working part-time in secondary school, I have been a florist salesman, a plumber, a bartender, a club entertainer, and a tattoo artist to make ends meet.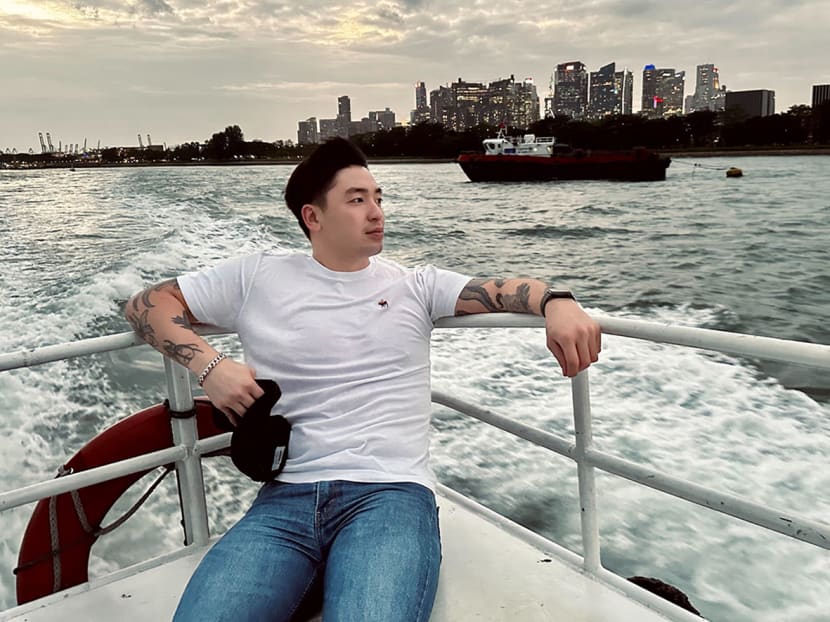 Ever since I started working part-time in secondary school, I have been a florist salesman, a plumber, a bartender, a club entertainer, and a tattoo artist to make ends meet.
As one can tell from my eclectic portfolio of job experiences, I had been moving from job to job, with each new stint vastly different from the last. 
I enjoyed what I was doing at times, but along the way, I began to feel a missing sense of purpose in my life. 
I was just getting by in jobs simply by earning my way to justify the lifestyle I led. I wasn't concerned about the bigger picture, about what my role in the world is, or about finding my own self-actualisation and potential.
Like a bolt from the blue, this revelation that I needed to find a purpose-filled career struck me three years ago during the pandemic.
For the first time, I felt a calling in the most unlikely of places — the maritime industry. But before that, it took me a tediously long journey to find my stable ground.
Growing up, I shunned subjects like mathematics and science but loved hands-on topics like art and design. 
By the time I graduated from secondary school, I had a shelf of sketchbooks that contained design renders, creatures from my imagination, and beautiful things that I wanted to remember.
At the time, however, my interest in art felt more like a hobby. I became quite the adventurous happy-go-lucky guy as I grew older and tried many part-time jobs. 
So, I tried being a florist salesman, a bartender, and even a club performer. The experiences were great, but none felt like the perfect fit.
FIXING LEAKS TO DRAWING BODY ART
Life took an interesting turn at 21 after a chat with my family's plumber. He didn't have any kids and wanted to impart his skills to an apprentice. I needed some money and a part-time job. So, I thought, why not?
The creative problem-solving aspect that came with being a plumber energised me. For example, I had to think of creative solutions on the spot, like using unconventional rubber bands or washers to fix leaks.
When I was 22, I took up an Advanced Diploma in Business and Management Studies and graduated more than a year later at the East Asia Institute of Management.
Nevertheless, I found myself at a crossroads with mounting financial pressures, and I didn't have a silver spoon that could see me through this phase of my life. 
You see, I wanted to live in my own place and support myself independently. I also wanted to pursue a degree, but the course fees were expensive.
Unfortunately, I couldn't afford this with the low pay plumbing apprentices get, and it would also take me years before I became a master.
This dilemma was what kickstarted my tattooing chapter. Like sketching, tattooing was a deep interest of mine, and I learned from industry friends how lucrative it could be. 
So, I decided to forgo my further education to enter tattooing full-time. It felt like the right choice as I valued my financial and personal independence.
Being a tattoo artist was eye-opening. I discovered that I enjoyed understanding and engaging people. Tattooing is not just about drawing on people's bodies. It's about empathising with people's experiences and turning them into meaningful art.
With a well-paying and enjoyable job, I thought being a tattoo artist was the endgame for me. I went from experimenting with tattoos on my own body (and some brave friends) to having regular clients. In a good month, I could earn between S$4,000 and S$5,000.
A MARITIME LIFELINE
Unfortunately, the pandemic in 2020 also caused a crisis for me. I lost my source of income as all local tattoo studios were shuttered indefinitely.
I was at my lowest point emotionally. I found myself without a regular income, no place to stay, and without purpose. 
I moved back in with my parents and tried freelance jobs to stay afloat, but I lacked the discipline to make a freelance career work in the long run.
At this point, I knew I needed a job that could give me a routine. 
After a challenging job search, a lifeline emerged when I finally got a maritime operations role in ShipsFocus. I had no clue about the maritime industry, but I needed the job.
My first few months were challenging. For example, I was terrible with data and hated using software to crunch shipping and cargo numbers. As a result, I made many mistakes.
However, I knew this was an important opportunity for me. Drawing on the service and hustle mindset from my bartending days, I improved my performance. 
I regularly sought feedback and was extra careful with my work. I even went the extra mile like cleaning the office, making tea for visitors, answering calls, and running office errands.
Eventually, the company's chief operating officer James Kim noticed how well I could connect with people. 
To take full advantage of this strength of mine, he subsequently carved out a business development role for me, and the team also gave me the space to learn more about shipping. 
I found myself easing into the role quickly thanks to my colleagues' support. It was their faith in me that allowed me to earn my sea legs in the industry.
CHARTING A FUTURE WITH PURPOSE
Today, I am a maritime and operations specialist helping shipping companies to digitalise efficiently and sustainably. In my day-to-day life, I persuade shipping personnel to use our software to execute daily tasks, instead of relying on emails, phone calls, or faxes.
The job soon grew on me, as I realised that despite the completely different skill sets involved, I was frequently reminded of my past jobs.
When I engage maritime stakeholders to understand their needs and challenges, I remember my time as a tattoo artist working with clients and their needs. 
When I find creative digital solutions for their operational challenges, I feel the same satisfaction I had as a plumber trying to fix a leak.
My biggest realisation was that I was working for something larger than myself. I discovered that maritime was not a staid and outdated industry, but a rapidly transforming sector full of exciting opportunities. 
By helping ship companies to digitalise, I'm not just supporting myself, but building an important legacy in an industry that never sleeps.
That was what motivated me to overcome my rough start. Because of one success with a recent deal I managed to clinch, my boss has officially christened me as "Justin 2.0".
My next step is to start upskilling myself to repay the faith my bosses had in me. I'm on my way to becoming "Justin 3.0", by learning new skills in user experience design, digital marketing, and programming.
I live by a mantra — Aut inveniam viam aut faciam — which in Latin means "I shall either find a way or make a way". 
When life keeps throwing curveballs in my direction, I have always found a way out. Even when I struggled through the pandemic and an unexpected career switch, I was able to find a way.
For the first time in a long time, I feel like I'm in control. I have a future-ready job, a financially responsible lifestyle, a steady routine, and a renewed focus in life.
ABOUT THE AUTHOR
Justin Chua Xian An, 27, is a maritime applications and operations specialist.