Gen Y Speaks: A Stanford graduate, I quit the civil service to help transform my mum's cleaning firm into a startup
​I graduated with an economics and engineering degree from Stanford University in 2014. When I was studying in the United States, I had tried internships with McKinsey, Morgan Stanley, startups and the Government. I thought my future career would be at one of these. Today, I find myself running a small cleaning business and look forward to the challenge that each day brings.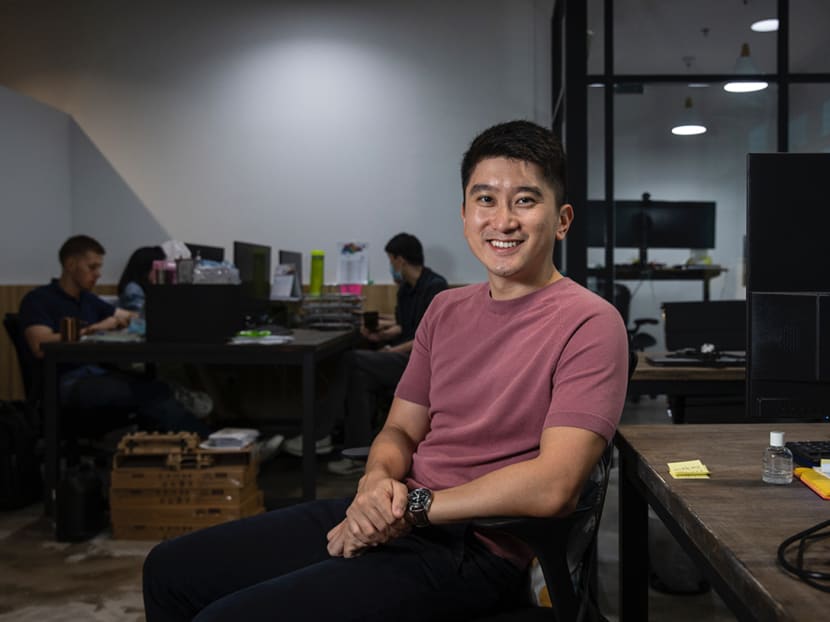 I graduated with an economics and engineering degree from Stanford University in 2014.
When I was studying in the United States, I had tried internships with McKinsey, Morgan Stanley, startups and the Government. I thought my future career would be at one of these.
Today, I find myself running a small cleaning business and look forward to the challenge that each day brings.
"Wait, how did you end up there?"
That is normally the first question I get when I tell old friends and classmates what I am doing.
I suppose what happened was a tale of serendipity.
I grew up in a four-room Housing and Development Board flat with my parents and three sisters.
My mother was a housewife who occasionally took on odd jobs like home cleaning to supplement the family income.
By the time I returned from the US, she was loosely managing a few others like her and generating a small side income.
It was very traditional — she would go around the neighbourhood putting up fliers with tearable phone numbers on notice boards to find clients.
Coming back from Silicon Valley, I naturally said: "Oh come on, at least build a website."
Unsurprisingly, my mother was not impressed, maintaining that what she was doing was working fine.
She also gently reminded me: "I have eaten more salt than you have eaten rice."
Eventually, after much persuasion, she acquiesced and we built a website and started running some basic Google ads to the site.
Those were the relatively early days of digitisation back in 2015, and we were both surprised by how well it worked. From there, the business started to take off.
After returning from the US, I took on a couple of different roles in the Singapore civil service, including a stint at the Government Technology Agency.
On and off, I continued to give my mother advice on an ad hoc basis on how she could further digitise her business to help it grow.
For example, when the business started growing to a size where a "one phone line and one operator" approach could no longer handle the incoming call volume, I guided her towards adopting Twilio as a call center platform, and integrating it with a customer relationship management software such as Hubspot for efficient ticket-based customer support operations.
By 2020, she had more than 300 staff.
Things seemed to be going swimmingly. Then Covid-19 hit, and most of her business was suspended overnight.
As Singapore emerged from the circuit breaker, our family realised that the cleaning landscape was shifting rapidly.
Going digital was no longer merely an option, but an imperative for survival. That was when I decided to join the business full time and lead our digital transformation efforts.
Leaving a secure job to join a small business during an uncertain time like this was a difficult decision.
Colleagues and supervisors told me that I was giving up a very promising and stable career and asked me to reconsider.
At the end of the day, I had to dig deep and think about what was most important to me in my career, and I realised that it was to tackle meaningful challenges and make a difference, wherever it may be.
And at that point, I felt that where I could rise to the challenge and make the most impact was to helm the business into uncharted post-Covid waters.
I recognised that I may fail.
But to adapt Tennyson: "Tis better to have tried and failed than never to have tried at all".
A HIGH POINT
For us, one of the moments where we found the most meaning in what we were doing was actually right in the middle of the circuit breaker, when almost all our office and home cleaners were out of work. 
They were still fully employed, but all their work assignments had been suspended by our clients.
The Government's Job Support Scheme was incredibly helpful during those tough months, but even with 75 per cent salary coverage, the balance of 25 per cent and up to 17 per cent Central Provident Fund contribution totalling up to about 40 per cent of wage costs was still borne by the employer.
In an industry such as cleaning with lean margins of 5 per cent to 10 per cent, that was still a heavy cost to bear.
I recall discussing potential retrenchments or salary reductions with my family, and my mother felt keenly for those who were suddenly out of a job, having been in their shoes in the not-so-distant past.
She knew that our staff often live pay cheque to pay cheque, and losing one, or having a significant reduction in pay, will impact their lives considerably.
So, with the support of some of our clients, we found a way to make it possible for us to pay our older Singaporean cleaners 100 per cent of their usual wages.
We booked significant losses, but I think that was worth it. It allowed us to build significant trust with our staff.
As a family, having come from a place where we were needing help to be giving help was one of the most fulfilling experiences from the business journey.
A LOW POINT
As with any rapidly growing business, it is critical to be able to hire and recruit talent to expand the team.
Unfortunately, that is often a tall order for small and medium-sized enterprises (SMEs).
Just as I did not want to work at an SME when I graduated, neither did many other young and bright people my age. To make matters worse, the cleaning industry is not exactly a crowd favourite.
So, when we did recruit, we would get few suitable applicants, and more often than not, we would spend weeks courting a potential candidate, only to be told that they had taken up another offer with a multinational company or startup.
Some time in 2020, after being told again that a candidate was going to "join a startup instead", we thought, why not just give the people what they want?
We are a fast-growing company, and we are aggressively adopting technology.
With the support of government agency Enterprise Singapore, we are in the process of building our own operational backend and launching a client app for Android and iOS so clients can book, manage and pay for services with their mobile phones.
So aren't we technically a startup?
Last year, with the help of a branding grant, we rebranded ourselves from an "SME" to a "startup".
And apparently, the dirty little secret to being a startup is to have a one-word long name with as few syllables as possible.
I guess today, we are no longer Luce Maintenance Group Private Limited, an SME cleaning company. We are Luce SG, a cleaning startup.
MESSAGE FOR MILLENNIALS
I do realise that most young professionals around my age strongly prefer to work for startups instead of SMEs because that is the sexy new thing. I have felt that way myself as well.
But seeing how technology can transform even the most traditional of businesses, I realised that a startup or a SME is just a label.
At the end of the day, they are all just private limited companies.
Startups often start in an environment where they have little or no experience but bring technology to grow and scale tremendously.
SMEs are often in environments where they are very experienced, but do not see the possibilities that technology can bring.
In these cases, technology often trumps experience, and the startups win.
But what if the SMEs can digitise and apply technology just like the startups do?
At that point, they could arguably even be in a stronger position because then they would be starting from the foundation of a strong domain expertise, and then accelerating that with technology.
Can we turn "#SME2Startup"?
I think that is a fascinating question and is what motivated me to decide to take the helm of this decidedly traditional SME in an unexciting industry.
I am glad my younger sister aged 19 has also bought into the idea of digitisation. 
She has taken a gap year during Covid-19 to learn coding and work with our in-house engineering team before she goes to university later this year.
SMEs are the backbone of our economy, and I think it is a shame that younger and technologically savvy professionals tend to shun them when in fact it is where I think we can make the most difference and have a challenge that is no less satisfying than joining a startup.
I hope that my journey can encourage other young professionals to join and transform our SME landscape.
ABOUT THE AUTHOR:
Zhang Yitao Jason, 30, is director at Luce, a facilities and home services firm.