Fake news causing confusion in Indonesia presidential election
JAKARTA — Housewife Soartini Wahid recounted watching a video sent to her WhatsApp in February showing two women having a conversation with a man. The women had a message for him.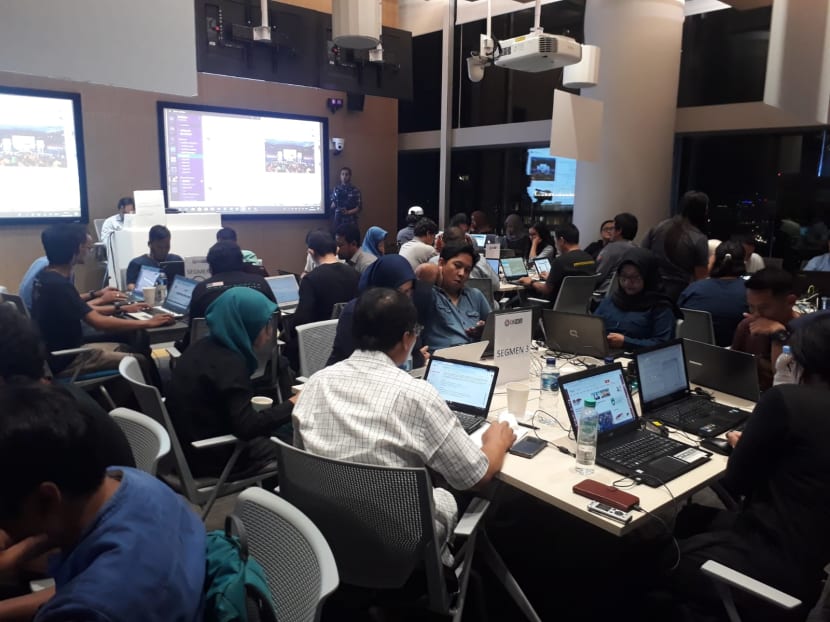 JAKARTA — Housewife Soartini Wahid recounted watching a video sent to her WhatsApp in February showing two women having a conversation with a man. The women had a message for him.
They told the man that incumbent Indonesian president Joko Widodo, better known as Jokowi, would end the Muslim call to prayer if re-elected. He would also disallow Muslim women from wearing the hijab or headscarf in public.
Ms Soartini, a practising Muslim, expressed shock upon watching the video, which she received from her husband, who got it from his friends.
Speaking to TODAY in Bahasa Indonesia, the country's national language, she exclaimed: "I became confused. I was like, Jokowi is a Muslim and he's saying all that? I didn't want to believe it because I supported him in 2014.
"But if it's true, I told myself that he's not going to get my vote."
Ms Soartini, who lives in a village in Padang, West Sumatra, immediately shared the video with her 29-year-old son, Agus Rizuan, who works as a store manager in the Indonesian capital of Jakarta. His reply to her text: "That's a lie."
In late February, Indonesia's police arrested three women implicated in producing the video for spreading hate speech. They face six years in prison.
Political analysts and journalists in Indonesia said that the scourge of fake news in the country has worsened in the past few years, aided by a population increasingly connected to mobile phones and the Internet, as well as low digital literacy and educational levels, especially in the rural areas.
And the circulation of fake news intensified during the hustings, they noted, before some 192 million Indonesians head to the ballot box on Wednesday (April 17) to elect their president and parliament.
General secretary of the Alliance of Independent Journalists in Indonesia Revolusi Riza Zulverdi said that another reason for the rise of falsehoods is the increase in campaigns employed by candidates and their ardent supporters.
"It is a challenge to educate people on the issue and raise awareness on the importance of digital literacy," said Mr Zulverdi, whose organisation has been involved in countering fake news.
AN AIR OF CONFUSION
Ms Soartini is not the only one left confused by fake news. Ms Rita Soerdono, 35, a retail assistant who lives in Medan, said that she has also seen memes depicting vice-presidential candidate Sandiaga Salahuddin Uno — a Muslim and the running mate of presidential candidate and challenger Prabowo Subianto — as gay.
"I'm a Muslim and in Islam, being gay is not acceptable. So, I was thinking twice about casting my vote for the Prabowo-Sandiaga team," she added.
Ms Titi Anggraini Mashudi, the executive director of non-governmental organisation Election and Democracy, said that falsehoods undermine election integrity, alongside other factors such as vote-buying and fake ballots.
"It has the ability to shape how people vote. So, if they're misinformed, their votes are misinformed," she added.
But fake news in Indonesia are not all about the elections. They also touch on issues pertaining to race and religion.
Wahyu Dhyatmika, editor-in-chief of news website Tempo, which is known for its investigative reporting, said that he has also come across fake news about healthcare products.
"For example, if you drink this product, it can cure cancer. Those kind of fake news exist," he added.
Indonesian millennials who spoke to TODAY said that they are wary of what they read on social media.
Mr Rizki Fadhillah Ali, 29, who runs an optical store, described social media as a "poison". "There are some people who don't have common sense and logic, so they believe whatever is posted on social media," said the Jakarta resident.
VULNERABLE TO FAKE NEWS
High Internet penetration is a key reason the country's populace is more exposed and vulnerable to fake news, said experts and journalists.
As of 2017, there are more than 140 million Internet users in Indonesia, and that is slightly more than half of the population of the world's third largest democracy.
In response to TODAY's queries, a Facebook spokesperson said there are more than 115 million monthly active users on Facebook in Indonesia and 45 million monthly active users on Instagram.
As for the messaging platform WhatsApp, Indonesia is one of the top three countries with the highest number of active users.
In a bid to prevent fake news from circulating, Facebook — which owns WhatsApp — limits the number of times a user can forward a message to five since January. It has also done so in India. Previously, a WhatsApp user could forward a message to 20 individuals or groups.
Ms Astudestra Ajengrastri, a fellow at the International Center for Journalists, said that other factors that make Indonesians susceptible to fake news are low digital literacy and critical thinking.
"Most people, especially those who are non-digital natives, believe that everything that comes from the Net is true," she added.
Mr Aribowo Sasmito, who founded the fact-checking organisation Mafindo, said that the fake news produced in Indonesia tend to target the emotions of readers. They do so through issues such as race and religion "because Indonesians are religious and family-oriented".
A FACT CHECKING INITIATIVE
At 8pm on Saturday (April 13), over 40 journalists were gathered in a room, waiting for the fifth and final presidential debate to start. They were not there to cover the debate like journalists typically would.
They have a special role: To fact-check the statements made by candidates.
This was part of an initiative called Cekfakta or "check facts" in Bahasa, which was started by 24 news organisations in Indonesia last May.
It was an initiative supported by Google, through its Google News Lab programme, providing tools for the journalists to do their fact checking. It also provided the venue — its Google office in Jakarta — for the journalists to do live fact-checking of the presidential debates.
This was what took place during each presidential debate: Journalists were divided into six groups to cover six segments of the debate. There was also a social media team that pushed the stories on Facebook and Twitter.
And in one corner of the room, there were experts whom the journalists can consult.
The types of experts brought in — specialising in issues such as the economy, education and religious affairs — depend on the topic of the presidential debate. They hail from non-governmental organisations.
If a candidate cited figures, for instance, journalists could either do their own research or seek help from the experts to pull out the relevant facts and information.
Among the journalists there was Ms Elin Yunita Kristanti, the managing editor of the online news portal Liputan6.com. The 39-year-old had been fact-checking all five presidential debates.
On Saturday, something that Mr Uno said made her sit up. He claimed that there no jobs created under Mr Widodo's administration.
With the help of an expert, a junior colleague sitting beside her and two others in her newsroom, Ms Kristanti managed to find statistics that proved otherwise. During his five-year tenure, Mr Widodo's administration has created 10 million jobs.
In her story, she laid out what Mr Uno said, and below it, set out what the facts are.
AN ONGOING BATTLE
Mr Dhyatmika said there was an urgency to set up an independent fact-checking body after news outlets realised how fake news can undermine democracy and create social unrest.
This was shown in the downfall of once-rising political star and former Jakarta governor Basuki Tjahaja Purnama. Mr Purnama, or better known as "Ahok", was jailed for two years for blasphemy.
A video of his speech was doctored, making it look like he insulted the Quran, Islam's holy book. This led to widespread protests and Mr Purnama failed to be re-elected, before he was jailed.
"Fake news creates mess. It polarises people and it can divide a nation," Mr Dhyatmika said. "When that happens, how do you recover?"
The fact-checking collaboration for the presidential debates has ended, but the battle against fake news continues.
On a daily basis, the Cekfakta coalition work together from their respective newsrooms to debunk falsehoods, helping each other to verify claims, images and videos.
Ms Ajengrastri, who is part of the initiative, said that page views of Cekfakta's website soared by three to six times when they do live fact-checking during each of the presidential debate compared to its daily readership.
"It should be a sign of how our work impacts Indonesian news readers," she added.
Mr Arfi Bambani Amri, who is the project coordinator for Internews in Indonesia, said that his organisation has trained a dozen news outlets last year on how to use fact-checking tools available to detect fake news. Internews is a United States-based media development organisation.
Mr Sasmito pointed out that the key to tackling disinformation is changing mindsets.
"Laws are important with its 'instant solution' benefit, but unfortunately, it's not the best solution because… every time a person gets arrested, there are 10 or even 100 ready to take over the position," he said.
"Laws don't tackle the problem at its roots. The key is to empower people to be able to spot disinformation and act properly on fighting it."