The best PEVs you can get in Singapore right now
SINGAPORE — Whether you like them or not, personal electric vehicles or last mile solutions or mid distance vehicles or whatever else you know them as, have taken our commuting landscape by storm.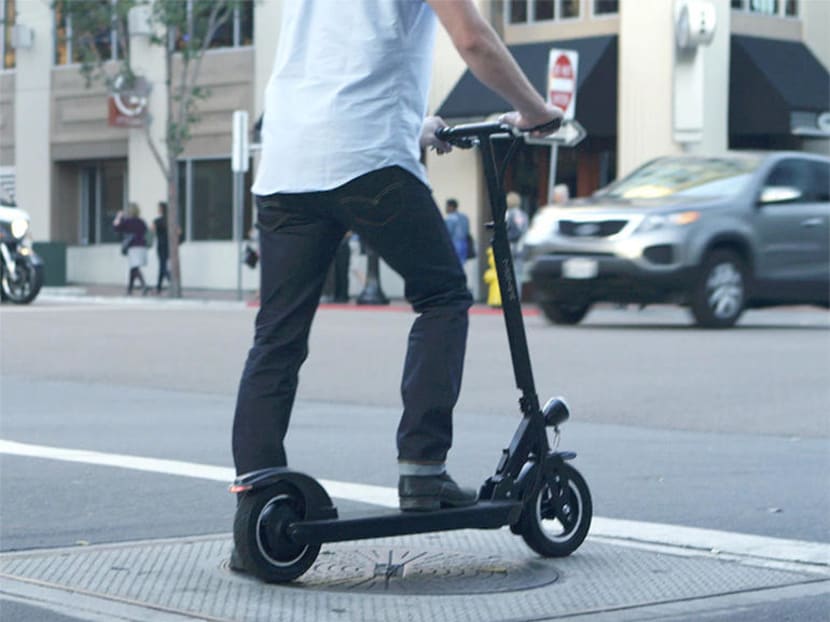 SINGAPORE — Whether you like them or not, personal electric vehicles or last mile solutions or mid distance vehicles or whatever else you know them as, have taken our commuting landscape by storm.
Singaporeans young and old have started to embrace this new culture of electric powered personal transport, because, well, who wants to walk when you can scoot?
But if you're thinking of getting one, be prepared to be overwhelmed by a deluge of choices, both big and small (oh, and all those new rules the Land Transport Authority will no doubt impose).
Since the PEV boom, there have been a proliferation of branded scooters and competent copycats all vying for your hard earned cash. So what can you do? Well, you might want to check out the following list of PEVs that you can find in Singapore.
Zero 2.0 (S$999)
The Zero 2.0 is one of the lightest e-scooters available. Made of carbon fibre, it weighs only 6.4kg, and can take a load of up to 100kg.
It also has a decent range for such a small scooter, giving you 15km on the smaller battery, and double that if you opt for a battery upgrade. It is a slick and well-designed minimalist's PEV, with very few parts that stick out. However, the fact that it is lightweight means that it is not the most stable of rides, so you'd better get your balance right and make sure you have quick reflexes.
Powerocks S1 (S$799)
A budget e-scooter reminiscent of the ever popular Zoom Air, the Powerocks S1 is one of the cheapest PEVs here. Considering its purported 40km range, it is great value for money. Engineered by makers of Powerocks power banks, this budget e-scooter is a great entry level option for anyone thinking of switching to PEVs as a means of mid-distance commuting, whether it is to work or doing some light shopping.
Mobot Xtreme X4 (S$1,699)
Typically, PEVs have not been designed to carry more than one person; but electric motors are fairly powerful and scooter frames are fairly resilient, so it shouldn't be a surprise that people do squeeze more than one body on a platform meant for one (although, as a strict rule, we do not recommend that). Nonetheless, those you seeing sharing their PEV probably have the Mobot Xtreme X4: It comes with a suspension system, and more importantly, a built-in pillion seat. Expect your date to be impressed. Well, maybe.
Inokim Quick 3.0 (S$1,499)
The Inokim Quick 2.0 quickly found a loyal following among PEV enthusiasts, thanks to its large wheels and sturdy frame. The Inokim Quick 3.0 doesn't build that much on the old one, barring the addition of a new handlebar, new lights and app connectivity. Well, it it ain't broke … plus it's still one of the most versatile and sturdy e-scooters available.
I-Max S1+ (S$1,790)
A 2015 Red Dot Design winner, the I-Max S1+ is a sleek and sturdy premium PEV that feels like a cross between the Inokim Quick and the Zoom Air. It looks dainty, but its wheels say it could probably tackle rough terrain. A nice and wide platform, coupled with nice big tyres make for comfortable long rides, up to a range of 35km. It's one of the more expensive PEVs, but if you want a head-turning do-it-all, this e-scooter is the one you want if you want to brag about how great it is to ride it everywhere ... and ride it everywhere.
Stigo (S$1,799)
A Dutch-designed PEV, this foldable bike is perfect for long and comfortable commutes to work. It's also good for cruising along the river … and snorting at PEV users who actually have to stand on their vehicles. You portable enough that you can fold it up and bring it up to the office and tuck it in your cubicle (or perhaps under your table if you hot desk). If nothing else, you can annoy your colleagues with statements like "I think I'll just scoot to the pantry" and actually doing that.
Ninebot Mini Pro (S$1,199)
The Ninebot Mini Pro is very much a Segway at heart: Two parallel wheels are gyroscopically held aloft as you mount it and control it with the lean of your body. Unlike the smaller hoverboards, the Ninebot Mini Pro comes with a knee harness, that supports you and also helps you control the motion of the vehicle without having to twist and press your feet down. It has wheels that are a good size for comfort, and is full of little tricks, such as having a remote control through an app ... should you feel like scaring a friend.
Mobot Flexi (S$1,599)
This PEV seems designed with mobility assistance in mind. Unfolding from an impressively compact frame, it becomes what essentially is a powered wheelchair, complete with a wide comfortable seat and safety bars built around. It has a retractable cargo storage bar underneath, and you can even stick a basket on the front for added storage space. Good for older folk or disabled users
Ecorider Mark 3.0 (S$2,430)
A seated weatherproof vehicle armed with a single intimidating headlight, it comes with two wheels and an extendable handlebar that controls the vehicle. Honestly, it looks like a mad cross between a Transformer and a plastic stool, but better. It is comfortable and stable, and could possibly be the only office chair that you'd be able to ride all the way home.
Ninebot One E+ (S$1,199)
Electric unicycles are surprisingly popular even though they're not as easy to handle as an e-scooter. Still, if you want to get one you could do worse than the Ninebot One. It has a futuristic design, app connectivity and awesome customisable LED lights (yes, you read right) that make for a niche PEV which is hard to beat in that range.
A version of this story first appeared in Stuff Singapore.